Report a repair

Due to the impact of Covid-19 we have had to adjust the service we deliver to our customers and we are currently only able to carry out essential repairs.  If you need to report an essential repair that requires immediate attention then please contact us on 0300 555 0600.
Do it online
The easiest way to report a non-urgent repair is through the My Onward self-service portal.
Once registered, you can tell us if something needs fixing in your home with just a few simple clicks – and keep track of our progress.
Over the phone
Alternatively, you can contact us on 0300 555 0600 to report your repair over the phone.
Our Customer Contact Centre is open from 8am to 6pm, Monday to Friday (10am to 6pm on Wednesdays).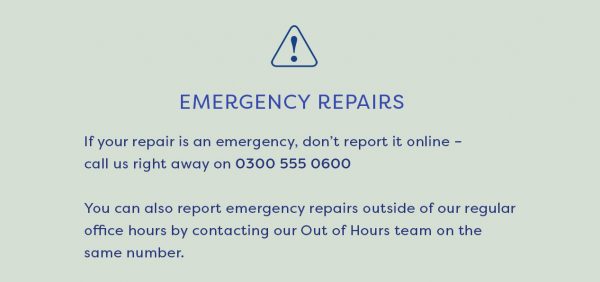 What you will need
When you contact us to report a repair, please provide us with:
Your tenancy number
Details of what needs repairing and where it is
Times when you will be available to let our contractors into your home
Details of any special circumstances we need to know about
Appointment times
We have a range of appointment times to suit you, including early evening and weekend slots.
When you report a repair you'll be offered one of the following time slots:
• 8am – 1pm, Monday to Saturday
• 1pm – 6pm, Monday to Friday
• 6pm – 8:30pm, Monday to Friday
Find out more about our repairs service, including how we prioritise our repairs and the contractors we use. You can also download our Repairs Handbook.