Onward Investors
Investing in people and their communities.
Onward exists to make a positive difference in the communities we serve. Our investors are fundamental to our ability to help people build independent lives in secure, green homes that they love.
Our Board, Executive Team and colleagues have worked together to build a united organisation from five separate housing providers. Top G1 (Governance) and V1 (Finance) ratings from the Regulator of Social Housing, along with our A1 (Stable) Credit Rating from Moody's, demonstrate that this is a mature and financially robust business
Everything you need to know about investing in Onward can be found on this page, but if you have any questions, please feel free to contact me.
Bronwen Rapley Chief Executive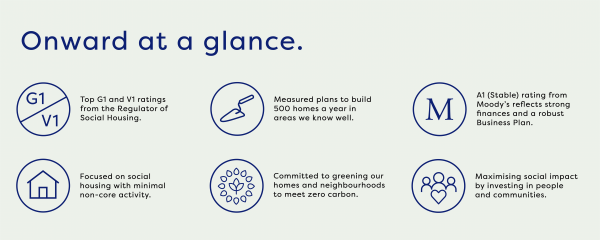 Latest News
August 2021                Onward publishes annual report and financial results for 2020/21
Onward has issued its annual report and financial results for 2020/21, showing that the organisation is in a strong financial position as the recovery from the pandemic gathers pace. The Annual Report can be found here.
April 2021                    Transfer of Engagement of Contour Homes into Onward Homes
Contour Homes formally became part of Onward Homes on 1 April 2021, ending our four-year journey to create a single, unified organisation.
March 2021                 Onward completes successful first bond issue
Onward has completed its first bond issue, which was met with very strong demand from the market and raised £215m to support its Business Plan. Onward achieved a loan margin of 0.88%, among the lowest long-term margins secured by a UK housing provider. Details can be found here.
December 2021         Onward credit rating confirmed by Moody's
Onward has received a credit rating of A1 (Stable) from Moody's, placing us among the highest rated housing associations. The credit rating report can be found here.
January 2022            Financial year update
Onward Homes (A1, stable) engaged Centrus to organise a bond investor update call on Friday 28th January at 10am. The Financial year update presentation can be downloaded here. The potential sale of Onward retained bonds 2.125 2053 will follow.
2 February 2022      Issue of retained bond
Regulatory News Service Announcement of RB Sale
Key contacts
Mike Gerrard   Executive Director Of Finance                 Rob Loughenbury   Director of Strategy
Organisational structure & legal entity info