Greater Manchester & Cheshire
Your neighbourhood plan update for Greater Manchester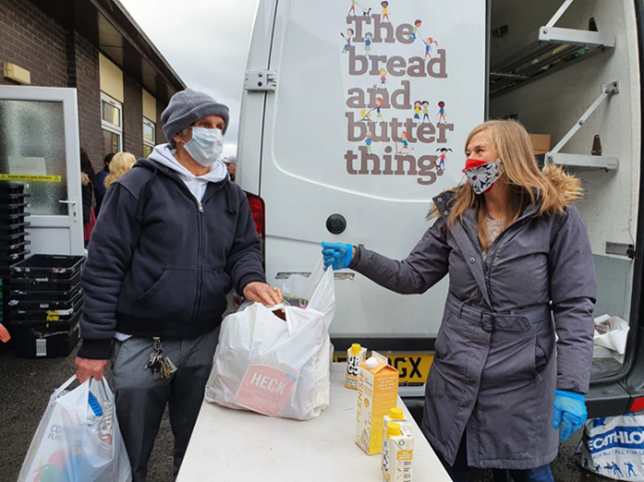 Neighbourhood Plans
You may remember that we launched 55 neighbourhood plans back in September, all tailored to each of our different unique neighbourhoods in the North West. These plans are developed with customer feedback, which set out our service commitments to you and your local area for the year ahead.
We know these plans are important for you to be able to see that we've listened to your feedback and make sure we're delivering in your area, especially at the moment when life isn't running as normal.
So today we've got a whistle-stop tour of the progress we're making in Greater Manchester but if you want to see our full commitments or discuss our progress in your area in more detail, please get in touch.
We'll also be letting you know how we're getting on in Lancashire and Merseyside in upcoming blogs so watch this space.
---
Tackling food poverty
We are continuing to tackle food poverty by supporting schemes such as the Bread and Butter Thing (TBBT). TBBT is a charitable scheme that works to reduce food waste by redistributing surplus food from supermarkets and manufacturers to people on low incomes and the charity currently operates out of our Hattersley Hub.
Open kitchen MCR, another food waste initiative, has also been helping to feed Manchester families in need during the pandemic and they have been operating out of our Didsbury office.
Going green in Hattersley
We have been working with 50 local residents in Hattersley to deliver the Go Green scheme in partnership with Groundwork Greater Manchester. The most recent project involved the clearance of a woodland area adjacent to the Hattersley Big Garden Project, to create a tree trail and forest school area.  The scheme has helped to improve the appearance and local environment of Hattersley. You can read more here.

Supporting the coronavirus response
We helped support Oldham Council in delivering doorstep visits to promote awareness of local lockdown measures amongst residents and answer questions or queries.
New homes in Whitefield
We're providing more new affordable homes through the completion of 15 2/3 bed homes for shared ownership as part of the Elizabethan terrace development and commencing development on site at another nearby site for 27 new homes.
Our Safer Neighbourhood team have been working hard
Our Safer Neighbourhood team have been working closely with the police across our Greater Manchester neighbourhood to support services to tackle domestic violence cases, as well as providing reassurance and support work to victims.
In Bolton, they have continued to address antisocial behaviour in the neighbourhood through working with the local police, gathering evidence and taking action against perpetrators, as well as supporting victims though the victim champion service.
What next?
Over the coming months we'll be working hard to continue to deliver in your neighbourhoods, although we appreciate your patience, as COVID restrictions may mean we're working slower than planned in some areas.
You can find the Neighbourhood Plan for your own neighbourhood on our website, which will tell you what we've got in the pipeline for your area.
If you'd like to find out more about the work going on in your neighbourhood, or the services we offer across all our regions – including Social Investment programmes, Financial Inclusion support and lots more – please get in touch.
For any questions on your Neighbourhood Plan or anything else regarding your tenancy you can give us a call on 0300 555 0600