Hate crime awareness week: how we can help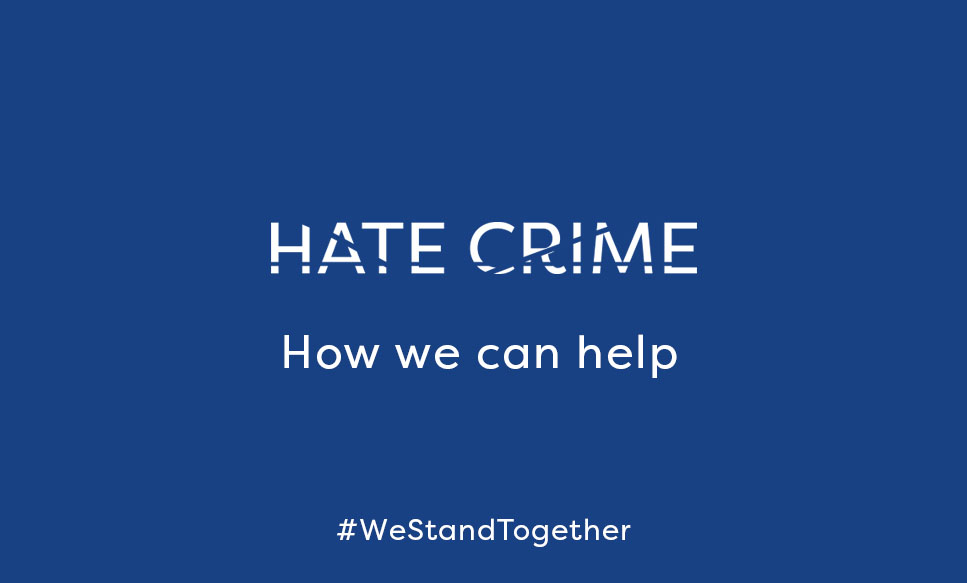 As part of Hate Crime Awareness Week (10 – 17 October), we've been supporting the national campaign to raise awareness of hate crime by hosting virtual events, sharing a customer's story and telling you about how raising awareness is more important than ever. In our previous blog, we shared the different ways you can report hate crime.
Today, our Safer Neighbourhood Specialist Joe tells you about the step by step process Onward takes when responding to hate crime. 
How we respond to hate crime
If you report to Onward that you believe you are a victim of hate crime, it will be treated as a hate crime case immediately. For us, hate crime falls under a Category A case which means we aim to respond to you within 24 hours of you reporting it (excluding reports made on a weekend).
When our Safer Neighbourhood team contact you, we will listen to you, collect as much information as possible and take time to understand the circumstances that you face. We will not judge you and we are here to help.
Likewise, if you have reported an incident of antisocial behaviour to us and it becomes apparent that this is motivate by hate, we will treat this is an incident of hate crime.
If you have not already reported the incidents to the police, we will support you making these reports via the many methods in which you are able to report incidents of hate crime.
We will immediately complete a risk assessment for your case. With your consent, we will also include the involvement of other agencies who can help within your local authority.
As every hate crime case is completely different, we will provide a tailor made action plan for you to support you as a victim and work towards resolving the issue. You will receive a copy of this action plan in writing either by receiving a letter or electronic letter.
Your action plan may consist of deploying safety measures to your home, issuing personal security measures such as alarms and provide strategies to gather evidence should the incidents re occur e.g. incident diaries or deployment of The Noise App. We will investigate your report by communicating with witnesses and reviewing all evidence gathered.
With your consent we will interview the perpetrator, providing they are known to Onward as a customer.
We will refer you to a multi-agency hate crime team within the local authority. We will use this as an opportunity to utilise the expertise from other agencies such as the police to support victims and take action to ensure perpetrators of hate crime are held to account.
If the perpetrator is not an Onward customer, we may be able to assist other agencies in identifying them, making sure that perpetrators are held to account.
With your consent, we can also refer you to our Tenancy Support team to provide ongoing support to assist you sustain your tenancy.
Tools we can use to resolve hate crime
Referrals to support agencies
We will make necessary referrals to internal and external support agencies to ensure the victim has support.
Property security measures/ target hardening
We will look at the security of your home and consider where additional security can be deployed to minimise further incidents. This may include a referral to the fire service.
We are committed to engaging in preventative action with multi-agency teams groups within the community. This may consist of a day of action in our communities or a tailor-made week of action during hate crime awareness week.
If we can identify a tenancy breach we will issue the perpetrator with a tenancy warning.
If we have already issued a tenancy warning and there is evidence the perpetrator has committed another tenancy Breach then a pre-legal warning may be issued.
Acceptable behaviour Contracts (ABC)
If there is evidence of multiple tenancy breaches, then depending on the circumstances we will consider engaging with the police and other agencies to draw up an ABC with the perpetrator.
Multi-agency strategy plans
Provided consent if provided by the victim, we will refer the case to a local multi-agency risk management meeting with other agencies such as police, support agencies, local authorities, fire service, social services, registered providers and other agencies to utilise the resources and expertise around the table to ensure that the correct outcome is achieved.
If Onward has evidence of persistent tenancy breaches. Then an application to the County Court will be made for an Injunction Order to put a set of restrictive measures in place to protect the Victim.
Without notice injunction order.
If there is evidence of persistent tenancy breaches and there is evidence that there is a significant risk to safety either by violence or a threat of violence, then an application for an injunction order can be made without providing the defendant with any notice.
If there is evidence that the perpetrator has breached the terms of an injunction order, without notice injunction order or undertaking, then an application for committal can be made to the County Court and the Defendant may be found guilty of Contempt of Court. This may result in imprisonment, fines or seizing of goods.
If there is evidence that a perpetrator of hate crime is continually breaching the terms of their tenancy agreement and every option to resolve the issues have been considered, then Onward may make an application to take back possession of the perpetrator's property.
If you would like further supporting on reporting hate crime, please get in touch with our team.