Hate crime awareness week 2020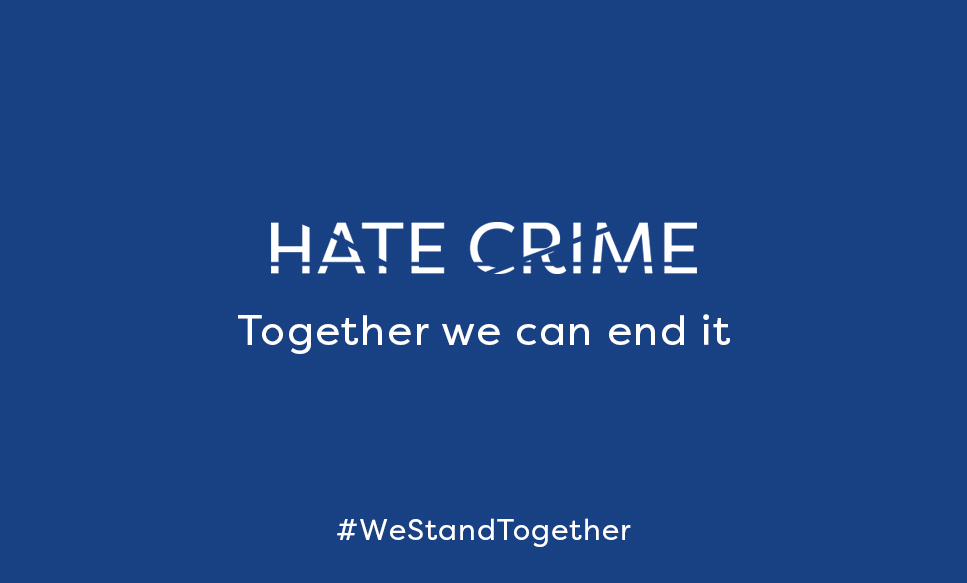 It's National Hate Crime Awareness Week (10 – 17 October) and over the course of the week, we will be providing information about hate crime, sharing customer stories, and holding virtual events to raise awareness. 
Today, we hear from our Safer Neighbourhood Specialist Joe who tells us about how hate crime has become even more prevalent, what we're doing as an organisation to tackle hate crime and ways you can get involved.
Promoting hate crime awareness is more important than ever
In the UK, we witness an increase in reported hate crimes year by year. Between 2012 and 2019 hate crime cases reported to the police have more than doubled. The reasons for this could be that hate crimes and incidents of discrimination are increasing or, there is an improvement in hate crime reporting and awareness of acts of discrimination.
Throughout 2019 and into 2020 has been a stark reminder that hate crimes are very prevalent in our society. Evidence suggests that during the COVID-19 lockdown we have seen an increase in reports of hate crimes aimed at the South and East Asian communities. The conversations about racial inequalities, discrimination and systemic racism are getting louder and louder thanks to campaigning from our communities.
As the conversations get louder and campaigns gather momentum there becomes more opportunities to provide education and awareness to our community members about discrimination, inequalities and unconscious bias, which, if left unaddressed can manifest into negative attitudes and prejudicial views.
We all have a responsibility to highlight acts of discrimination in every form and must be addressed with consistent, coordinated and collaborative partnerships to provide education and confidently challenge discrimination, inequality, bullying and harassment. We are stronger together.
What we're doing 
Within Onward, our Safer Neighbourhood Team investigated 32 hate crime cases between April 2019 and April 2020. These cases range in variety and have been motivated against an individual's sexuality, race, religion, disability, sex, age and gender identity. The cases range in severity, from harassment to serious violent assaults and extortion, but regardless of the severity, what is clear is the impact that this can have on a victim or a victim's family and on the community.
Incidents of hate crime can impact on the victim's mental health, physical health, professional life and person relationships – the impact can be resounding and tear through a community. When we investigate hate crime, we use a variety of enforcement tactics using non-legal and legal methods in both civil and criminal settings to resolve hate crime.
This week aims to create awareness of hate crime and we will do so by outlining our operational response to hate crime, demonstrating how we're prevent hate crime from happening in our neighbourhoods and showcase how we empower victims and residents in our communities by providing resources on how to report hate crime.
We'll also demonstrate our passion to stamp out discrimination and fight for equality, and demonstrate how we effectively collaborate with external partners and work together within a victim centred multi-agency framework to resolve hate crime.
This week is also an opportunity to remember the victims of hate crime who are unable to be with us today.
During Hate Crime Awareness Week, we will:
Provide a "behind the scenes" experience with a Safer Neighbourhood Specialist during three online sessions. You can sign up here.
Share customer stories of real hate crime cases.
Provide an information pack on hate crime, including information about how you can report hate crime and resources identifying agencies who support victims of hate crime.
Tell you how Onward also reacts to hate crime and provide information regarding the tools that we use to resolve hate crime.
To keep up to date with us this #HateCrimeAwarenessWeek, please follow us on our Twitter and Facebook.
To report hate crime, always call 999 in an emergency. If it is not an emergency you can report it to the police by dialling 101.