Working at Onward – Q&A with Kieran Foster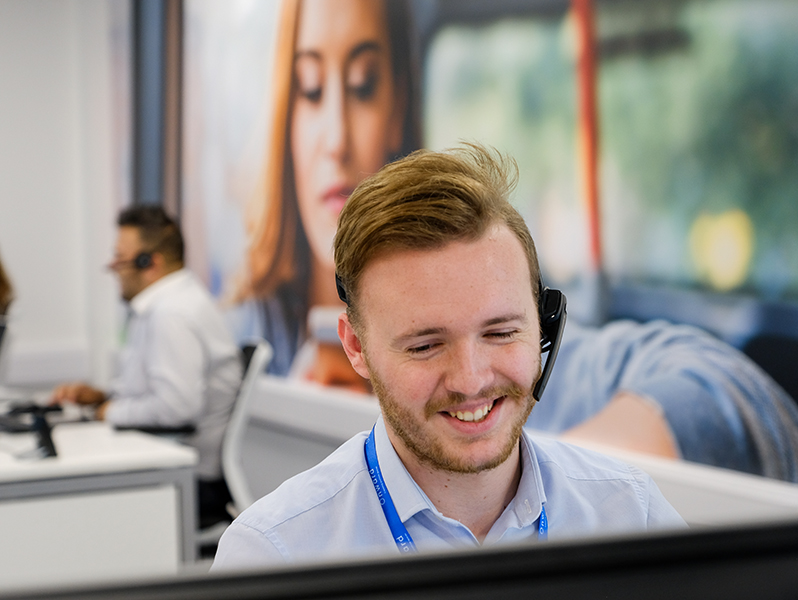 Have you ever wondered what a career in housing would be like?
In our blog, we sit down with our Customer Service Specialist Kieran to ask about his experience of working as part of the customer service team for Onward, to help provide an excellent customer experience to our tenants.
What was the application process like for the job?
At first I was very unsure and apprehensive about the whole process as I was already settled in another role but I knew for personal development and growth that it would be the right move.
When speaking to Onward on the phone, the team were really friendly and I knew I had the opportunity to do some great work that I could really dig my teeth into to help support our residents. So I decided to apply and one year on, I am still loving what I do and have no regrets about the decision.
How was starting your new role at Onward?
Easy to say I was anxious. Even though I had done similar work before, I wanted to impress and I wanted to do the best for our customers. I was always thinking "can I do this" when trying to go one step further to help our customers, and thankfully the team will always back you up with your decision as long as it's in the best interest of the customer.
What is the culture like at Onward and what are the perks?
Onward is still part of a very large culture shift. The amalgamation of several organisations into one has created a lot of big changes but all in faith to improve the service we can deliver to our customers. The contact centre was specifically developed as part of the culture change to help bring us all together to deliver a fantastic service.
Working as part of the team has also been a blast, my colleagues make every day really enjoyable and regardless of the challenging climate we face, it's always good to have a team willing to offer help and support.
There's also lots of extra perks of working here such as a generous annual leave allowance, a healthcare cash plan and the chance for personal development.
What's your favourite part of your job?
Good question, it's split between the two!
Having the respect of my peers who seek advice from me and trust in my judgment. It's a very rewarding feeling to help a colleague in tricky situations.
Positive feedback/compliments from customers. It always makes me proud to speak with a customer who wants to tell you how fantastic a colleague was to go above and beyond to help improve their lives.
What's the most challenging part?
In the UK, we unfortunately live in a housing crisis and it's our role as a housing association to help get people under a roof that feels like home. This can be challenging as we want to support everybody and do what is best for a fellow human being.
We have guidelines that we do have to follow to keep people suitably housed making sure we have sufficient space for families and those with special requirements. A hard part is that we don't have enough houses in some areas of the country and people can wait a long time which can be tough. However, this makes it all the more reason to be proud of working at Onward because we are building new properties and want to help support more people in the North West.
Contact Centres often get a bad rap – what's the one thing you wish the public knew?
There are many of us (myself included) who are currently renting with social landlords so we understand the issues our customers are facing. Sometimes it is difficult but we do understand the position you are in and we do care.  Some of the greatest stories are built on the trust we have created with our tenants and we can make a difference if you give us the chance.
Are there opportunities for personal development in your role?
The contact centre staff have become so versatile in their knowledge due to having to network with other departments to get the best service for customers. This also does sadly mean that we do see people in the team move onto other roles and the majority of the time it's internally with Onward!
You will gain the skills to be able to progress pretty much anywhere if you work hard enough, and just to sprinkle a little more Kieran wisdom: "Just stay focused and committed to what it is you want to do and when the door of opportunity opens, all you have to do is walk through."
What's really exciting you about the Contact Centre right now?
Right now we are developing new technology to make logging repair online much easier for our tenant such as online chat bots on our website.
We're incredibly excited about the new recruitment that is being rolled out for fellow Customer Service Specialists and we're looking forward to seeing all of the new faces.
We're also working closely with our charity partners CALM – a charity leading a movement against male suicide. We filmed our own work mate version of the best man project and we're helping to make an impact for the charity through awareness and fundraising campaigns.
Why choose Onward?
The ambition of the organisation. I am looking forward to the future with Onward and hope that I will have a long lasting career here.
What kind of skills do you think you need to be a customer service specialist?
Really simple one but you need to be able to listen. You need to listen and hear what the customers are telling us. We are in a pivotal role where our feedback as the front line with our customers is vital. The whole organisation is waiting to know what customers think so we can react and change for the better.
We also need to be able to understand the role we play in the country. A good knowledge of what we are trying to achieve as a housing association can really keep you focused on the role you play, understanding our key values as you progress through the business.
Would you like to join our friendly team at Onward? We're currently looking for a number of Customer Service Specialists to join Kieran and the rest of the team.