Lift safety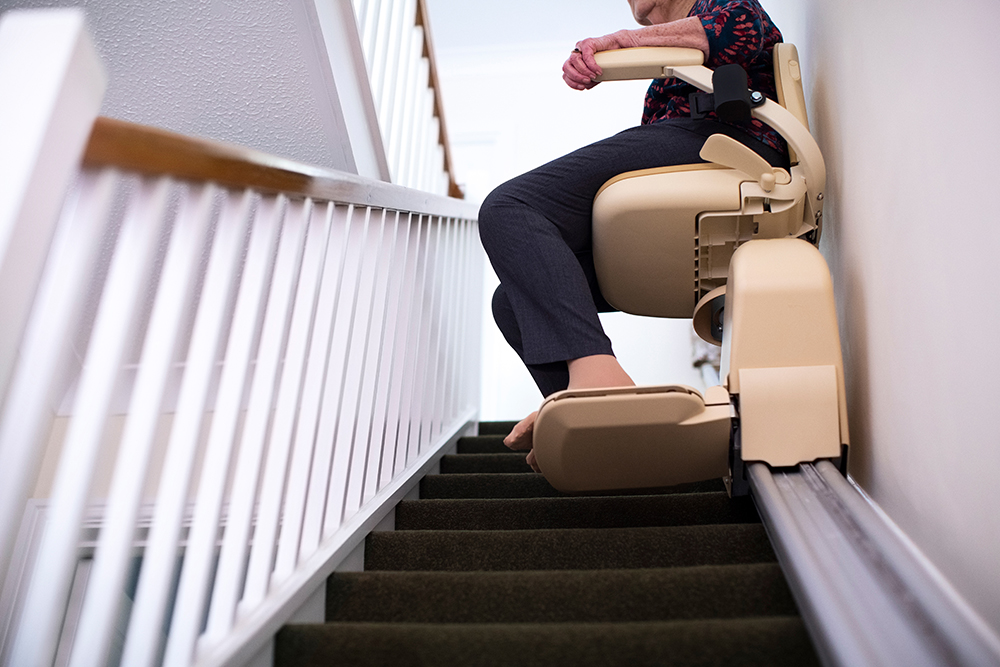 Many of us have adaptations or disabled lifting equipment (DLE) installed in our homes to help us live more independently – such as a stair lift, a through-floor lift, or lifting equipment. However, poorly fitted or badly maintained equipment can lead to serious accidents or even death.
This page gives you important information about what to do if you experience a problem with your stair lift or lifting equipment and what you can do to keep safe. We also highlight our responsibilities for lift safety to you.
Top tips for using your stair lift safely
Wear your seatbelt. Granted, you're not reaching great speeds on a stairlift, but wearing a seatbelt or harness is still very important. Just a slight loss of balance could result in a dangerous fall.
Take care when getting on and off the lift. This may seem obvious, but just like with many everyday activities, it's easy to get into bad habits. Getting off a lift, especially at the top of the stairs can be quite dangerous, especially for someone with compromised balance. Consider taking advantage of features such as an extended rail or a swivel seat to mitigate these risks.
Do not overload the unit. It might be tempting to try to carry objects (or people) with you on the stairlift. However, not only will this represent a hazard, you could end up overloading the unit by putting too much weight on it.
Ensure children can't operate the lift. If you'll have young children in the home often, it's a good idea to disable the operation of the lift when not in use by the user.
Fold up your chair when not in use. Most chairs come with fold up seats, armrests, and footrests. Aside from making it easier to get around, it also makes things safer as you don't have large tripping hazards. This is especially important if there are small children, others with mobility issues, or anyone with a sight impairment.
What should I do if I find a fault with my equipment?
Call us on 0300 555 0600 and seek guidance, or if you have an extended warranty agreement with the installer you can contact them directly
Do not use, or allow anyone else to use the equipment until it has been checked by a professional
What happens if a lift/DLE fails the inspection?
An inspection record containing details of any defect identified and remedial action needed will be submitted to Onward. We will ensure that any safety defect identified is rectified before the equipment is used again.
It is an offence to use, or allow to use of, a lift or item of lifting equipment that has been quarantined or taken out of service for safety reasons, until the fault has been rectified.
Our responsibility for lift safety to our customers
As your landlord, it is our legal duty to carry out an insurance inspection every six months (LOLER) we also carry out six-monthly servicing regimes to ensure that health and safety conditions are maintained and that any deterioration can be detected and remedied in good time
Our contractors will make sure that in your equipment is in a safe condition.
We are not responsible for equipment that you have bought for yourself, and before making any such purchases this should be agreed by us as your landlord.
In accordance with your tenancy agreement, you must allow us access to carry out checks to ensure your safety. If reasonable access is not provided, it will be necessary for us to take action.
Help us to keep you safe.
We will contact to you before your insurance inspection (LOLER) or servicing is due
Please allow our engineers into your home to carry out your safety inspection.
Always keep your appointments with our contractors.
If your insurance/servicing appointment is not convenient, call us on 0300 555 0600 to arrange an alternative date.
For any questions about safety in your home, or to find out when your inspection is due, call us on 0300 555 0600.