Greater Manchester & Cheshire
Onward makes progress in Greater Manchester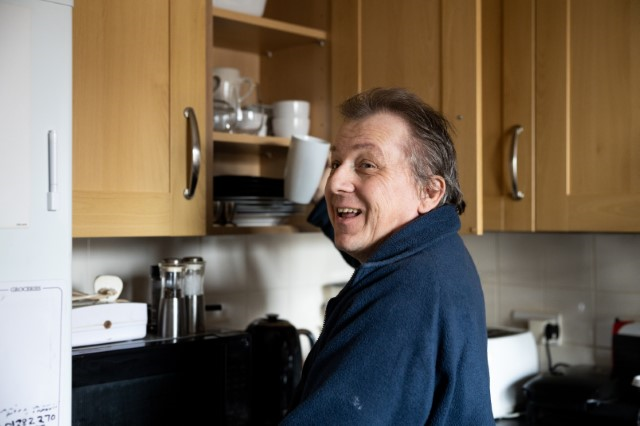 Delivering our neighbourhood plans in the region
In September we launched 59 plans for each of our different and unique neighbourhoods in the North West. These plans were developed with customer feedback and they set out our service commitments to customers for the year ahead.
In this blog, take a look at the latest progress made in Greater Manchester & Cheshire and look forward to what's next. Alternatively, download your neighbourhood plan for an overview.
Hattersley and Mottram
Here is a summary of progress in delivering the objectives of our Hattersley and Mottram Neighbourhood Plan during 2020/21
Success in Handforth
Over the last few months, we have worked in collaboration with the local police force to tackle antisocial behaviour (ASB) at several tower blocks in Handforth with great success. We have also improved the bin store area and delivered several Skip Days and Community Clean Up Days which have gone down a treat with customers and local councillors. But it doesn't stop there.
Work has just started on site at our tower blocks to remove persistent pigeon issues – ensuring that customers can be proud of where they live.
Environmental Services clears a path for the future
The Grounds Maintenance team has taken major strides in neighbourhoods across the region, establishing several biodiverse spaces including new flower beds, hedgerows and nature friendly green spaces at Chaucer Mews, Stockport; St Marys, Oldham; Hatro Court, Urmston; and in Hattersley.
Also in Hattersley, at Fields Farm Road, we created a dynamic play area, turning a once abandoned space into an exciting space for kids, and at the Old Vicerage, Bolton we transformed a bare space into a new, gravelled seating area.
At Crompton Court, Bolton we worked with local residents on making a communal vegetable patch – empowering customers to go green and grow their own!
Looking ahead, the Environmental Services team has engaged with customers and, following their feedback, the team has started on big plans to create community landscapes in Salford and Hattersley. In response to local issues, fly tipping is also high on the agenda, as the team implements our new approach to waste management across the region.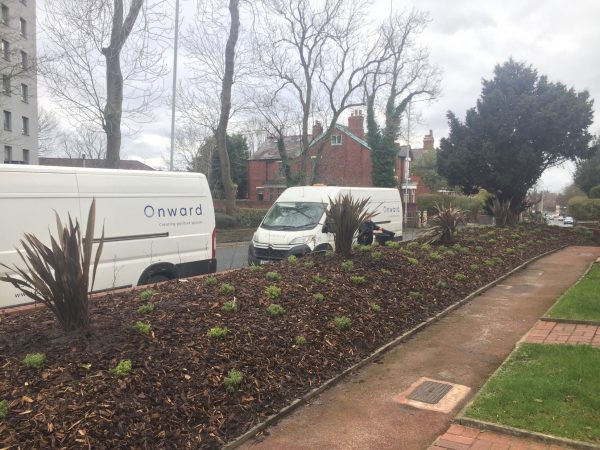 Environmental improvements at Chaucer Mews, Stockport. Before and After
Antisocial behaviour (ASB) gets kicked out
The Safer Neighbourhoods team does some tremendous work with customers and communities to help make people feel safe in their homes. This is no different in Greater Manchester where they have been collaborating with local authorities and organisations to tackle ASB, such as in Trafford, Tameside, Bolton North and Bolton South.
Where we have seen increases in cases of domestic violence throughout the pandemic, the team has been offering targeted support to identify, help and move victims into safe environments.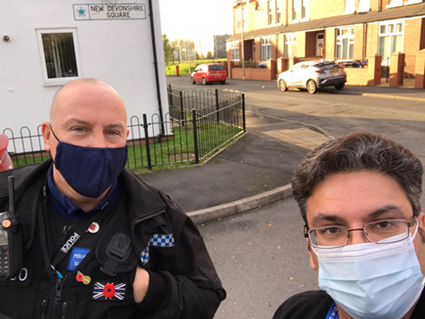 Working with the local police force in our neighbourhoods.
Hattersley Work & Skills Project boosts employability
The Work & Skills Project has engaged with over 225 individuals since its launch in January 2020. Despite the pandemic, the project helped 11 customers into work, 72 customers into training and 84 into volunteering. In collaboration with Tameside Council, we hope to continue the scheme to help more customers achieve their potential.
State-of-the-art dementia care scheme set to open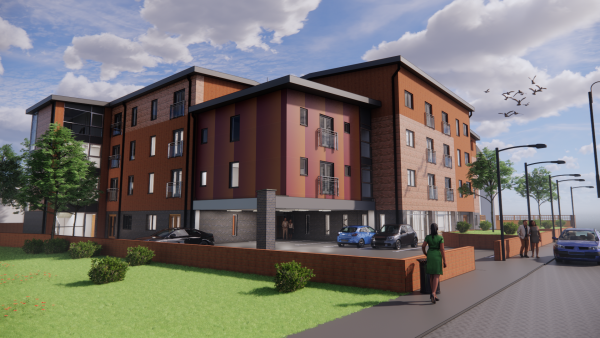 Set to open later this summer, Oaklands Housing with Care scheme, situated in the popular suburb of Fallowfield, will provide bespoke care packages and tailored support to residents while also enabling them to maintain their independence and quality of life.
The 36 self-contained one and two bed apartments are ready to move in, with flooring, blinds and integrated appliances provided.
Residents will rest easy, with on-site carers and 24/7 assistive technology ensuring their safety and wellbeing round the clock.
More than that, they can expect access to a private on-site bistro, hairdressers, communal lounges and safe outdoor spaces, including a secure roof terrace.
Located within close proximity to the City Centre, M60 and Europe's largest bus route, residents can experience city living in a safe environment.
oaklands housing with care scheme
Wellbeing takes precedent in Brunswick
This spring we opened the doors to Brunswick Village, a new purpose built development for over 55's. 60 one and two bedroom apartments were made available for rent with lots of on-site facilities, including a bistro, hair salon, laundry room and rooftop gardens with magnificent views over the Manchester skyline.
For more information about the scheme, or to download an application form, visit www.s4bmanchester.co.uk.
What next?
Over the coming months we'll be working hard to deliver services in our neighbourhoods while managing COVID restrictions and operating safe systems of work.
Some of the key issues we'll be tackling in Greater Manchester:
Addressing fly tipping and ASB
Making major improvements to existing schemes
Delivering new investment and completing the build of new homes
Hosting more community activities and encouraging customer engagement
If you'd like more information about the ongoing work in our neighbourhoods, or the services we offer – including wellbeing programmes, financial support and lots more – please get in touch on 0300 555 0600.
Download your neighbourhood plan and see our vision for the future here.