Why Apprenticeships are a great way of attracting and retaining talent in a turbulent job market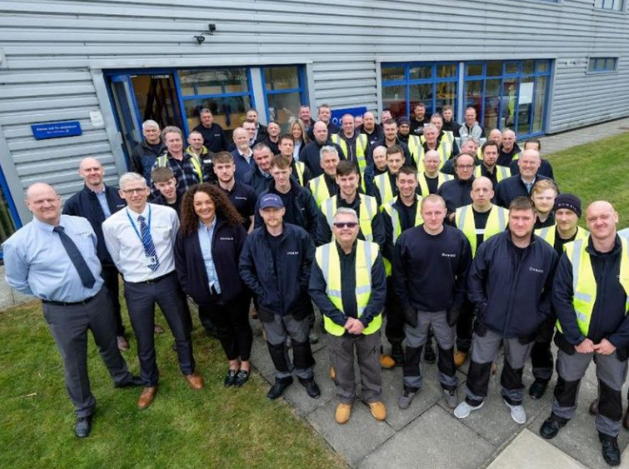 Skills shortages and a candidate driven job market are just some of the challenges Organisations are facing in the current climate.
Here at Onward we believe that Apprenticeships are a great way of attracting and retaining talent in a turbulent job market. According to data gathered by McKinsey in 2021, 87% of companies have skills gaps or expect to within a few years which is a staggering shortfall for businesses! Therefore, in order to plug the skills gaps and grow our own talent, Onward are committed to utilising apprenticeships.
According to the National Apprenticeship Service (NAS), 86% of employers said apprenticeships helped them to develop a motivated, skilled and qualified workforce and 90% of apprentices are staying on after completing an apprenticeship so what better way to attract and retain talent to support our ambitious plans here at Onward!
So, let's take a look at what Onward have done so far! Back in February we celebrated National Apprenticeship Week where we talked about investing in apprenticeships to attract and develop talent.
Since then, we have opened up our apprentice vacancies which span across a number of roles – Environmental Services, Customer Services, Data Protection, Income Management and Financial Inclusion and various Trades roles within our Onward Repairs Team. We're already seeing impressive achievements from our current apprentices and were delighted to see that John Jacobs (who is studying Painting and Decorating within our 2021 cohort) was awarded Construction Apprentice of the Year and Overall Apprentice of the Year at that the Nelson and Colne College Group Awards. We were also thrilled to have achieved the Large Apprentice Employer of the Year award at the ceremony.
We are pleased to have received an astounding number of applications for this year's cohort. 13 apprentices have already joined us this year with more to come! We are still recruiting for some of our apprenticeship roles and are delighted to be welcoming our 2022 cohort of apprentices to Onward!
Steve Russell (Head of Onward Repairs) talks about the benefits of employing apprentices at Onward Repairs and the importance of apprentices for our trade's roles.
'We're currently experiencing a real shortage of skills within the Trades industry, not just here in the Northwest, but right across the UK. It's vital that an organisation like Onward has these technical skills in-house, so that we can continue to repair our homes to a high standard and provide and all-round excellent service to our customers.  
We've found that apprenticeships are a great way of developing our people and the capability of our Team. Like everyone at Onward Repairs, all our Trades Apprentices are supported with a personalised development plan once their apprenticeship ends, so they will only continue to learn and grow with us.
This long-term commitment to our apprentices has helped us nurture and retain some of the best local talent, which our normal recruitment searches might have missed. As ever, I'm really looking forward to meeting this year's intake of apprentices and doing our bit to help tackle the skills shortage in our region.'
Our commitment to apprentices goes beyond the recruitment activity as we're also upskilling the talent we already have at Onward through apprenticeships in subjects which include Housing and Property, Customer Service, Construction, Surveying, ICT and Finance.
In total, we currently have 38 colleagues completing Apprentices across Onward at various levels! We strongly believe in the benefit of apprenticeships and our investment is shown through our commitment to ensure all apprentices are paid the Real Living Wage, alongside benefits such as annual leave, access to our company pension scheme, and to a health care cash plan, along with access to discounts for household brands.
Onward are committed to paid learning opportunities to provide apprentices with the skills for now and the future.  Investing in apprentices equip them to deliver great service to our customers and will contribute to our goal to achieve the Onward Difference.
We'll be at the Amazing Accrington Futures Event on Thursday 6th October from 9:00-17:30 at Accrington Town Hall, 42 Blackburn Rd, Accrington, BB5 1LA so come and say hello and find out more about Onward and what we can offer!
Want to know more?
Check out our current apprenticeship vacancies within the Environmental Services Team and view all of our career opportunities at www.onward.co.uk/aboutus/careers/