Why a door could save your life today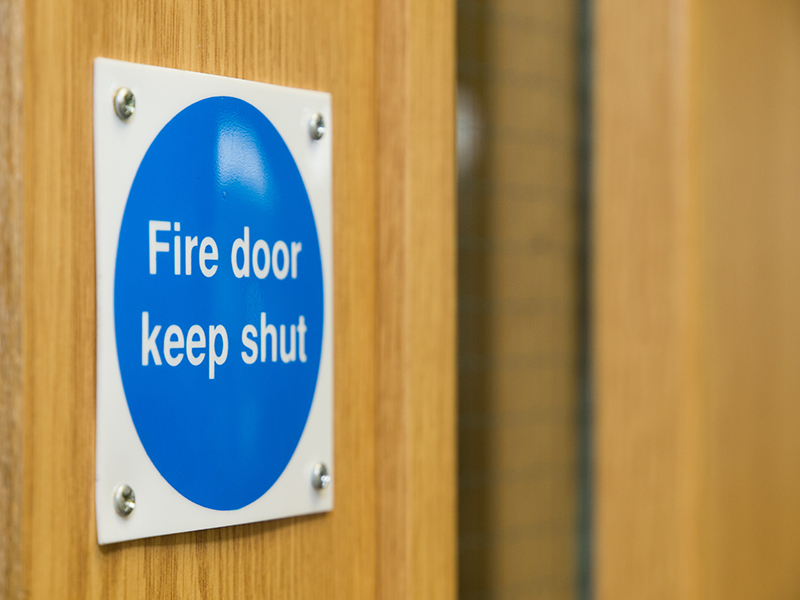 Doors might not seem top of the list of ways to protect yourself and your loved ones from a fire, but they really could be the difference between life and death.
When I was a kid I was terrified by the idea of waking up in the middle of the night to realise my house was on fire. I may not have been the most popular girl in school, but I was a dab hand at making a rope ladder out of a sheet in case of a quick escape.
One thing I didn't give much thought to though was fire doors. Well more fool me because this week is Fire Door Safety Week and it turns out they're such an important part of protecting yourself in the event of a fire there's a whole week dedicated to them.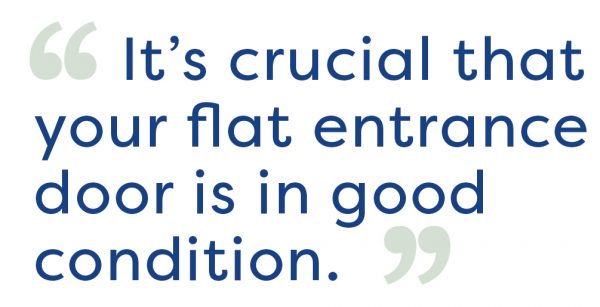 Did you know?
There are around 300 deaths a year from fires in the UK alone. That's nearly one a day and therefore not a figure to be sniffed at (though they may be sniffed out, if you want to lower your risk of starting one).
Fire doors are literally what's standing between you and danger if there's a fire or smoke in your home, which is why they really are worth your time.
Talking of time, fire doors can hold off a fire for between 20 minutes and nearly two hours depending on the door.
Even if you don't have a fire door all closed doors give some level of protection, which could be the difference between safely getting out of your home and not.
You should also have at least one smoke detector per floor and check it monthly – evacuate your home immediately if the alarms go off.
Who's responsible for fire doors?
If you're an Onward customer, our flat entrance doors are fire doors, as well as some doors inside flats – usually in high rise buildings.
Inside houses and low rise flats there should be no missing doors, as even ones that aren't technically fire doors can provide up to 20 minutes protection. Ideally you should aim to get out of your home in 2-3 minutes if there's a fire. Keeping doors around your home shut provides you with a safe evacuation route.
If you're in a flat and your entrance door is damaged, or there are damaged/missing internal doors, please let us know ASAP so we can come out and get it sorted.
Keeping our customers safe is our top priority, so we work hard to ensure all our homes meet fire safety standards and do regular safety checks throughout the year.
We take our responsibility as a landlord incredibly seriously, but teamwork makes the dream work, so we need your support and cooperation to keep you, and the people around you, safe.
Top tips
Here are a few simple but incredibly important ways to make sure your fire door is doing its job:
Always make sure it's shut at night
Never wedge fire doors open
In the event of a fire make sure all fire doors are closed, if it's safe to do so
If you spot any damage to a fire door, report it immediately – this is especially important for flat entrance doors and kitchen doors
Make sure fire doors and exits are clear at all times
Find out more about fire door checks you can do at home here.
Book a free home fire safety check
Local fire and rescue services often offer free Home Fire Safety Check Services. They pretty much cover everything, so it's a really good idea to book one in.
To book a free Home Fire Safety Check Service visit:
Reporting a faulty fire door
If you suspect the building you're living in, working in, or visiting has a faulty fire door, don't walk by – report it immediately. This five-step fire door check will give you an idea of what to look out for.
Of course, there are plenty of other things that are very important when it comes to preventing fires and keeping yourself safe, so it's not just a case of getting this one thing sorted and closing the door on the matter.
Keeping yourself and your family safe is a daily thing but, for the sake of 10 minutes doing some checks, incredibly worth it, so check out some more top tips for preventing fires here.
If you're worried about your fire safety, call us on 0300 555 0600 or email to find out more