Knock-knock-knockin' on fire safety's door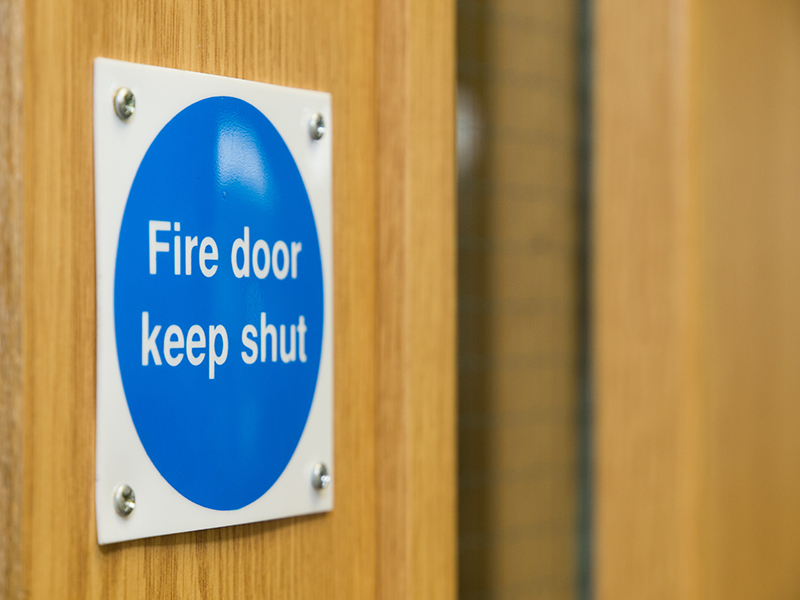 When was the last time you checked your fire safety door? If you're scratching your head, now could be the time to change that. Our Compliance Manager Michael tells us how to open the door to better fire safety.
Shut out the risks
Flat entrance doors are a vital part of fire safety in blocks of flats. They form part of the firewall used to create a protected escape route from your flat, therefore it's crucial that all flat entrance doors are in good condition and hit certain standards.
Flat entrance doors should be FD30s doors, which means they're fire resistant for a minimum of 30 minutes.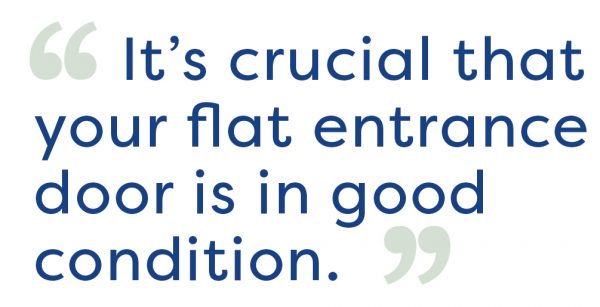 They also need to have a self-closing device, which is usually an overhead elbow closer, but there may be a chain closer in the frame, on the hinge side about half-way down.
They should be fitted with intumescent strips that swell up if heated to seal any door gaps, as well as cold smoke seals to prevent smoke entering or leaving – these usually look like a white plastic strip with a grey fuzzy brush running down the middle.
Check your doors today
There are some simple checks you can do yourself to make sure your door is secure. Make sure:
The door is in good condition with no holes, cracks or dents
The letterbox covers are not missing
The door has a self-closer (see above)
The door is able to fully close into the frame – open it six inches and then see if it fully closes
There should be intumescent strips with cold smoke seals on both sides and the top of the door or in the frame (see above)
The door hinges are in good condition with no missing screws, bending or cracking
Self-closing doors
The reason self-closing devices are so important is that the most likely starting place for a fire is inside your flat.
When you evacuate your flat, the self-closing device will ensure the door fully closes behind you and prevent the fire from spreading beyond its starting point.
You should never remove your self-closing device for this reason, and if you find it too restrictive there are alternative closing devices that we can install, so please get in touch.
Our 'zero-tolerance' policy
We operate a 'zero tolerance' policy in flat communal areas, as this is the escape route in an emergency.
If there is nothing to burn in these areas then there can never be a fire in them, ensuring your escape routes are always clear and safe.
You should never change your flat entrance door if you are a general let resident. If you're a leaseholder, you must inform us that you intend to replace the door and provide details of the door and installer.
Flat entrance doors are specialist products that must be fitted by a specialist installer. This means we'll need to see a copy of the data sheet that comes with the door for our records, so we can ensure it meets regulation and will help to keep you safe.
If you have any issues at all with your flat entrance door get in touch with our Customer Contact Centre to book a repair.
Get in touch to find out more or book a repair