Kindness at the foundations of a new community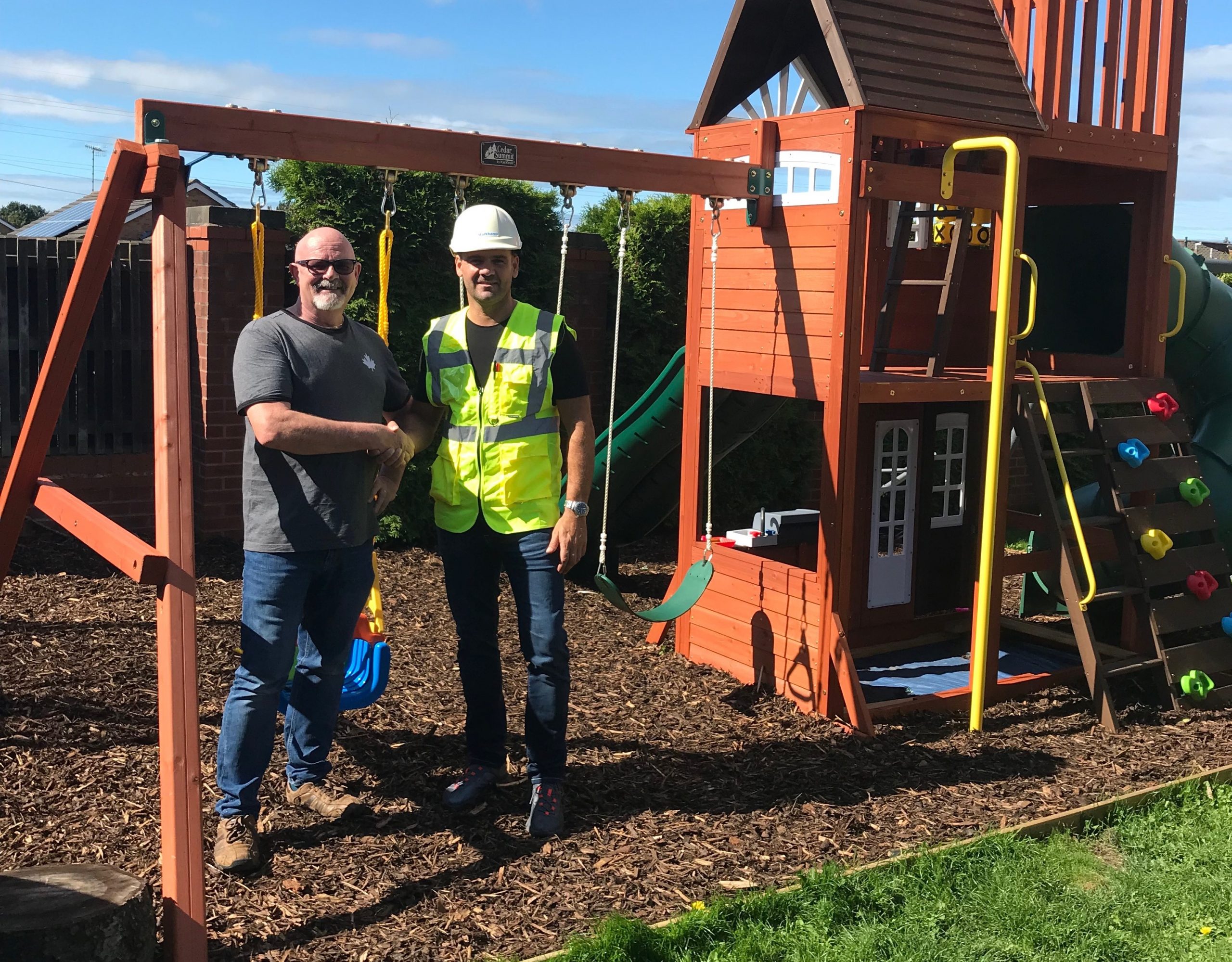 Now more than ever, acts of kindness are important – as is working with great partners – which is why we were delighted to receive a lovely letter the other day thanking one of our fantastic contractors for a very special gift.
Housing development is about so much more than laying bricks and winning contracts – it's about building communities, and giving those communities strong foundations to thrive.
This was proven by Ian – the owner of Hampton Developments NW, the contractor working on a site of ours in Wirral – who paid for a climbing frame for local children out of his own pocket.
We found out about the amazing act of kindness when we received a letter from the children's foster parents saying thank you to Ian and his team for being so helpful and considerate.
'Overwhelmed by generosity'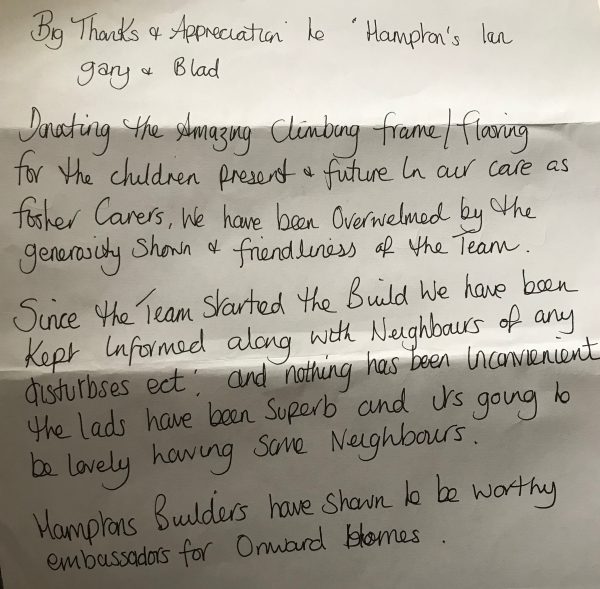 The letter, from local couple Frank (pictured above with Ian) and Debbie, said:
"Big thanks and appreciation to Hampton's Ian, Gary & Blad.
"Donating the amazing climbing frame/flooring for the children present and future in our care as foster carers, we have been overwhelmed by the generosity and friendliness of the team.
"Since the team started the build we have been kept informed along with neighbours of any disturbances etc. and nothing has been inconvenient.
"The lads have been superb and it's going to be lovely having some neighbours. Hamptons builders have shown to be worthy ambassadors for Onward Homes."
Paying it forward
After receiving the letter, Ian told us: "We met Frank & Debbie at the start of the scheme and were blown away by their choice of vocation in life to be foster parents. After speaking to Frank about the effects of lockdown on the children we decided it would be a worthy cause to donate the play centre and install it for them.
"This is a minor gesture compared to Frank & Debbie's sacrifices to help these children. We hope the kids, and any future kids, enjoy it for years to come."
A big thanks to Hampton!
The slide's new home is Third Avenue, a scheme we're currently developing in Bidston, Wirral. It's made up of 17 much-needed bungalows to house people in the local area.
Hampton has been working on the site as the main contractor and is progressing well, especially given the issues surrounding COVID-19.
We've worked with Hampton for a number of years – they're currently on site with their fourth scheme for Onward, delivering over 50 homes including the recent award-winning St Bernard's church project.
Our Head of Development Lin said: "We see Hampton as a long-term development partner. They not only deliver a quality product but they have the same values as Onward – they genuinely want to contribute to the communities where they work and have delivered social value on every scheme to date.  This is a well-deserved recognition."
Our Assistant Project Manager Jon added: "Ian, Gary the site manager, and the contractors they use are all always very approachable and great to speak to, so it was no surprise to me that they would make such a gesture.
"Ian had told me when I had visited the site that he had made friends with many of the local residents, as he and Gary always do on their schemes. They always try to make a good impression as they are aware of how a building development can affect life for people living nearby."
To find out about the development work we're doing visit our website or head to Onward Living to chat to our sales team