World Refugee Day 2021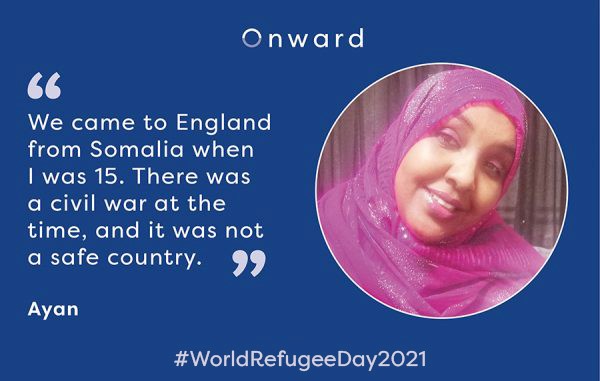 World Refugee Day, held annually on June 20th, is a global day established by the United Nations to honour refugees around the globe. It celebrates the strength and courage of people who have been forced to flee their home country to escape conflict or persecution. The aim is to build empathy and understanding for their plight and to recognise their resilience in rebuilding their lives. This year in particular, the UN calls for greater inclusion of refugees in health systems, schools and sport. 
Why is this day important?
Every minute 20 people leave everything behind to escape war, persecution or terror. World Refugee Day shines a light on the rights, needs and dreams of refugees, helping to mobilise political will and resources so they can not only survive but also thrive. While it is important to protect and improve the lives of refugees every single day, international days like World Refugee Day help to focus global attention on those fleeing conflict or persecution.
In conversation with Ayan..
Today, we chat with Ayan from Merseyside who has been an Onward customer since 2007. She moved to England from Somalia with her family when she was just 15. At the time Somalia was experiencing a civil war and the family had little choice but to flee. We talk about that experience and the success she has had as a refugee in England ever since.
Tell us a bit about you and your experience of moving to England.
We came to England from Somalia when I was 15. There was a civil war at the time and it was not a safe country to stay and live. Life was very privileged in Somalia – we lived in the capital Mogadishu, we were in good schools, food was plentiful and there was a lovely community around us.
What are your memories of growing up in England as a young, Somalian woman? Did you ever face bias or discrimination? How did you deal with that?
I haven't really faced discrimination as such. I have met people who didn't understand my culture or history, or even geography, which I think is different.
When I first started school in England, some of the children asked if I had shoes in Somalia – this made me smile. I have chosen to embrace each situation and help people to learn and understand, rather than taking offence.
I volunteered at Crawford House [Community Partnership] as a young person too – doing administration jobs, teaching and translating for other refugee children. Education has always been so important to me – it gives you opportunities in life and we should share this gift with others.
Despite such an early upheaval, you've gone on to achieve great things. You've studied Health & Social Care, you've won awards for your writing and you've had a family. Where did you find your motivation to succeed?
I had good people around me. My Uncle inspired my writing – he was also a well-known writer. I had a dream that I wanted to be a nurse, so when I finished St Marys high school, I went on to Old Swan College for a year, then to Hugh Baird College for another 2 years.
An opportunity then came along for a single regeneration budget (SRB) project working with Liverpool City Council as a liaison and translator between the local Somali community and the City Council. It was a tough interview – there were 9 people on the panel, and I was so nervous. To my surprise, I got it!
I loved the job and very soon I started to work within communities. This role helped me to understand English culture even more – the systems for paying bills and rent, applying for schools and colleges. It really developed me personally.
What advice would you give to young and aspirational women like you in the community?
You can do it. You must work hard and you have to be determined, but you can do it! There are others like you – find them and support each other.
And finally, what's next for Ayan?
I am hoping to start my own business. I have written some family education sessions that include culture, food and language, and I want to hold them in community settings in the future.
I also have my own YouTube channel and am just looking at how I can do some of these sessions online too so I can reach more people.
---
Get involved in #WorldRefugeeDay on social media and let us know what it means to you.
If you or someone you know is concerned about their refugee status and would like advice, contact Citizen's Advice or The Refugee Council.