Merseyside Winter Update 2022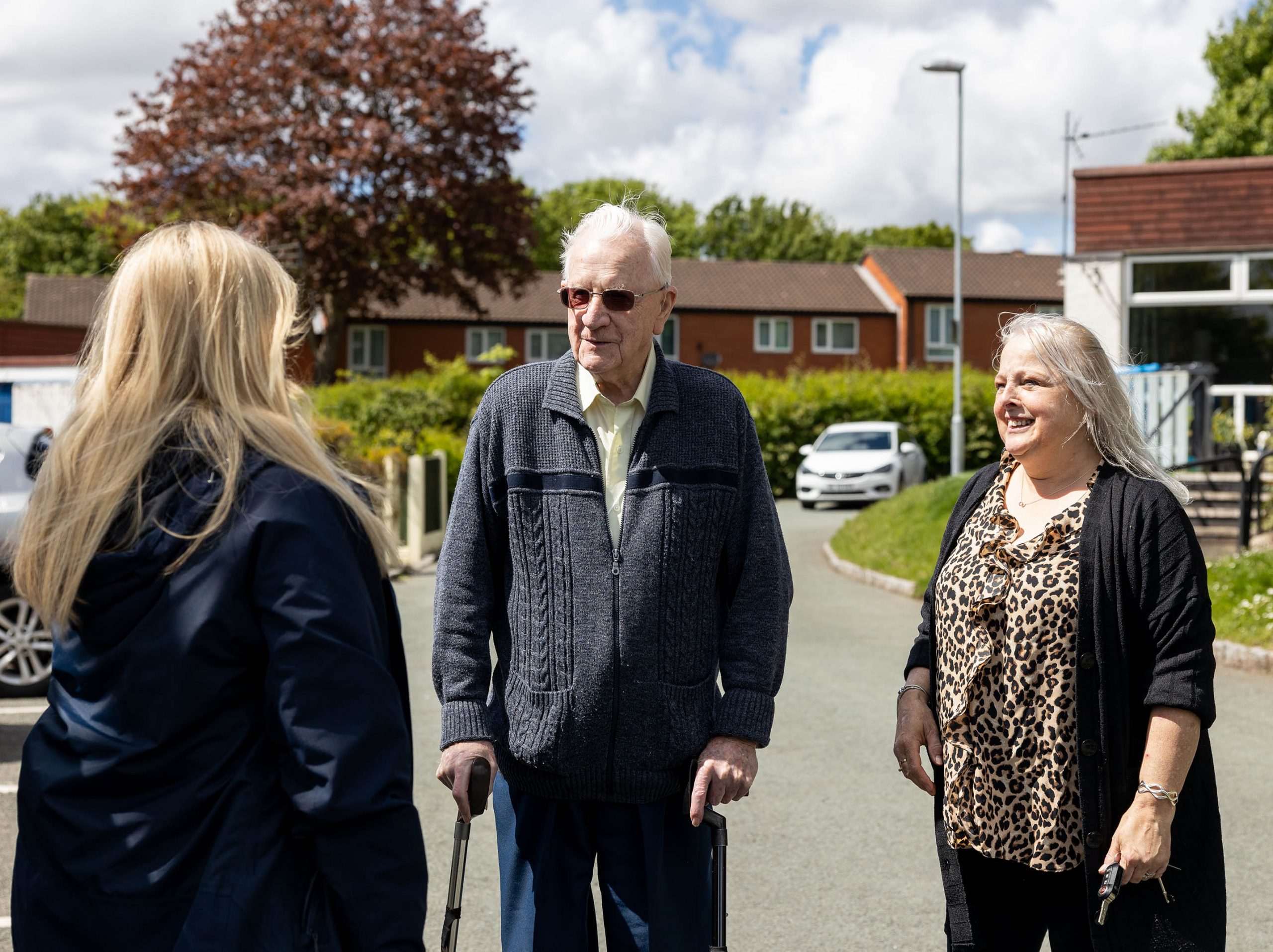 Investing in Merseyside
Across Merseyside we're continuing to support local communities to prepare for the winter months. From distributing community shop vouchers to handing out Winter Warmer packs, we are on hand to support customers with the cost of living.
Our programme of events continues across the region, over the last few months we've found many ways to meet and support our customers.  We've ran Halloween sessions with families, active mental health sessions for those that wanted to give yoga and healthy eating a go and we've engaged with customers who fancied a career change with our construction career mornings.
We've also been focusing on keeping neighbourhoods clean and green. One project in Liverpool involved the team to work with partners to transform land by planting wildflowers and other plants to introduce insects and bird life and a learning site for the local community, residents, Onward tenants and schools.
Looking ahead through winter and beyond we'll be working with Merseyside Police, Cheshire Police and loan shark UK to educate young people about illegal money lending. We'll also be doing more Winter Warmer events in Runcorn and Ballantyne and winter hamper volunteering in Beechwood.
Finally, look out for the Onward team in Beechwood and Kirkdale as we redistribute toys donated from Arnold Clark to those in need of support and we'll keep you up to date with our project in Murdishaw where we're supporting the development of a community café.
Neighbourhood news
Over the last few months, we have completed a range of projects across Merseyside to help improve our neighbourhoods.
In September, Onward supported the delivery of a community clean up day led by Liverpool City Council which was aimed at reducing fly tipping and included a general tidy and litter pick of the area. On the day, several skips were located on the streets surrounding of Mill St, Caird St and Dunkeld Close, in addition to a van provided to help residents to dispose of items who were unable to easily access the skips.
An estate walkabout was done in Beechwood which was attended by the local councillors, Merseyside police and Onward.  As a result of this a number of actions are now being taken forward in order to improve the neighbourhood for Onward residents, including improved environmental services, working in partnership with Wirral Council to assist customers clearing unwanted heavy items and organised skip days.
Works commenced in October on the regeneration and retrofit of 132 bungalows in Murdishaw which will continue over the winter. We have several residents 'Street Champions' who are working with us to ensure all customers are being well informed and supported throughout the programme, we have also set up a respite property for customers who may find the disruption too much. Works will include the installation of windows and doors, new roofs, external wall insultation and other external measures which not only visually improving the properties will also improve their thermal efficiency to EPC C. The works have been supported by the successful award of £1.5m in government funding.
The Murdishaw Matters to Residents Group organise weekly, evening, litter picks which we attend. They arranged an end of summer BBQ and Fun Day, which over 250 attended the event, and we supported them by providing free games and activities and prizes for every child. We will be incorporating new fencing to the play area in Gorsewood, taking away old seating in the park but replacing with more user-friendly seating.
Finally, we welcomed the Local MP Mike Amesbury to Murdishaw for a walkabout where he met with residents during one of our Craft Sessions and commented positively on the changes to the neighbourhood since his last visit and is looking forward to a return visit to see the bungalow upgrades.
Engaging Customers
The Customer Engagement team has been out and about across Merseyside over recent months, working with other Onward colleagues the team have been involved in activities such as:
door to door promotion of our customer engagement community in Garston
promotion of our Customer Experience diaries to gain feedback from customers receiving new kitchens in Woolton and Beechwood
visits to customers in Kirkdale to talk about planned energy efficiency works to their homes
involving customers in an estate wide walkabout on Beechwood and Ballantyne estates
The Murdishaw Neighbourhood Champions group have worked closely with us in fine tuning the design of the improvement works to their homes and the information for customers.
Customers have also continued to support the Merseyside Repairs Working Together Group.  Members of the group will be involved in our Repairs Development Project that runs throughout 2023.
The Merseyside members of the Onward Scrutiny Board have been very active, taking part in meetings to review our performance and checking on progress with recommendations they made to our Neighbourhoods, Capital Projects and Repairs services. They have also attended conferences and events in Stockport, Nottingham and London to learn more about issues affecting housing providers to help them in their roles.
The Customer Engagement Team is always on the lookout for more members in Merseyside to ensure a strong voice for customers across all neighbourhoods. If you're not already part of the CEC, why not join?
New Homes
The first phase of handovers has progressed at Halton Road, Runcorn providing new homes for Shared Ownership and Affordable Rent . Additional handovers at Finch Lane have completed and the final phase of new build bungalows completed at Third Avenue (Wirral).
Additional homes for Affordable Rent are due for completion at Withens Lane, Wirral. Completion of the final phase of apartments at Westminster Rd Site, Kirkdale,  and further unit completions at Halton Road are all due before the end of March 2023.
Schemes are also on site covering three Local authorities at Hallwood Park , Runcorn, Greens Road, Whiston, Windy Arbour Rd Whiston and Hawthorne Rd, Bootle, providing new homes for Affordable Rent and Shared Ownership in these areas which will complete in future years.