Lancashire Winter Update 2022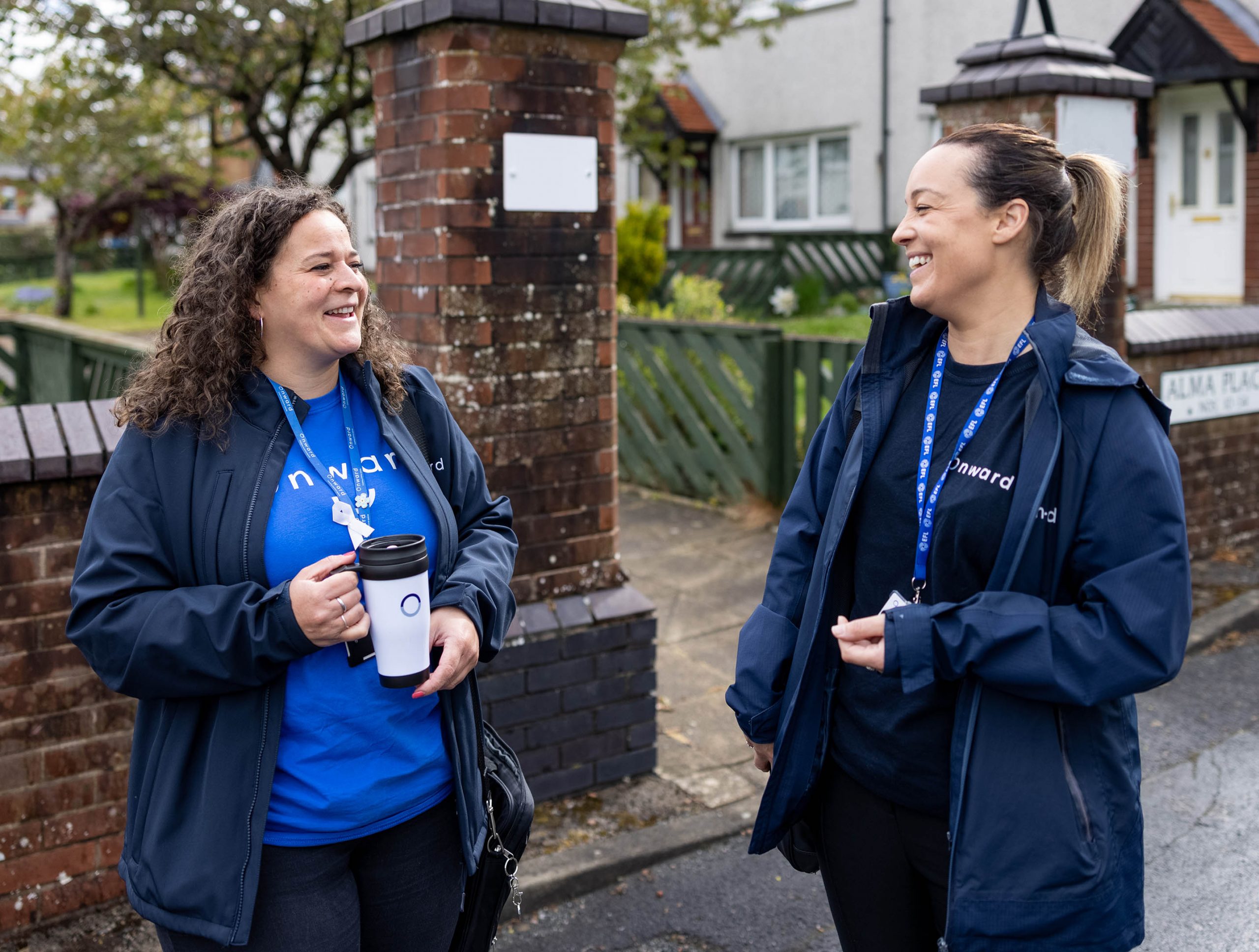 Investing in Lancashire
Across Lancashire we continue to work in partnership with local organisations as part of our social investment work in the region.
In the latest round of the Onward Community Fund, we were pleased to award monies to two Lancashire based community organisations to help their local communities at this difficult time. Aawaz, based in Accrington, support Asian women and will be undertaking a digital project that focuses on food and the cost of living crisis. In Preston, we've supported Kind Communities CIC with their food hub where they will be offering cooking lessons and food support to residents of Avenham and Frenchwood.
We will once again be partnering with Community Solutions in our Hyndburn neighbourhoods with their 'Blessing Boxes' project and colleague volunteers will help pack and distribute more than 600 of these to people Community Solutions support.  We're pleased as well to have assisted two local schools recently with mock interview days. Colleagues from numerous teams at Onward interviewed students at both Accrington Academy and the Hollins and were very impressed at how polite, ambitious and driven the students were about their future prospects.
Neighbourhood news
We're continuing to be a visible presence in the Clitheroe community as our Neighbourhood Specialist holds regular drop-in sessions and networking meetings at Pendle Court and Henthorn Community Centre. Improving the shared spaces around our Preston Queen St homes remains a priority as we're developing plans and commissioning improvement works to the lighting and a number of the communal gardens, which we hope to complete over the coming months.
Our autumn action days in Preston Avenham and Queen St have been a great success as we've worked hard to remove any abandoned items that could be used for the anti-social behaviour that is typical around Halloween and Bonfire Night. These days have given us the chance to work closely with partners from Preston City Council and Lancashire Police, as well as the opportunity to catch-up with our customers.
Our Property and Neighbourhood Team are working to come up with a fresh and bright new plan for the Maple Crescent play area in Preston North. This shared space has seen better days and will become an attractive focal point for the community once work is complete.
Across Lancashire East, we have been busy preparing for the Winter months with community clean up days held at Yates Fold Blackburn, Norfolk Grove in Church and Wordsworth Road in Oswaldtwistle. These were a great success and attended by local councillors and the police as well as many residents.
Keeping customers safe remains a high priority and we have been working closely with our colleagues in safer neighbourhoods to gather customer feedback and look at new ways of working. Our Estate services team have also been busy planting winter bulbs at Norfolk Grove and installing new goal posts at Fern Gore Playing fields. With the cost of living crisis affecting so many people Onward have made donations to  Hyndburn Helpers and the Community Kitchen who are working in the local community to help customers experiencing food poverty.
We have delivered 18 new build homes at Spring Street in Rishton with 24 apartments due to complete before the new year. Alongside our property services team we are currently installing new heating systems at Willow Close in Clayton and new bathrooms and kitchens to Lime Avenue bungalows.
Engaging Customers
Our Customer Engagement team has been busy across Lancashire over the last few months, working closely with Neighbourhood Teams to involve and engage locally with our customers. The team have continued to hold both online and face to face involvement events, and have recruited new customers to sign up to the Customer Engagement Community.
We have encouraged members of the Customer Engagement Community to join us on some of our neighbourhood walkabouts; this was a recommendation made by the Scrutiny Board.   Walkabouts have provided an opportunity for customers and colleagues to meet to discuss local issues, identify priorities and demonstrate that we are a listening landlord.
Customer have also been involved in activities such as 'communal cleaning' audits in Preston tower blocks, a visit to our Contact Centre in Accrington, as part of National Customer Service Week and local environmental projects.
The Customer Engagement Team are on the lookout for more members in Lancashire to ensure a strong voice for customers across all neighbourhoods. If you're not already part of the CEC, why not join? If you see our Customer Engagement team out and about, stop and say hello and let them know what you think matters in your neighbourhood.
New Homes
We have recently taken handover of new homes at the following schemes in the Lancashire area: Croston Rd , Grimsagh and Goosnargh, Spring Street and Yorkshire Street in Hyndburn, and Southport Rd, West Lancashire. These properties were for Affordable Rent, Shared Ownership and Rent to Buy.
Additional homes on site are due for completion at Grimsagh, Spring Street, and Great Harwood are all due before the end of March 2023. Other schemes on site at Cabin End at Hyndburn due to deliver Affordable Rented homes to be completed in 23/24.