#IWD2021 | Jennifer John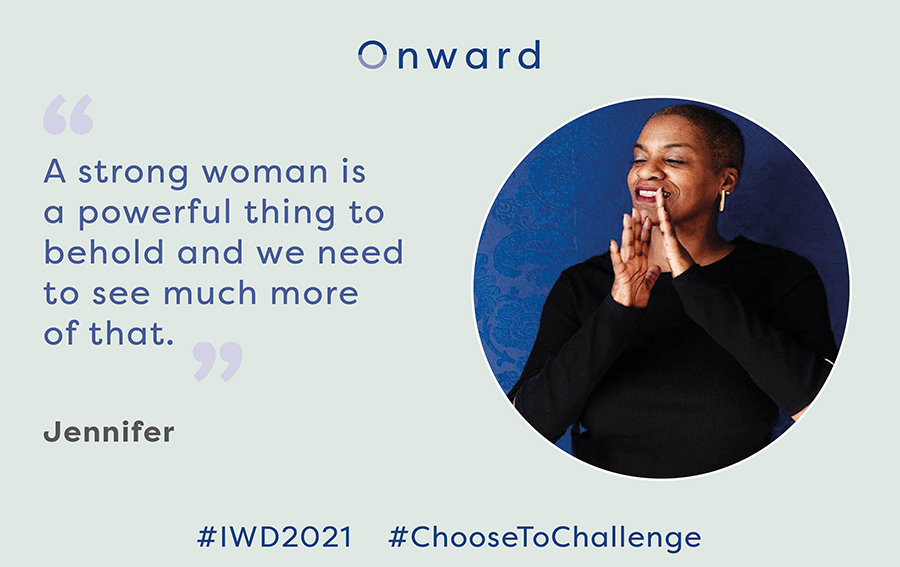 International Women's Day 2021
International Women's Day (IWD), held annually on March 8th, is a global day celebrating the social, economic, cultural and political achievements of women.
As the United Nations informed us that the COVID pandemic is poised to widen the existing gender disparities, IWD marks a call to action for accelerating gender equality. This year, the theme is #ChooseToChallenge.
This week we're celebrating the women in the communities we serve and telling their stories, including how they've faced challenges, where they find their inspiration, and which women inspire them.
We kick off with Jennifer John, the founder of Jennifer John Music, an organisation based in Merseyside which is committed to providing accessible music training and artistic development.
Before launching JJM, Jennifer co-founded the award-winning music company and choir Sense of Sound, and has been at the forefront of choir development in the UK for 30 years. She is passionate about working with diverse communities and encouraging people to use their voice.
JJM has recently been awarded a grant from Onward to help the organisation continue its great work in the community. Together, we have also been able to offer free music workshops to Onward customers.
Take a look at upcoming JJM events here, including:
---
In conversation with Jennifer John..

Tell us a bit about you, your journey to launching Jennifer John Music, and your relationship with Onward.
I've been an Onward tenant since 1991. I always wanted to live here and I love it where I live –  it's a really multicultural community.
For 26 years I had a company called Sense of Sound, which was all about making music accessible, and sharing the benefits of singing for confidence, wellbeing, social cohesion and building communities.
After my Dad passed away in 2015 I decided it was time for me to follow my true ambition to do more composing and have more autonomy in my work, so Jennifer John Music was born!
What inspired you to pursue music and where did you find your motivation?
Music is powerful, it can bring people together. It also enables emotional expression which is so important to a more secure and comfortable existence in life.
I have a passion for inspiring personal growth – that connection between mind, body, and spirit. I pay attention to people, I listen to how they are feeling. I also pay attention to my own thoughts and feelings and when I do so it allows the flow of my creative ideas and personal expression.
My lyrical content is about so many different things but always at the centre is the heart of the matter – that vital connection to how we feel and how we can be better as human beings. When people are calmer and in touch with how they truly feel it can open the door to all kinds of positive creative opportunities and wellbeing.
What are some of the challenges facing women in the music and creative industry?
I think challenges are the same for women right across society. Many opportunities are male dominated. We are often told by the media or gender stereotypes about how to look and how to behave. Mainstream music has quite a youth culture bias, so the pressure to be and look younger is a big thing.
As a performer though, you are the product so the pressure is always on, and your confidence to protect yourself and your talent often doesn't come till much later, so you can be quite vulnerable.
Often women are seen as objects to be shaped and manipulated in terms of how they are presented so that heightens those feelings of vulnerability and insecurity.
 What advice would you give to young women aspiring to enter the industry?
It is important to know who you are, what you are good at, accept that there is room for everyone, that no one is better and we are all just different.
Being too careful can hold you back. Be certain of what you wish for and go for it. The world is your oyster. Dream big and if you don't have a support network for your ambitions, do some research and try to find other likeminded people. They are definitely out there.
We still need to use our voices to speak out for equality and parity, and inspire others to show who they really are too.
What women inspire you, and why?
Women in general inspire me – the everyday women I see who hold families and communities together. We are often the backbone of society. We lead, nurture and care, usually at the expense of ourselves and it's important that we recognise this in ourselves and each other.
My Mum inspires me immensely, she is an amazing woman. She came to England from Trinidad in 1960, just after the Windrush generation, to create a better life for us. There was a lot of racism and times were hard, but she did it so that me and my siblings could have a better life.
My Mum fulfilled her dream to return home to Trinidad and I am inspired by that; thankful in fact that she sacrificed a lot for me and still managed to keep her own dreams and ambitions alive.
The slogan for International Women's Day 2021 is #ChooseToChallenge. What does that mean to you?
If you see unfairness or inequality and are in a position to address it then it is important that you do so otherwise nothing changes, and we stay stuck. A strong woman is a powerful thing to behold and we need to see much more of that in life in general.
And finally, what's next for Jennifer John?
I want to start a new company and develop a Community Interest Company (CIC) to hold large scale singing events. Collecting stories from local people, turning those stories into songs, creating a real historic archive and leaving a wonderfully rich legacy for future generations within the region and beyond.
---
If you would like to get involved in International Women's Day, let us know what #ChooseToChallenge means to you on social media using #IWD2021. Don't forget to tag us!