How good dental care can keep people with Alzheimer's smiling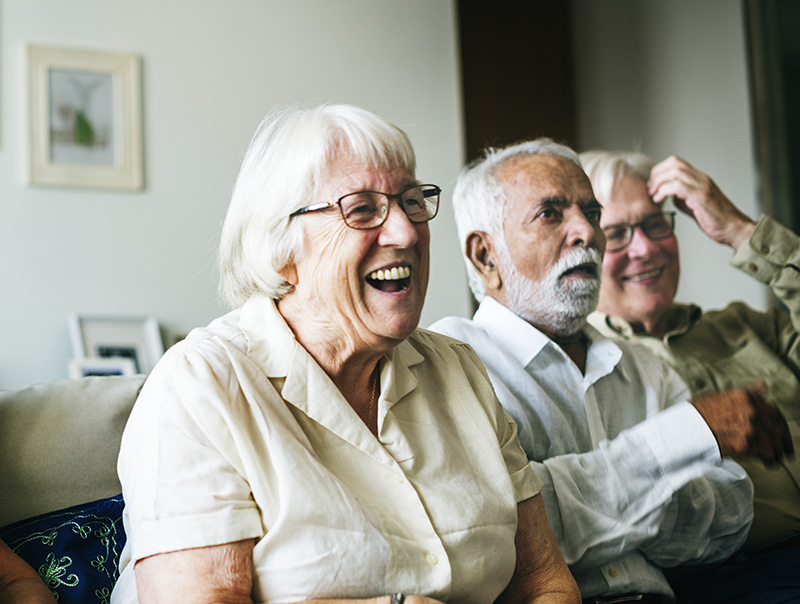 Dr. Amanda Tavoularis of dentably.com shares how to work with your dentist to provide better care for people with Alzheimer's. You can also read our Demystifying Dementia blog series for more information on the issue.
When you care for a loved one with Alzheimer's, their health is likely one of your top priorities. Unfortunately, an often overlooked area of a patient with Alzheimer's is their oral care. Dental health is very closely linked with overall health, so it's important to help them keep up with it.
As a dentist of 20 years, I've worked with countless families where one of their family members suffered from Alzheimer's. I'm here to help share some of my experiences, and show you easy ways to work with your dentist to help your loved ones' oral health stay in top shape.
Finding the right dentist
Working with the right dentist is key to keeping your loved ones' oral health in check. They can also help make the whole process much easier for everyone involved.
On that note, keeping up with dental visits is important for patients with Alzheimer's. While we'll touch on at home care below, dentists can provide a much deeper clean than brushing alone.
They're also essential in catching and treating problems before they become serious. Visiting the dentist is a key part of preventative dental care, and every caregiver for a person with Alzheimer's should make the effort to have them continue to go regularly for as long as possible.

With that in mind, here are a few tips for selecting the right dentist:
Ask about experience and training: The first thing you should ask of any new dentist is whether they have any experience or training dealing with patients with Alzheimer's. Having a dentist that understands the disease is extremely helpful, and can help make the whole process easier for everyone involved.
Training is also an important thing to consider. Many dentists continue their education and specialize in different aspects of dentistry. For example, some dentists might have additional training in elder care dentistry. Things like this can help them be more effective in treating your loved one.
Think about location: Another important thing to consider is the dentist's location. Many patients with Alzheimer's don't like to travel, so proximity is important. Being close to the office can make the process of getting to the dentist much easier.
You can also look and see if there are any traveling dentists in your area. These are dentists that will travel to your home, and will be able to perform routine procedures there. This can take a lot of stress out of the dental visit, which can make it much easier for the patient to handle.
Use them as a resource: Lastly, you should utilize your dentist as a resource and never be afraid to ask them questions. They have a lot of experience in oral care; don't be afraid to use that experience. We want to help you, so if you're ever in doubt don't be afraid to reach out. The information we have can help make oral care easier as well as keep you on track at home.
At home care
While visiting the dentist is important, it's only part of the recipe for good oral health. It's also important to make sure you're keeping up with care at home. For patients with Alzheimer's, this often means a little bit of extra work.
Here are a couple of tips for caregivers to help them stay on top of their loved ones' at-home oral care:
Brushing and flossing: First off, you'll want to make sure that brushing and flossing habits don't fall by the wayside. Taking preventative steps are important, but they are often forgotten about by people with Alzheimer's. You may have to remind them, as well as provide simple instructions on the process to help them along.
Demonstrate if needed: If simple instructions don't work, then it may be necessary to demonstrate the process of brushing or flossing. You can do this on yourself, or gently on the other person. If they're uncooperative, it's okay to take a break and try again later. Trying the process again at a different time or a different location can sometimes make a huge difference.
Ask about any issues: Another important thing to keep in mind is many patients with Alzheimer's are not vocal about their issues or pain. They may sit uncomfortably for some time, but fail to mention it. That's why it's important to directly ask them if they're having problems, and do weekly spot checks to check for visible issues.
Caring for a loved one with Alzheimer's disease can be difficult at times, but their oral care doesn't need to be. With the above in mind, you'll be equipped to help them keep their mouth healthy.
Finding and working with the right dentist is important, and can greatly improve your loved ones' quality of life. Help them keep up with their oral care, and they'll be smiling for years to come.
Find out more about how we can support your health and wellbeing