Everyday Heroes: Donna & Sharon
In this series on Everyday Heroes we're celebrating the people on the ground at Onward who are going above and beyond to help during this tough time. Today S4B Neighbourhood and Customer Service Manager Ross shares his.
The entire S4B team has been fantastic in how they have stepped up in this crisis so this is a thank you to all of them and everyone in Onward working so hard at this difficult time. As part of S4B, Onward manages over 1,000 homes in Brunswick for Manchester City Council, who have been so impressed with the speed and range of support offered to their tenants that they now plan to promote the work of the S4B team across their business as good practice in these trying times.
Two big thank yous
There is two members of the team I would like to mention by name: Donna Shaw, Scheme Manager and Sharon Thomas, Social investment Specialist. Both have adapted their roles and used their partnerships to make a positive difference in the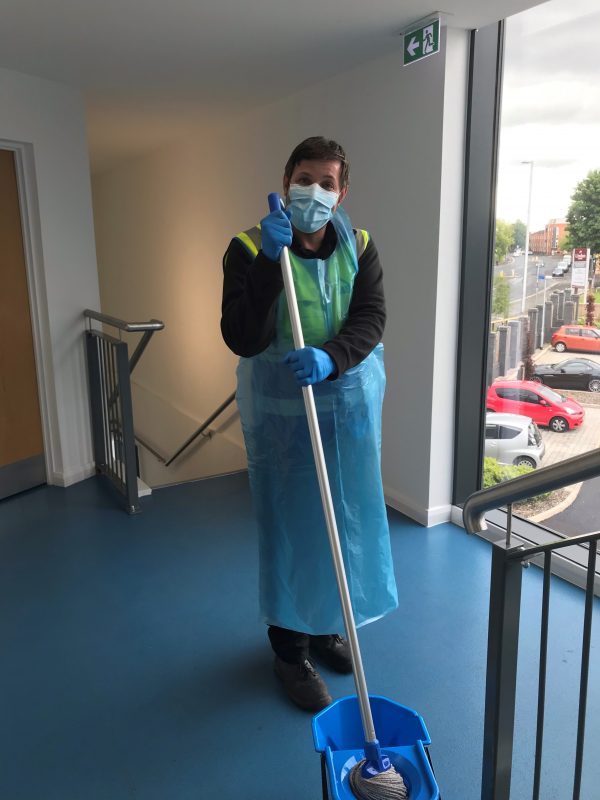 community we serve in the current crisis. Donna has been going above and beyond her role in supporting her residents through delivering food parcels, supporting medicine deliveries and the provision of hot meal deliveries. She has worked seven days a week to maintain contact with and support her most vulnerable of residents and has even produced her own cooked food for residents without food.
Sharon has developed her existing partnership with Feed My City to ensure a hot food takeaway service is available weekly in the centre of Brunswick. She also helped develop a mutual aid group for the neighbourhood and created online support for residents as we promote a digital shift in communication and engagement with our residents. With the support of Linda in Communications, a range of online help was created, which is now available on the S4B website.
Everyone stepped up
The entire team was concerned about the impact of the virus on the community of Brunswick. It's a very densely populated with four high-rise and multiple medium and low-rise blocks, and a sheltered scheme too. The team focussed their efforts on understanding and meeting the new and emerging needs of the community. They embraced new ways of working and sought to be innovative in the solutions they found.
The S4B Customer Contact team has been fantastic in mobilising a virtual call centre with our property partners Mears. They've adapted to delivering this from home whilst still exceeding their KPIs, answering over 98% of calls and 93% within 20 seconds. They have also been able to provide nearly daily updates to S4B customers via text and email as the crisis developed and lockdown resulted in changes to the services customers could receive.
Adapting roles to new circumstances
Our Environmental Services Operatives have really stepped forward too, with the flexibility to do different tasks whilst PPE was on order and Safe Systems of Working finalised. They are on the frontline keeping surfaces clean in the communal areas of the blocks, as well as clearing blocked bin chutes and keeping the estate litter-free. They are playing a vital role providing reassurance to residents regarding virus control and ensuring their living environment is as positive for them as possible.
Our Income team has, with a depleted number of colleagues, developed knowledge of the financial support available from government and worked hard to understand how residents' circumstances have changed to ensure income collection and provide help. They have proactively sought to engage customers who needed support in paying their rent in different ways or are facing new financial challenges.
Last but not least, our Neighbourhood Specialists have had to deal with a large rise in Anti Social Behaviour from noise nuisance and residents not following social distancing guidelines. They have been managing these issues remotely to diffuse situations and prevent escalation whilst people live in close proximity 24/7 under the lockdown.
So a massive thankyou and well done from me to all the S4B team, and to you all out there reading this article. For me this is why we work in the sector we do, to make a difference in the community we serve.
For more information about how we're tackling coronavirus visit our update page