Creative ways to crack your Christmas spending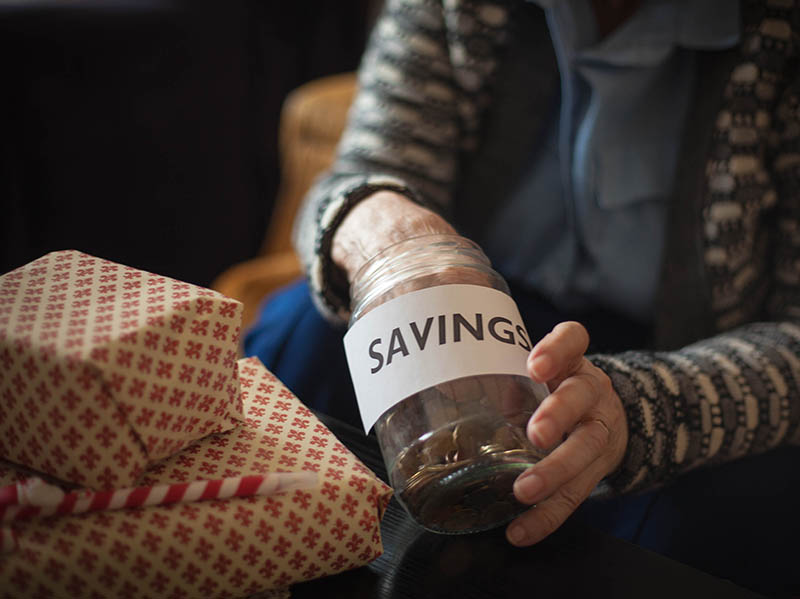 That's right, Halloween's barely a spectre on the horizon and we're already talking about Christmas – here's why.
Have you started prepping for Christmas yet?
If you're anything like me you probably started eating mince pies in September but still won't start buying gifts until 14 December.
While delicious, this approach is super stressful and isn't great for the old bank balance.

Last year most families expected to spend around £800 on Christmas, which is a massive chunk out of your December pay packet or benefits allowance.
That's why it's a great idea to get creative in the weeks leading up 25 December so you can spread out the load. We've put together a few ways to think outside the gift-box.
Yule need to prepare
I have approx. 4000 people to buy Christmas gifts for, and I've learned the hard way that preparation needs to begin early.
My step-mum told me the other day she's been buying Christmas presents all year. It's a bit keen, but I can tell you for free she'll be the one laughing when I'm scrapping in the Trafford Centre on 23 December.
So, make a list of people to buy for and set yourself a target of tackling a few each week. Also make a note of any other costs you expect to have, like hosting a meal or activities with the kids, as they tend to be the things that catch you out.
Go chest-nuts for a budget
Once you know exactly what you've got to pay for, sit down and work out a budget, which will help you figure out how much you can afford to spend on each thing.
Costs will be different in December than most other months, so it's a good idea to have this as a dedicated festive budget separate to your usual one.
There's a lot of pressure to have the 'perfect' Christmas, but if it's going to bleed you dry and stress you out it's not going to put you, or those around you, in the festive spirit.
Try one of the many Christmas money planners out there for guidance and keep track of what you spend as you buy things.
If you do have to go into your savings or overdraft make sure you read the fine print so you don't get stung with extra charges.
Spending's snow problem
If we had unlimited money, we could buy all the things we want for the people we love. Chances are though, most of us will look at our budgets and realise we still have rent and bills to pay – or in my case, we've spent all our money on mince pies.
Luckily there are lots of great ways to be smart with your spending over the festive period.
For example, lots of shops have cracking Christmas deals on if you hunt for them, and the pre-Christmas sales are the new Boxing Day sales.
If you've got a lot of people to buy for try mixing it up with a Secret Santa, all buying your own ticket to a shared experience, or agree not to do gifts. Organising a night in with a sibling or mate is way more special and cheaper than a gift. If you do want to do gifts, maybe agree a price limit in advance – it lets everyone know where they stand and takes the pressure off a bit.
Send presents and cards early so you can use 2nd class post rather than splashing on first or next day delivery, and hold onto receipts in case you need to change something last minute.
If you're trekking up to see the in-laws or visiting a far-flung friend over the festive period try and book your tickets 12 weeks in advance to get the best deals.
Elf yourself
It might feel a bit tight, but one great way to keep costs down is to make your own gifts. Some of my favourite presents over the years have been homemade because they're totally bespoke and show a lot of love.
Whether it's a festive mix CD, a painting of the famalam, a scrapbook or a favourite cake, there are lots of websites out there for inspiration and guidance on cool homemade presents.
You could also get the kids involved with making decorations as a fun, cheap way to brighten the house and cute keepsakes.
Sleigh your rent
Between accidentally wrapping your youngest in tinsel and tucking a turkey into their bed instead, it's easy for rent to fall by the wayside during this wonderful, stressful time of year.
We see this happen a lot over the Christmas period and let's be honest, it's just a level of stress no one needs right now.
So, give yourself an early gift and get your rent wrapped up using one of our many easy ways to pay, including the My Onward online portal.
Struggling to pay?
We know that Christmas can be a big financial strain, so if you're struggling you don't need to suffer in silence.
Our Financial Inclusion Team can offer help and support on both rent and other money issues, so please get in touch ASAP for a chat.
Find out more about the ways you can pay your rent on our website