Could the face-to-face job interview be a thing of the past?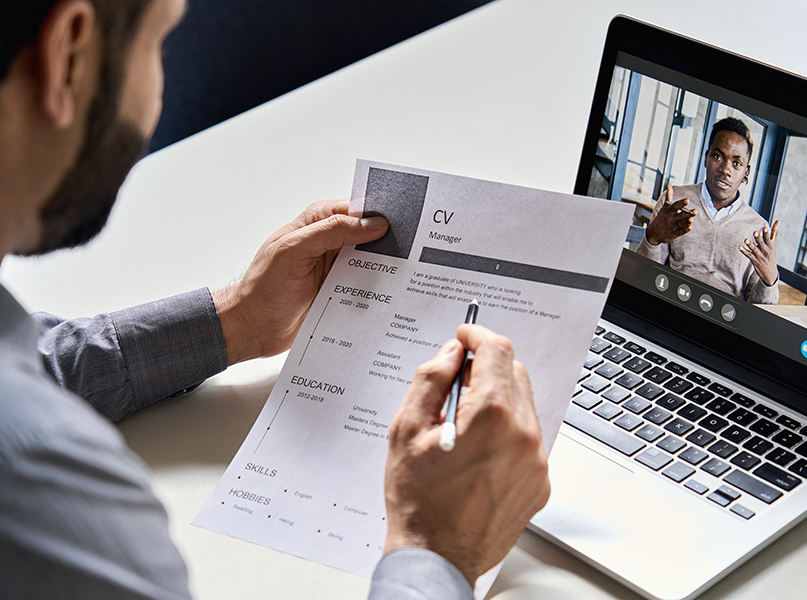 Who would have thought that employers would continue to use video calls for job interviews post the COVID 19 pandemic but, according to a survey carried out by LinkedIn, 80% of employers believe that virtual interviews are here to stay.
For many of us using video technology has become the norm and we are not fazed by this but for some this is still a daunting prospect, especially when attending a job interview. Here at Onward we want our candidates to feel that they can give their very best during an interview, whether this be face-to-face or virtually. Following on from last month's blog: 'Application Checklists for Candidates' the next blog in our series will discuss virtual interviews and today we share our 10 top tips for success.
Test the tech – Interviews can be daunting and being faced with unfamiliar technology may add to your nerves, so why not take up our offer and book a test slot with Onward's HR Team ahead of your interview, to check how Microsoft Teams is working for you? Details on how to book a session are located throughout our recruitment and selection process for shortlisted candidates.
Be prepared – Like any face-to-face interview make sure you prepare in advance. At Onward the interview questions will be in the same format as our face-to-face interviews with a mixture of technical questions relating the role and competency questions relating to our Onward Values.Ensure that your tech is charged or have a charger nearby so that you are not going to run out of battery mid-way through the interview, you don't need that extra stress!
Set up your interview space, make sure the focus is on you! Location is important so pick a quiet space that is clean and tidy with a plain background so you can devote your attention to the interview without interruptions. Remember that the interviewer will be able to see your background so move any washing out of view!Microsoft Teams has a functionality for you to blur out your background if you want to. Try to avoid changing the background to a different scene as this can distract the focus from you and can make you appear a bit blurry!
Dress for the occasion – Make sure you are comfortable but also look professional. Ditch the dressing gown! You don't need to be suited and booted to attend an interview but think about what you would wear if you were attending a face-to-face interview. You still want you to make the right impression.
Avoid distractions – Try to keep small visitors and furry friends under control during your interview. In an interview setting this could be quite distracting for you but also for your interviewer. Consider something to entertain your loved ones and pop a sign on your door as a reminder that you are 'in an interview.'
Turn your mobile phone onto silent and turn off any notifications from your laptop. Avoid having the dishwasher, washing machine and any other noisy appliances on in the background that may distract you and the interviewer.
Check your camera – Can we see you clearly? 55% of effective communication comes from our body language, a further 38% from our tone of voice and only 7% from our words alone so it is important that you can be seen clearly so you can have an effective dialogue.
Think about the time of day that you will be conducting your interview and consider the lighting

in the room. Try to make sure ensure your face is visible – if you are in shadow it will be difficult for

the interviewer to see you clearly and therefore your body language / facial expressions may be

lost.

Aim to look at the camera rather than the screen itself – eye contact is key for effective communication.

Arrive 5 to 10 minutes early and prepare to wait in the virtual lobby. The interviewer will let you in when they're ready. First impressions are key so it's important to ensure that you are ready to start promptly. Logging on early will also ensure that you have a chance sort out any technical issues you may have.
Take notes – Make sure you have a pen and paper nearby in case you want to make any notes. This may be useful if any questions crop up throughout the interview that you'd like to ask at the end.
Be ready for technical hitches – It happens to everyone so if this happens don't panic! Your interviewer will understand and will support in whatever way they can to enable to the interview to continue, or to rearrange if necessary.
Don't ditch your questions – Remember that the interview is a two-way process. It is as much about you finding out about what it's like to work for Onward and all the good things that we can offer you, as it is about the interviewer finding how you meet the requirements for the role.
Join our friendly team…
There are lots of great reasons to work at Onward.
We offer a competitive salary and a comprehensive benefits package, generous annual leave, flexible hours and a pension scheme.
We're a friendly bunch, and provide our colleagues with a professional and caring environment to work in.
And we're all about developing our people so they can reach their full potential. That's why you'll be given all the support and opportunities you need to go further.
Check out all of our latest vacancies here