Greater Manchester & Cheshire
Scheme garden blooms into horticultural honour hat-trick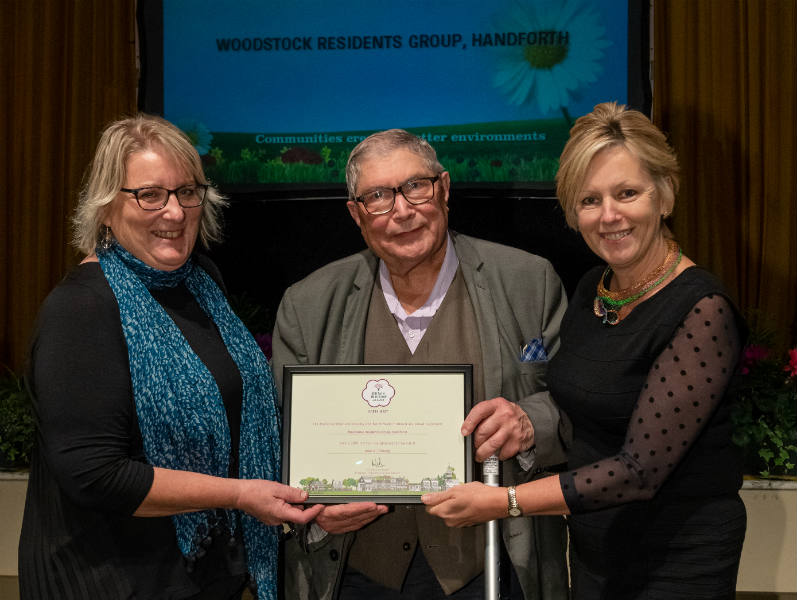 An Onward scheme in Handforth has won a Royal Horticultural Society award for its garden, which is helping to bring residents together.
The gardens at Woodstock Court in Handforth, Wilmslow, are pretty bloomin' amazing – and we're not the only ones who think so.
Having only started work in April, the gardens scooped a Level 4 'thriving' award – the equivalent of a silver medal – at the Royal Horticultural Society (RHS) In Bloom Awards.
Ruth Menlove, Chair of Wilmslow In Bloom, said: "The work on the gardens around Woodstock Court is a fine example of the way in which a community can come together using plants and planting as a common interest.
"It illustrates exactly that which the RHS is trying to promote and that significant improvement to an area can be achieved without significant cost.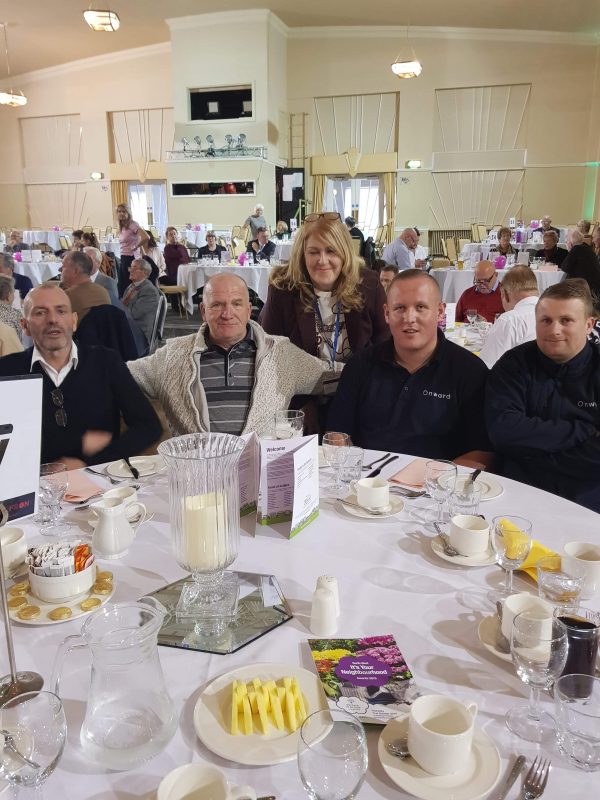 "The gardens have been thoughtfully designed to offer different areas of interest and have incorporated a number of environmental features – a compost heap and water butts for example – which are good practice.
"I congratulate the residents and wish them well as their garden matures."
The garden, which also boasts various features including a bug hotel, a palm tree and flower beds representing Manchester City and Manchester United, provides year round interest with fragrant aromas, vivid colours and striking shapes.
It was designed with the residents and incorporates their memories and passions to bring back a community feeling to the site after recent building work on the scheme.
The communal areas have been grown, quite literally, from the ground up by residents at the tower block. Teams across Onward have also pulled together to kick-start the ambitious project, and the residents have enjoyed making it their own.
Nora has lived in the block for 15 years. She's been instrumental in getting the garden to where it is today.
"Onward Team Leader Andy came and said he was going to do this project," she said, speaking on the day the judges came to see the garden. "I thought it sounded great, but never thought it'd take off like it has done.
"I used to live in a house in Altrincham with a big garden and orchard which I looked after. Then when I came here it was just builders' rubble, there was nothing.
"Kay, who's worked on the garden with me, has learnt about gardening as she's gone – what will thrive and what won't. And my friend Doreen, who's terminally ill, has been helping too and put money in to get new plants. The garden gets her out of her flat, otherwise she'd just be sitting there.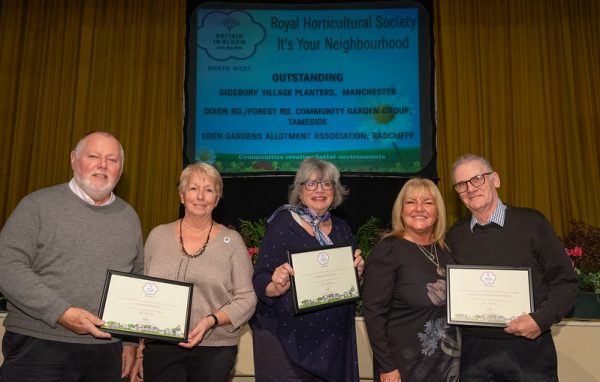 "It's a nice community here because we're all a bit older so we've got over the daft stage!"
The garden has been a work in progress but Nora says it's now taking off, and hopes other residents will get involved.
"I've seen projects like this on TV and it can change people's life around – from doing nothing to getting engaged and meeting people," she said. "We thought that might happen here. People can get involved and do what they want."
Nora's composting comrade Kay has also been involved in the garden since its germination, after her husband Mike sadly passed away. She's created a memory garden where people can place stones with the names of loved ones they've lost.
"I focused the pain of loss into something positive and it grew from there," she said.
"My husband laid the first stone – we just wanted to do something nice for the place we were going to spend the rest of our lives."
Kay gets down to the garden as often as she can, but says creating an oasis like this doesn't happen overnight.
"You have to think about it all – things like height and colour and texture," she said.
"We have to get cuttings and beg plants off people. Apparently there's a fund we can hopefully get a couple of bob from so we can have some garden parties."
Kay says she'd also love to get more residents involved. "I do think all the residents here enjoy it here," she said. "They come down and socialise a bit more now."
"I just love it. I know Mike would love it too."
Onward Environmental Services Team Leader, Andrew Dean, said: "I'm not saying it's been easy at times.
"However, to take a site with dilapidated and environmentally challenging grounds and all pull together to win such a high accolade really shows what we can achieve by working together.
"Many thanks to everyone who has helped with the tenants group, and supported or worked on this project."
Two other Onward schemes were also honoured at the ceremony. A scheme in the Wirral scooped a level 5 Outstanding award, as did Whitefield's Eden Gardens Allotment.
To find out more about our Environmental Services take a look at our website