Onward is supporting Starts at Home Day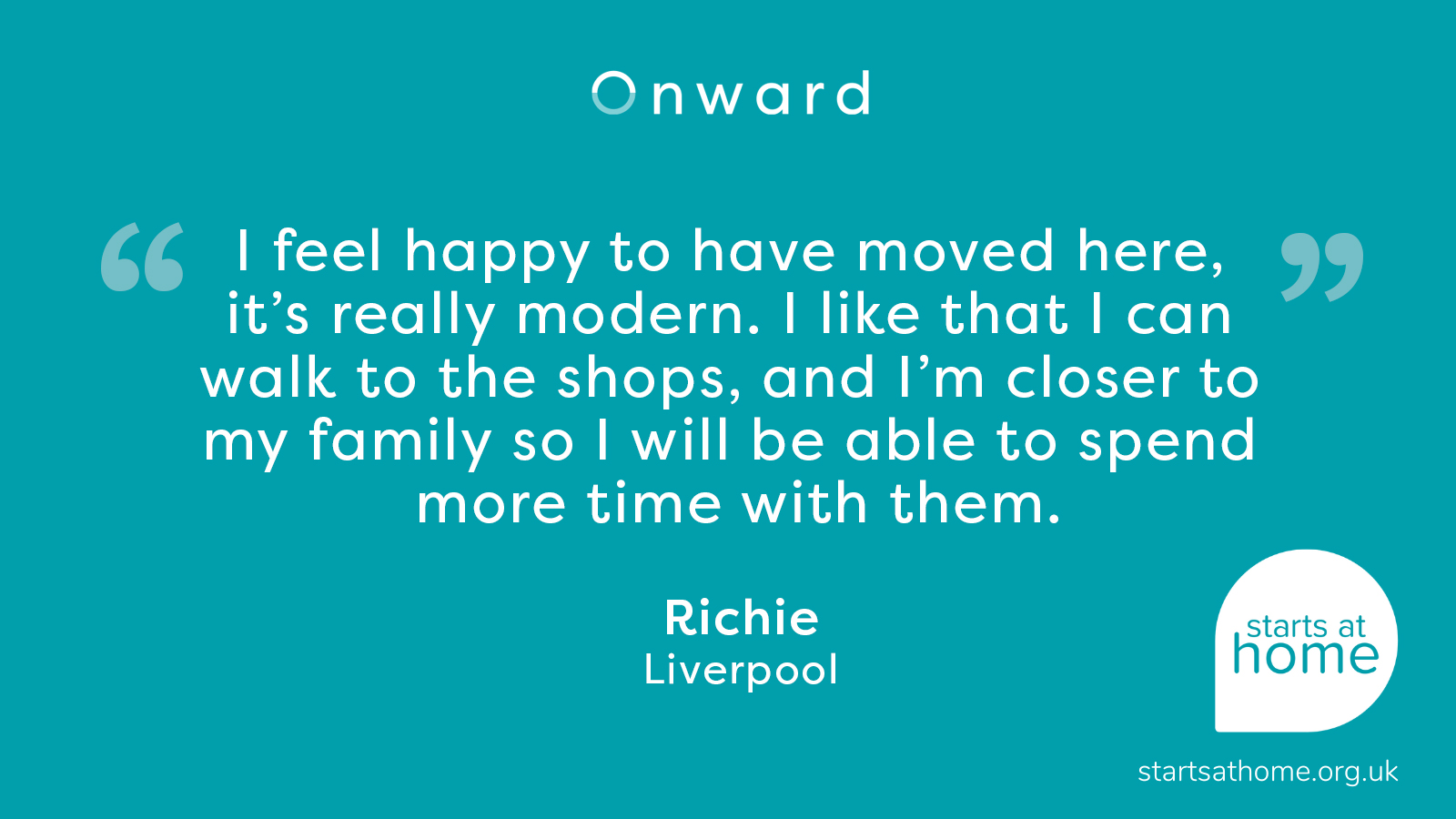 This is a day when housing associations up and down the country celebrate supported housing and the positive impact it makes on thousands of lives. The purpose of the day is to raise awareness of the importance of supported housing and to ensure that people who need extra support will always have a safe home that meets their needs. 
The National Housing Federation's Starts at Home campaign highlights that good quality supported housing gives people a choice about their lives. It provides tailored, person-centred help to support resilience, health and wellbeing.
Housing associations across the Country offer supported housing services to many people including older and disabled people, domestic abuse survivors and those who have experienced homelessness. Providers are committed to building and managing high quality homes, while those with specific physical and mental health needs and disabilities benefit from adapted homes and services, which help them to live independent, healthy lives.
Not only does supported housing have a huge positive impact on residents' lives, but it also has an impact on wider health services too. In 2021, BRE Group calculated that inadequate housing was costing the NHS at least £1.4bn per year, a figure that has likely increased as the effects of the housing crisis have deepened. Quality sheltered and extra-care housing also reduces hospital stays by supporting independence for older people, preventing hospital admissions and ensuring timely discharge.
Good quality supported housing is needed now more than ever, but supported housing is facing a number of acute funding pressures which represent a significant threat to its long-term future. Services are under acute pressure from inflation, rising costs and uncertainty. New, ambitious investment is needed to protect this vital resource.
At Onward we are incredibly committed to the work we do in supported housing. Ensuring that people who need extra support have their needs met and live a fulfilling, comfortable and independent life is our focus.  Our supported housing services provide short and long-term accommodation for people with ongoing support needs. We work with 26 different local authorities and 72 support providers within our three regions to ensure our customers can live happily, safely and as independently as possible within their own homes.
We offer a range of services to support customers to better manage their tenancies and live more independently. This includes the provision of 1872 supported accommodation homes right across the North West.Homes range from shared houses to self-contained flats, all linked to tailored support packages to help our customers to progress towards greater independence and improved wellbeing.
Our supported housing offer serves people with:
Learning disabilities
Autism
Mental health
Physical disabilities
We also provide homeless accommodation.
Back in 2021 Onward teamed up with Stepping Stone Projects and Hyndburn Borough Council to provide supported accommodation for the homeless in Accrington.
The project, 'Step Forward Hyndburn', delivered a twelve-bedroom property that provides specialist accommodation for single men aged 21 and over who are homeless or facing homelessness, but are not yet ready to take on a tenancy of their own.
Owned by Acorn Developments, the property has been fully refurbished and adapted to meet the needs of future residents, with communal living and dining spaces, along with twelve bedrooms with en-suites.
Onward Homes and Stepping Stones Projects have established a management agreement in where Onward will manage safety and repairs at the property. Stepping Stones Projects will provide day-to-day management of the home and specialist support to residents. This includes a dedicated onsite housing officer, helping residents to develop the skills, knowledge, and confidence they need to secure and maintain independent accommodation.
In October 2020 we opened Coleman Court in Garston, Liverpool. The supported living scheme features 12 modern self-contained flats designed for customers requiring specialist care. Coleman Court enables customers to live as independently as possible despite living with complex needs, such as mental illness, learning disability and physical disability.
One resident living in one of our supported homes said:
"I feel happy to have moved here, it's really modern. I like that I can walk to the shops, and I'm closer to my family so I will be able to spend more time with them." Richie, Liverpool
It is a constant challenge to provide accommodation for people who have complex needs in the right place and at the right time, and people are often in a health or housing crisis before moving into supported accommodation. However, after making the move to a secure environment, customers often flourish in confidence, their health and wellbeing improves, and they adopt more active lives than they had before.