Coronavirus FAQs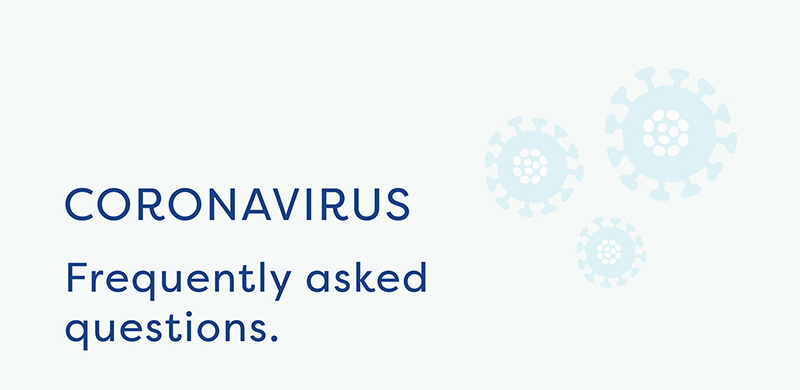 We will provide you with services where national guidance allows. We will try to deliver as much of these services as we possibly can over the phone to avoid face to face contact and unnecessary travel. There may also be some delays as we make the best possible use of resources by prioritising need.
We are here to support you and will provide clear, accurate information on what help might be available.

How will Onward keep me safe?
We are committed to ensuring that our customers remain safe during the coronavirus crisis.
We continue to follow Government guidance based on Public Health England advice and our established safe systems of working allow us to continue to provide a safe repair service for customers.
Our operatives all wear suitable personal protective equipment (PPE) and use certified hand sanitizer before and after entering your property.
If you are self-isolating or feel uncomfortable about us entering your property to carry out our services, please inform us immediately on 0300 555 0600. We will make alternative arrangements to carry out the works as soon as we are able to.
We are monitoring official guidance on a daily basis to ensure that our health and safety approach is consistent and up to date with government guidelines. Read our coronavirus risk assessment here.
---
I am ill / self-isolating. What should I do?
If you have contracted coronavirus or are self-isolating, please let us know when we speak to you. To protect our colleagues and other customers, unless it is an emergency, we will not visit you in your home during a period of self-isolation. In an emergency, we'll ask for your co-operation in taking sensible precautions.
Please follow the latest Government advice if you or a member of your household displays any potential symptoms of coronavirus.
---
How can I be sure that a member of staff or a contractor is not infected with coronavirus if they visit my home?
We are ensuring that our colleagues and contractors have all the latest information and guidance. They are following this guidance in the same way that everyone has been asked to and will take action to protect you as customers and themselves.
Our staff will also wear suitable personal protective equipment (PPE) and use certified hand sanitizer before and after entering the property.
---
Why have I received a text/ call/ voicemail from Onward?
Different people like to be contacted in different ways – some over text, some over social media, others in print – so we're trying to use as many of these different channels as possible to ensure we're not missing anyone when we put out key information.
That's why we've rolled out automated voice messages and text updates, in addition to the channels we're already using. These will come direct to your phone, if you've given us your number to use.
We're also running out automated calls to our customers – the number that will call you is 01254 375009.
However, if you're ever concerned about whether the message is legitimate feel free to give us a call on 0300 555 0600 to check. Remember – we'll never ask for you to give your bank details or any other personal information over the phone.

What repairs can you carry out?
Our established safe systems of working allow us to continue to provide a safe repair service for customers. We will continue prioritising emergency repairs, but customers may be asked to wait longer for routine repairs to be dealt with. Please consider this in advance of reporting a repair request. Read our latest repairs update here for further information.
The My Onward portal is the quickest and easiest way to report a new repair. You can also report a repair by telephone through the Contact Centre on 0300 555 0600.
---
What if I have an emergency repair and I or someone living in my household is self-isolating with coronavirus symptoms?
We will aim to carry out the emergency repair if possible. However, please follow a few simple steps to help keep everyone safe:
– Remain at least two metres away from any worker, or ideally in another room, with the door closed.
– Windows and doors should be opened to ventilate the area.
– Wipe down door handles and surfaces before the operative comes into your home.
– The operative will wear protective gloves and use certified hand sanitizer before and after the visit. They will remove any materials used from your home.
– If you are unable to follow social distancing instruction, our operative will be required to remove themselves from the property.

What other kinds of services will Onward still be running?
This is the latest information regarding the services we're still running: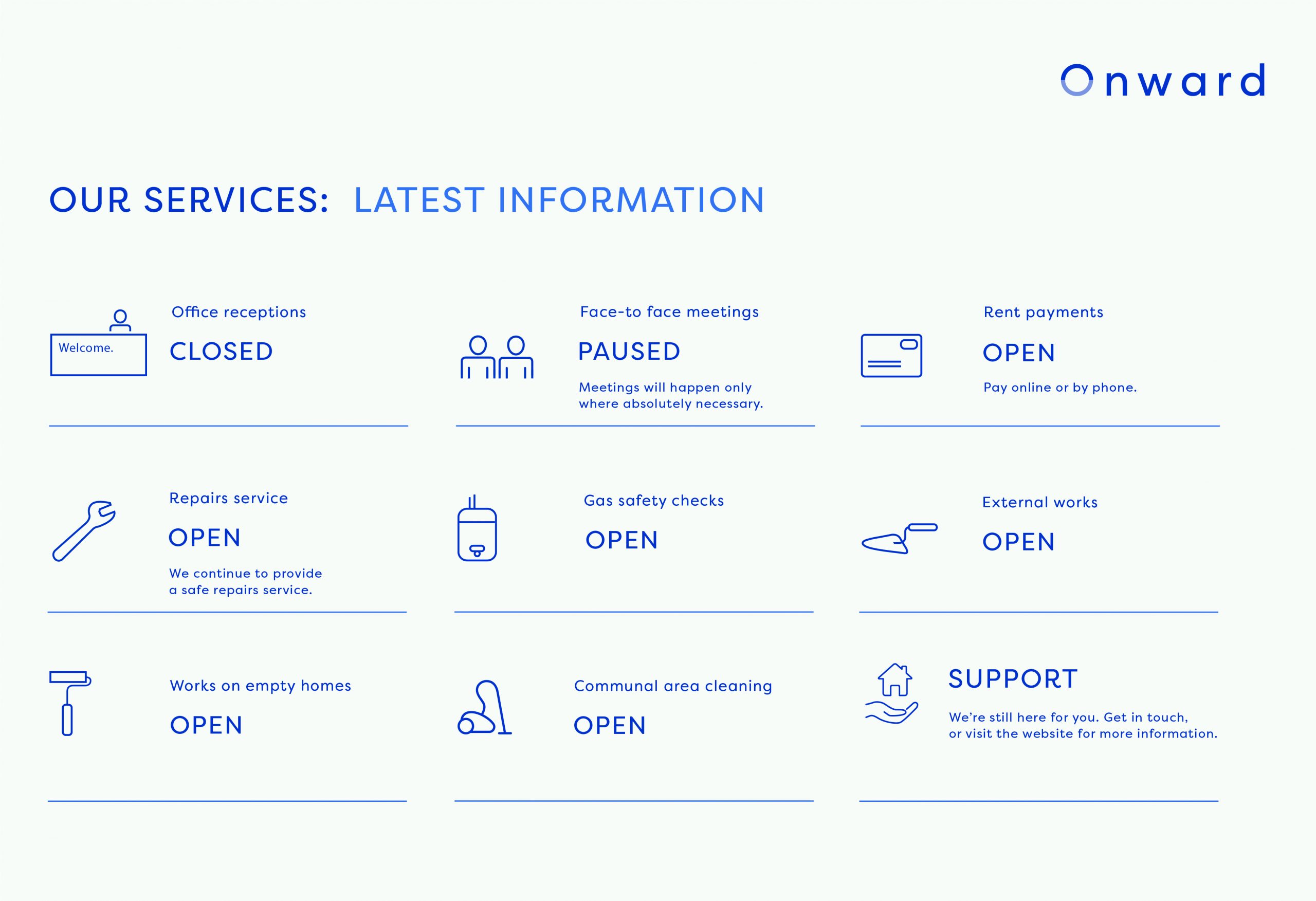 We will continue to run the services we can deliver by telephone or online. If you have any further questions about our services, please get in touch on 0300 555 0600.
---
Are you still allocating properties during this time? 
We are currently following government guidelines and we are continuing with lettings that allows housing moves to continue.
You can still view homes available and register your interest by visiting your local authority website.
If you have any questions, please get in touch on 0300 555 0600.
---
Will communal areas still be cleaned as normal?
We will continue to clean communal areas. We may not be able to resource the level of service we currently provide and will prioritise to make sure that buildings which house more vulnerable customers continue to be cleaned.
---
Will you still be taking reports of antisocial behaviour?
Our Safer Neighbourhoods team will do what they can to deal with all reports of antisocial behaviour over the phone and will be able to support you and help you find further help.
You can also report crime and antisocial behaviour anonymously via Crimestoppers on 0800 555 111.
If you're really concerned or scared, please call the non-emergency police number 101. Or if you feel it's an emergency, always call 999.
---
Will grounds maintenance works continue?
Our Environmental Services Team continue to provide services as usual on grounds maintenance and communal cleaning. This also applies to our contracted grounds maintenance and communal cleaning services.
Our team will still remove fly tipping and hazardous waste when reported.
Our contractors will still provide anti-viral deep cleaning services to properties in which cases of covid-19 are confirmed when requested from our Neighbourhoods team. As always if you have any enquiries please contact us on 0300 555 0600.
---
How will this affect the customer service contact centre?
We anticipate a high volume of calls during this period which, coupled with potential sickness amongst staff, may lead to longer than usual waiting times.
Please be patient and we will do our best to assist as soon as possible. You could help us manage this by routing all non-emergency enquiries via our website or by signing up to My Onward.
You can use My Onward to make a rent payment, report a repair, check your account balance and keep your personal details up to date.
---
Will building work at my property continue?
We are currently progressing with general planned maintenance work including kitchens and bathroom installations, window and door fitting and central heating works etc.
As part of our revised procedures we have deferred some specific programmes to our sheltered schemes and are working with customers generally who would prefer their planned improvements to be deferred to a time in the future.

What financial support is available?
We understand that the current situation will put pressure on household finances for many. The help available is changing daily, so if you are in any doubt about your ability to pay rent, the best thing to do is to pick up the phone and call us to discuss your circumstances. We will listen and do our best to help you find a way through.
We have a dedicated team on hand to provide guidance and support. The team are accessible via our Contact Centre on 0300 555 0600.
Alternatively, you can contact the Citizens Advice Bureau and Welfare Rights Service, or access the latest Government advice about financial support at www.gov.uk/coronavirus.
You may also find some useful information through the following links:
www.gov.uk/universal-credit
www.entitledto.co.uk
www.ofgem.gov.uk/coronavirus
---
Is there any support available to help me with shopping, supplies, collecting medication, dog walking etc. as I do not have any local friends or family to support?
If you have no local support, we will aim to help as much as we can. However, it may be that families and friends can support from a distance with jobs such as online shopping.
We can also link you to your local volunteer network who may be providing support in your neighbourhood.
---
What assistance is there for sheltered and supported schemes?
We have sent out information for our sheltered and supported schemes separately. If you would like to find out more about this or believe you should have received this information, please call us on 0300 555 0600.
---
Where can I access additional information and support?
There is lots of information available from key expert sources such as the NHS, PHE (Public Health England) and the government websites.
Anxiety UK has also shared some key phone numbers if you are unable to get online:
o Age UK – 0800 678 1602
o Anxiety UK – 03444 775 774
o Asthma UK – 0300 222 5800
o British Heart Foundation – 0300 330 3311
o CALM – 0800 585858
o Diabetes UK – 0345 123 2399
o Mind Charity – 0300 123 3393
o Scope – 0808 800 3333
o Silverline – 0800 470 8090
o The Stroke Association – 0303 3033 100
o Lung UK – 03000 030 555
o Breast Cancer Now – 0808 800 6000
o MS Society – 0808 800 8000
o Alzheimer's Society – 0300 222 1122
o Rethink – 0300 5000 927
o Versus Arthritis – 0800 5200 520
As always, if you're struggling or have any queries, you can contact us via the website, My Onward or 0300 555 0600.
We hope that you and your loved ones remain safe and well during this difficult time.
Read info about how you can protect yourself and others from coronavirus here