Merseyside
Young residents dig in as Beechwood prepares for regional awards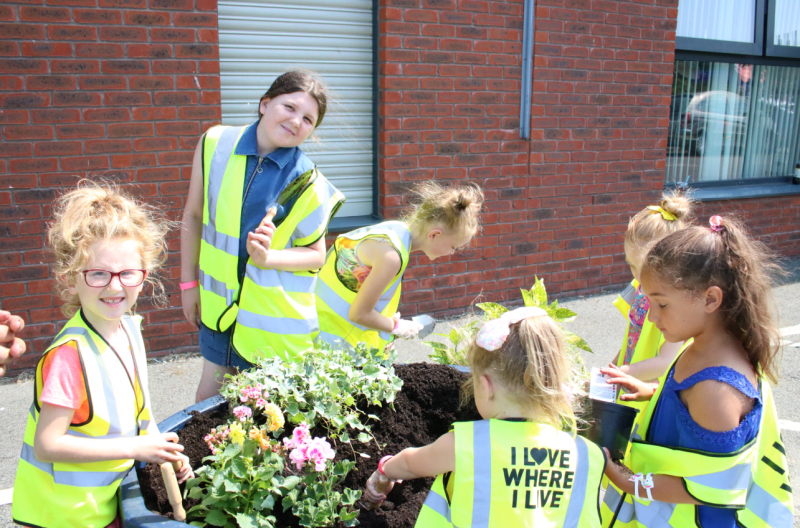 Local children from Wirral's Beechwood estate have been getting their hands dirty in preparation for this year's North West in Bloom competition.
Onward's environmental services team, who look after the estate, were joined by a group of local youngsters as they worked to spruce up the area.
The green-fingered volunteers planted up a number of containers dotted around Onward's office on Beechwood Drive, as well as a new decorative floral boat display situated on nearby Fender Drive.
The planting event was part of a community fun day organised by the BBB community group, which included music, food, craft stalls and bouncy castles.
Staff from Onward's environmental services team have been working tirelessly in partnership with other local organisations during the summer months to get the estate ready for this year's North West in Bloom Awards.
After coming away with a silver medal award in the Best Village Category last year, Onward are hopeful that they can go one better this year and claim the top prize.
Rich Barley, environmental services manager at Onward, said: "Since we started working with Beechwood in September 2015, we have been committed to improving the appearance of the estate.
"The team has done a tremendous job and we are hoping the judges for the North West in Bloom awards will be impressed.
"It has been great to see local children getting involved in the project. It's really important for us and the children to care for and make a difference to the environment, as well as taking a wider interest in the local community. The award entry this year partners the launch of a community environmental group and we hope the interest in the new areas will generate a new wave of volunteers"
Judging for the North West in Bloom awards will take place in August and the results will be announced in September.