Merseyside
Weaver Vale MP and Halton Council CEO visit Murdishaw to see community-led regeneration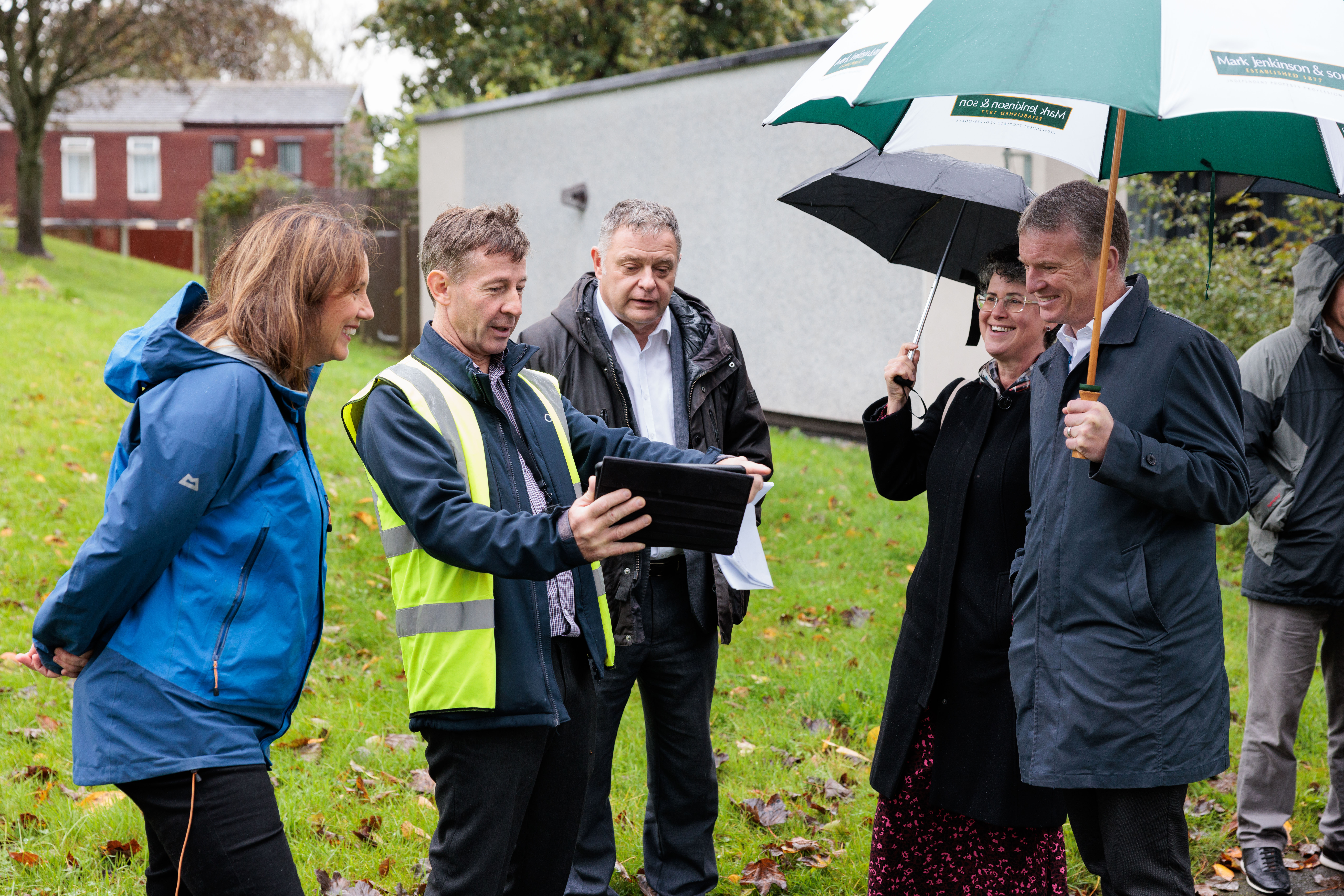 Mike Amesbury MP and the CEO of Halton Council, Stephen Young, visited Murdishaw this month to see the results of a community-led regeneration programme that has delivered a number of improvements across the neighbourhood.
Onward Homes, Riverside Housing and Halton Council have worked together to better manage green spaces and with the community to develop a new local centre for residents.
The MP and Halton CEO visited the new local centre and learnt about the Community Design Team; a group of local residents who came together to evolve a vision for a new community space in Murdishaw. The team developed plans to open an old disused boxing gym within the Gorse Wood as a café. They worked with Onward Homes, Riverside and Halton Council to secure the building and start work transforming it into a café this Summer.
The Tea Tree Café will be run and owned by the community, with a dedicated team of volunteer directors making decisions on the space. The café will act as a central hub in the community and a place for people to gather and enjoy freshly made food and drinks at low prices. Any money made will be invested back into the project to provide more opportunities for local people. Other plans for the area include creating a market square that could support pop-up shops, makers markets and food events, and improvements to the green spaces around the cafe, creating new areas for residents to enjoy.
Finally, the tour provided an opportunity to see the improvements that have been made to 132 bungalows as part of a £7.5m investment made by Onward, part funded by the Government's Social Housing Decarbonisation Fund Wave 1. Onward secured £1.4 million through the Liverpool City Region Combined Authority's bid to retrofit customers' homes that were identified as requiring improvements to improve their energy efficiency. These updates included installing a new roof, windows, doors, external and internal insultation and a new ventilation system making their customers' homes warmer, quieter, and more comfortable.
Mike Amesbury MP for Weaver Vale said:
"This multi-million-pound investment in residents' homes has improved their look and energy efficiency, making them warmer and bringing down bills while also tackling the climate emergency.

"But the approach has not only been about regenerating housing, the bricks and mortar, it's been about building community vibrancy, cohesion, and pride. A great example is the new community hub-café and enhancement of green spaces."
Stephen Young, CEO of Halton Council said:
"It was a real pleasure to see the work that has been undertaken in Murdishaw first hand. It is a fantastic example of strong partnership working and really well demonstrates the level of aspiration we have for all of our communities in Halton".
Bronwen Rapley, Chief Executive of Onward said:
"Murdishaw is a great example of the power of partnership working and what can be achieved when organisations come together to find new ways to do more with their customers.

"We are enormously proud to have supported residents with their plans to create a new local centre in the heart of Murdishaw. What makes this different is that local people have been in the driving seat from the outset, which means that this vision reflects their experiences and aspirations.

We are excited to see where this journey takes the community and would like to take this opportunity to thank all our partners who have helped us to get to this point."