Update on your services – November 2020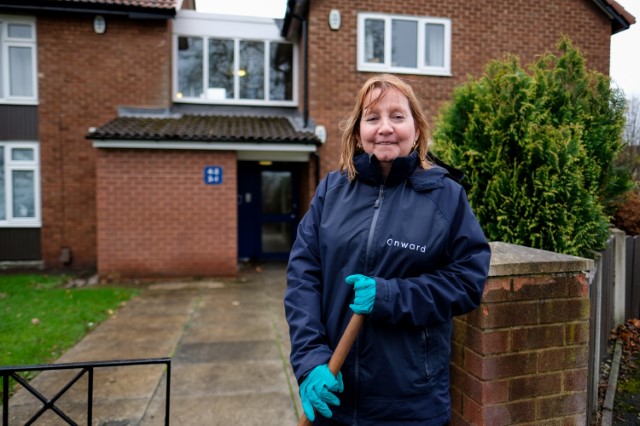 Onward is open for business
Onward is open for business. We have established safe systems of working that enable us to continue to provide customer services effectively and safely.
Onward Homes is continuing to deliver most of your services for nearly all of our customers. So, if you need to contact us about something, please do. It doesn't make a difference where you live, or if you are in Tier 2 or Tier 3.
Feeling vulnerable? Contact us.
Onward is here to support vulnerable customers, as we have been throughout COVID.
People defined as clinically extremely vulnerable are advised to stay at home as much as possible and to keep all contact with others to a minimum. We know that this makes life hard in lots of different ways. We can help by giving you someone to talk to and helping you get everyday essentials like food and support services.
We continue to provide essential services for our vulnerable customers to ensure their health and wellbeing and prevent isolation. When this brings us into contact with you, we will follow our tried and tested safe systems of working and use all appropriate PPE.
If you are feeling vulnerable, contact us. If it is money worries, you need help getting food or if you are just feeling lonely – call us and we will do everything we can to help.
Money troubles? Contact us.
We want you to be secure in your home, even if money becomes harder in the weeks ahead. No customer will be evicted as a result of hardship caused by coronavirus, where they are working with us to get their payments back on track.
Onward will work with any customer struggling to pay rent to make this manageable in the long term. We offer one-to-one advice and support on topics including access to benefits and managing household budgets.
If you would like to speak to someone about your money, our Financial Inclusion team is here to help. Please contact us.
Need a repair? Let us know.
We are continuing to take new routine (non-emergency) repairs requests. Thank you for your patience in recent months as we've opened up your repairs service in a safe and sustainable way. Our frontline teams are working hard to meet our service standard of fulfilling repairs requests within 20 working days.
As our local suppliers begin the journey back to normality, we may continue to experience some limitations on the availability of materials and resources. As a result, we are carefully monitoring the return to our expected level of service. It may be that some delays occur, especially if a job is larger, more complex or requires supplies that are harder to secure. We are working hard to avoid delays and complete repairs as quickly as possible and will keep you informed if these occur.
The My Onward portal is the quickest and easiest way to report a new repair. You can also report a repair by telephone through the Contact Centre on 0300 555 0600.
If you have any questions or comments please do get in touch with us.