Greater Manchester & Cheshire
State-of-the-art playground for Hattersley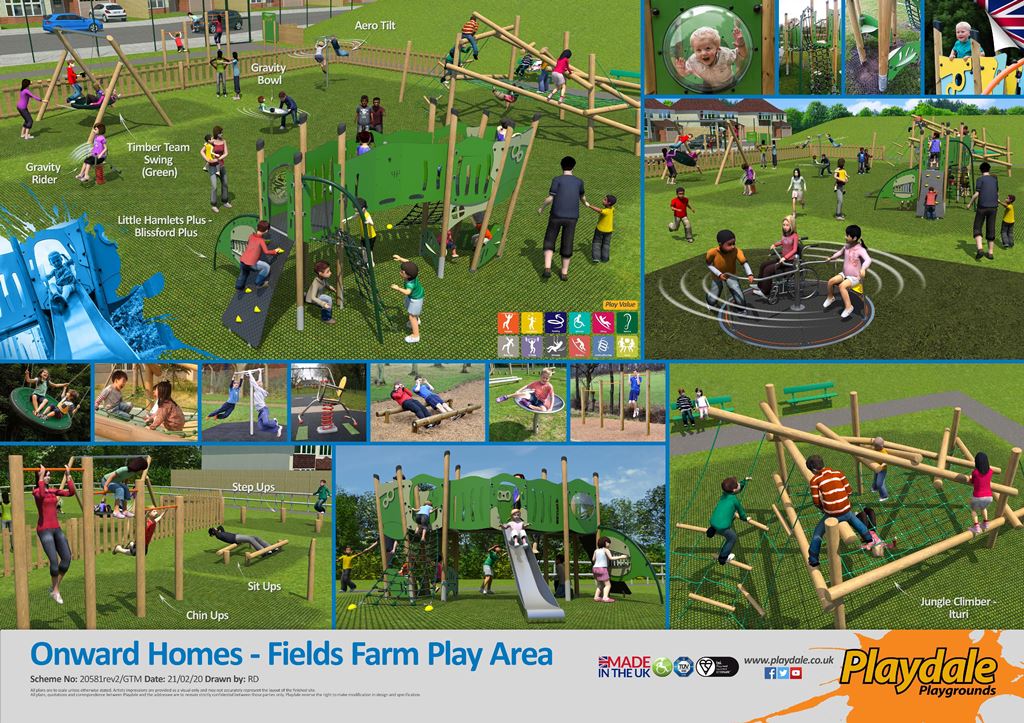 A NEW playground featuring state-of-the-art equipment for adults as well as children is being created in Hattersley.
A planning application has been submitted for the development off Fields Farm Road. It's part of the regeneration of Hattersley being driven by a partnership between Tameside Council, Onward Homes and Homes England. It's funded by the Hattersley Public Realm Fund, provided by residential development partner Barratt Developments.
Coronavirus restrictions mean playgrounds are currently closed but the new facility will be a welcome addition after they've reopened.
It boasts an array of modern features to enable children of all ages and abilities to get exercise while having fun to stay fit and healthy.
And there's also outdoor gym equipment for adults to tackle chin-ups, sit-ups and step-ups. For those who just want a rest while supervising the children, the grassed area is surrounded by existing benches. A fence will be replaced with a 1.2metre high steel fence and combination gate. The land was last used as a bowling green but has been vacant since 2010.
The play equipment, designed to be original, exciting, challenging and fun, includes:
Little Hamlets Plus: A structure featuring a playhouse, lookout towers, slide, arched net climber, ramp climber, scramble net, curved bridge and play panels including a musical feature. It helps children improve balance and co-ordination, overcome obstacles, tests climbing skills and teaches different sounds.
Jungle Climber: A timber climbing frame with rope ladder and nets that recreates the experience of climbing a tree to test agility and develop physical and motor skills.
Timber Team Swing: An inclusive swing where teamwork makes it go higher, encouraging social interaction and developing co-ordination and balance.
Aero Tilt: A rotating overhead wheel that improves upper-body strength and tests agility, timing and co-operation.
Gravity Rider: An inclusive, spring-mounted, rocking seat that improves balance and co-ordination.
Gravity bowl: An inclusive rotating dish that spins fast giving the thrill of speed and movement while developing balance and teamwork.
Inclusive Orbit: A modern roundabout with a unique rotating mechanism.
Cllr Oliver Ryan, Tameside Council Executive Member for Finance and Economic Growth, said: "This exciting new playground will feature state-of-the-art equipment enabling children to play together in the fresh air and get exercise while having fun. It will also aid development and there's even equipment for adults to have a quick workout in the outdoors to help all the family keep fit and healthy.
"It's just part of our investment in both Hattersley and playgrounds across Tameside to help create a more attractive, healthier borough that's a welcoming place to live and work."
Eddie Vickers. Neighbourhood Delivery Manager for Greater Manchester, said :'We're delighted to bring this site back into use, which will be a valuable addition to local residents of all ages'.
Playdale Playgrounds has designed and is installing the playground, which is independently tested and certified to European standards. You can view more about it in this short film: