Greater Manchester & Cheshire
Robot workshop teaches coding skills to Tameside youngsters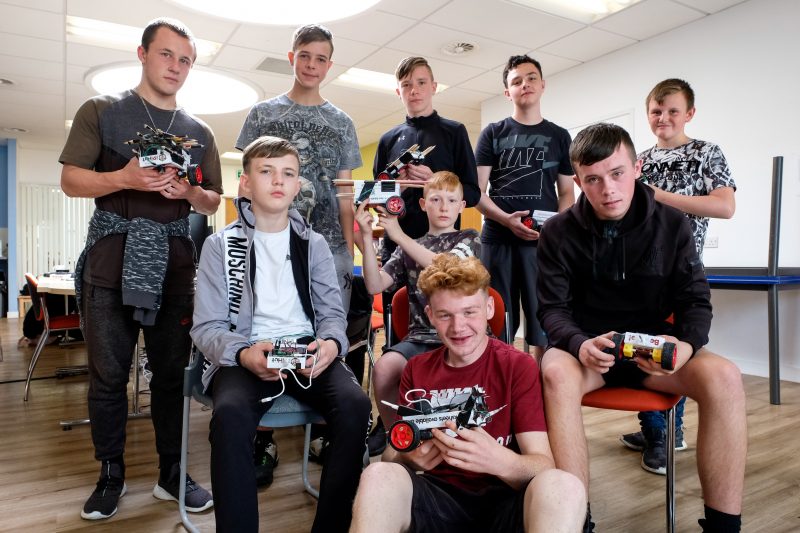 Nine young people from Hattersley and Hyde in Tameside took part in a two-day workshop to help develop their digital skills – HACK4: Sumo Robots.
Funded by Onward, and in partnership with Tameside Council's Youth Offending and Tameside Employment and Skills teams, the specially devised 'Sumo Robot' sessions were held at The Hub in Hattersley.
The Youth Offending Team identified and engaged a group of young people from the Hattersley and Hyde areas – people who were not in education, employment or training (NEET) or otherwise at risk. Alongside local social enterprise, Hive, the team devised a programme designed to spark the young peoples' interest in coding and digital skills.
Working in pairs, the young people aged 10-15 were taught to build and programme robots to fight sumo wrestling style.  The event culminated with a 'battle of the robots' competition which pitched robots against each other in time trials and a sumo ring.  The winning team and runners up got a Tameside HACK branded battery pack each, and all attendees received a Tameside HACK goody bag.
Rosie Longden, social investment manager at Onward, said: "The young people thoroughly enjoyed the experience. They were able to gain valuable digital skills through this fun, interactive project which we hope they will go on to explore even further. It was fantastic to see everyone so engaged in the project and learning so much.  It was a great day and something we were proud to be a part of."
Cllr Leanne Feeley, Tameside Council's Executive Member for Lifelong Learning, said: "Our Youth Offending and Employment and Skills teams will continue to support the group in developing digital expertise. This initiative sits within our digital skills agenda, enabling young people to train in coding and other digital disciplines which we hope will inspire them to find jobs and play a part in growing this sector in Tameside."
HACK4 was facilitated by Hive Learning Network and is part of a series of coding competitions in Tameside, the Tameside HACK. Follow @TamesideHACK on Twitter or email hack@tameside.gov.uk if you'd like to get involved in future computers and coding activities.
For more information on Onward visit www.onward.co.uk.