Greater Manchester & Cheshire
Over £37K granted to transform overgrown land into community garden for Hattersley residents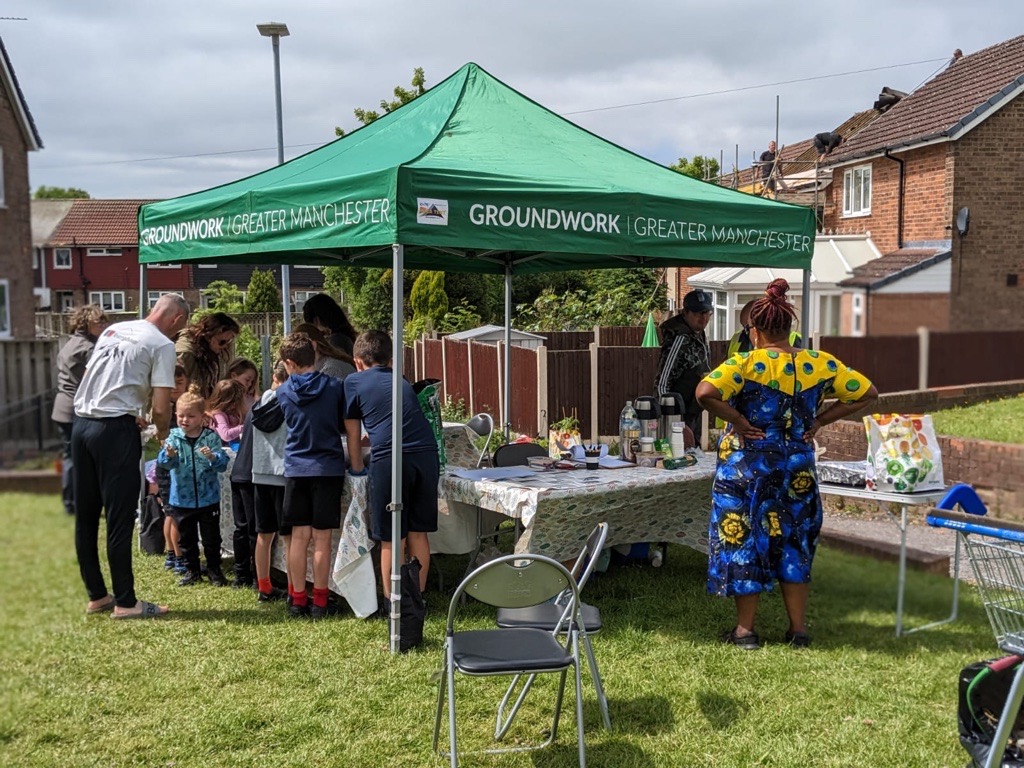 Springwell Gardens in Hattersley has been awarded £37,040 by Community Matters' Green Spaces Fund to transform the area into a community garden for local residents.
The funding will be managed by local housing association Onward Homes, who have around 1400 homes in the area, and will be used to turn the space into a community growing space and peace garden. Local organisation Groundwork will be building in growing infrastructure, providing planters and growing spaces and teaching local residents how to maintain the space and get the most out of their produce.
The overall aim is to repurpose this neglected area into a diverse and interesting community space that can be used by the local people and organisations for recreation, education, and wellbeing purposes. The partners will work to complement the natural surroundings and ecosystems to create a tranquil, attractive space that is in keeping with the local environment.
Community Matters, Groundwork and Onward will be having an Open Day launch event on Tuesday 30th May where they will consult with local residents on what they would like to see delivered. They also have plans to deliver thirty engagement sessions over the course of the year that will be delivered by Groundwork GM and community organisations Ark of Hope and Hattersley Projects.
Residents will be able to take part in wellbeing growing days and planting sessions to learn how to manage and maintain the site. They will also be able to attend cookery sessions with Ark of Hope to learn how to make tasty dishes utilising the plants and vegetables grown in the space.
There will also be sessions available for the community to make bird boxes, insect hotels and learn other ways to encourage wildlife and biodiversity. Opportunities will be available for local residents to come together to form a group that will help steward the site.
Samantha Powers, Social Investment Specialist for Onward said:
"Onward recognise the value of open spaces in our neighbourhoods in providing places for social interaction, development of community ties and environmental benefits. Located close to our homes in Hattersley, we spotted an opportunity to transform the land into a space for the enjoyment of residents.
We are grateful to have the support of our partners Community Matters and Groundwork so we can really make a difference to the space. We hope to use the upcoming open day as an opportunity to meet with community members and partners to discuss future initiatives."
Janet Cooper, Chair of Community Matters said:
"This is a great opportunity for our community to really get involved in such a large a project that will benefit us all.
It will improve the area, giving residents a place to come together, a sense of well-being and take pride in, and to be a focal point for families. We are all aware of the massive benefits from being outdoors and how this helps us to deal with the stress of our day to day lives.
I am so excited about the benefits this project will bring and proud to be a part of it and the legacy that we will have to build on."
Jaqueline Owen, Local Ward Councillor said:
"This is going to be such a great project for local people. As a vegetable grower myself, I appreciate that there's nothing quite like eating the produce you've nurtured and lovingly looked after. I particularly found growing very therapeutic following the stillbirth of my son, 27yrs ago. Nurturing plants, replaced for me to some extent, nurturing the baby I had lost. Working with the soil, being outdoors and caring for my plants was a tremendous help in my journey through grief.
Hopefully this space will help to bring peace to those in distress in some way."
Event Details
Vitality Gardens Launch Event
Location – Springwell Gardens, Hattersley, SK14 3QL
Time – Tuesday 30th May, 11:00-14:30
If you would like to get involved in this project, please contact: samantha.powers@onward.co.uk