Onward's Hattersley development hosts high-rise fire training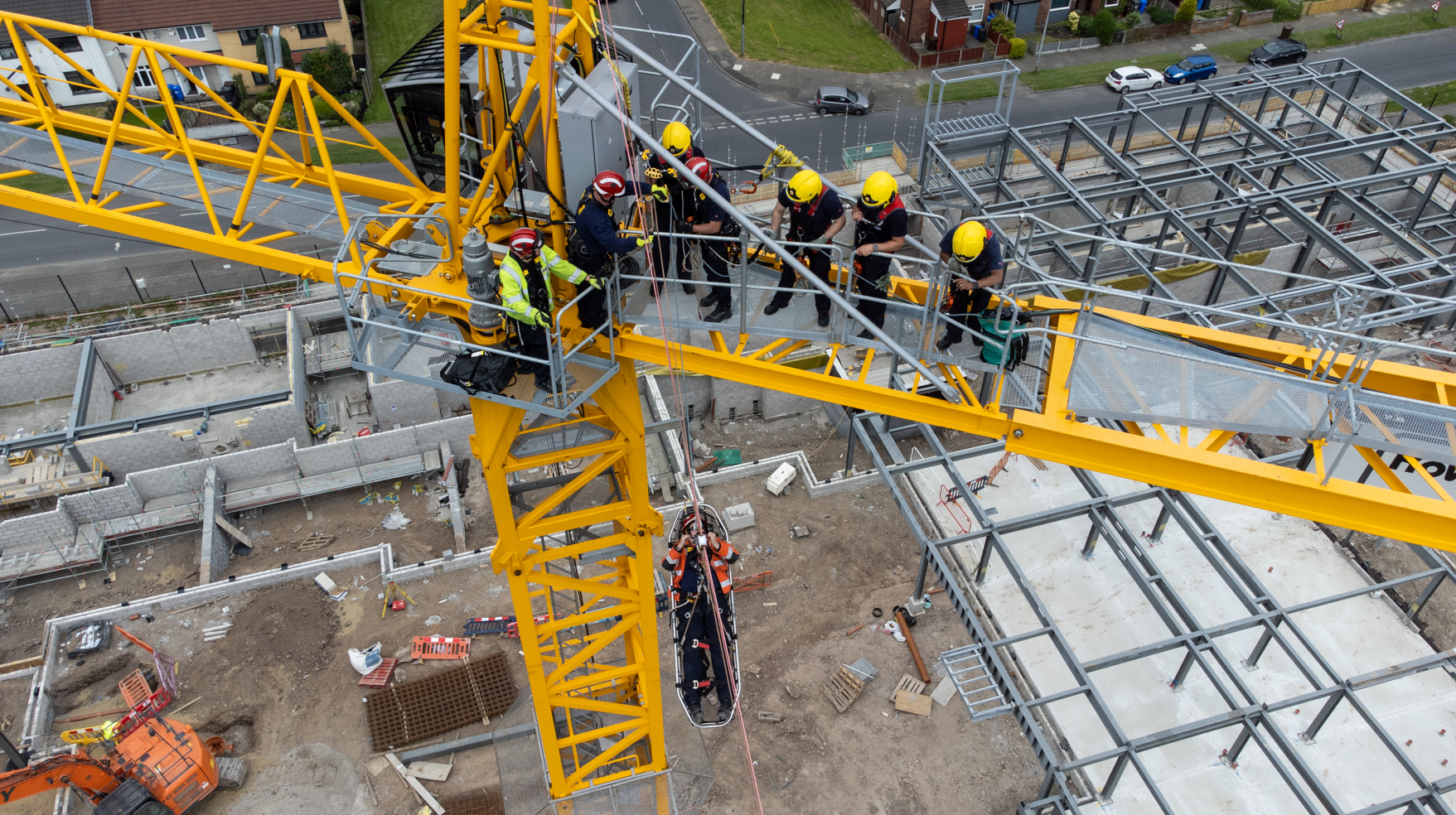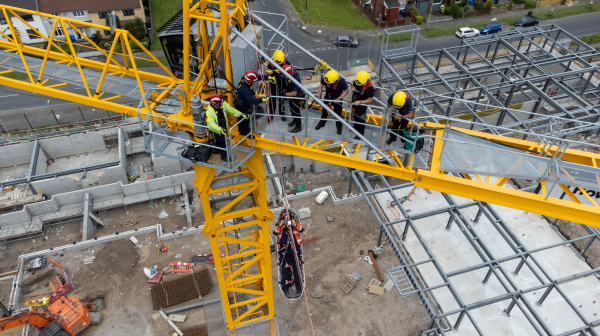 Greater Manchester firefighters have taken their skills and experience to new heights, through a novel partnership with Onward Homes.
Crews from Greater Manchester Fire and Rescue Service's (GMFRS) Ashton-Under-Lyne Fire Station took part in high-rise firefighting drills on a tower crane at Hattersley Central, a collection of neighbouring development sites being managed by construction firm Rowlinson, on behalf of  Onward.
Ashton-Under-Lyne's White Watch practiced a variety of high-rise rescue techniques that will help them manage any emergency rescues of a Tower Crane Operator. This will be repeated a further three times for the other fire crews in Tameside. The training gave firefighters the opportunity to practice working at height and using rescue equipment in confined spaces.
Hattersley Central was chosen as an ideal training environment by GMFRS, due to the type of construction taking place on site. A 27-meter crane is currently installed at the southern end of the main site, where a steel frame has been assembled for a 91-bed extra care scheme, opening in 2024.
Scott Barry-Godsell, Crew Manager of White Watch at Ashton-Under-Lyne Fire Station's Technical Response Unit, said:
"This training exercise has been incredibly useful and we're grateful for the opportunity Onward Homes and Rowlinson have given us.
"Greater Manchester Fire and Rescue Service is committed to training and developing so that we continue to provide the best possible service to the people and businesses of Greater Manchester."
Award-winning contractor Rowlinson is nearing completion of the first of 60 new homes for Onward at Hattersley Central. To help meet a defined housing need in Tameside, 55 of the homes will be made available for Affordable Rent, with an extra care scheme to cater for over-55s with diverse needs. 15 homes will be available for Shared Ownership, supporting local people looking to get onto the property ladder and put down roots.
Funding for Hattersley Central is being delivered through Onward's Strategic Partnership with Homes England, which was announced last year and will enable the housing association to build 5,000 new homes by 2030 – with 3,208 being delivered directly through the Partnership.
Sandy Livingstone, executive director of property at Onward, said:
"We are pleased to be able to support Greater Manchester Fire and Rescue Service with this recent training initiative and keep fire safety at the front of people's minds in Hattersley.
"The safety of our customers, colleagues and contractors is our number one priority, so we welcome any opportunities to share best practice with emergency services. We look forward to delivering more activity in partnership with GMFRS to help keep our communities safe."
David Chilton, Rowlinson's managing director said: "We always aim to work with the community; from helping with food bank deliveries, building equipment for the nursery's outside space to this fire crew training, we're pleased to be supporting local people whilst we're on site, building the high-quality new homes."
Elsewhere in Hattersley, Onward is also delivering 27 new homes for Affordable Rent on land between Hare Hill Road and Porlock Avenue. Onward is also planning improvements to Hattersley's Waterside Clough and a new Multi-Use Games Area part of a Public Realm Agreement with Tameside Council.