Merseyside
Onward Joins Partners for Policy Workshop with Hilary Cottam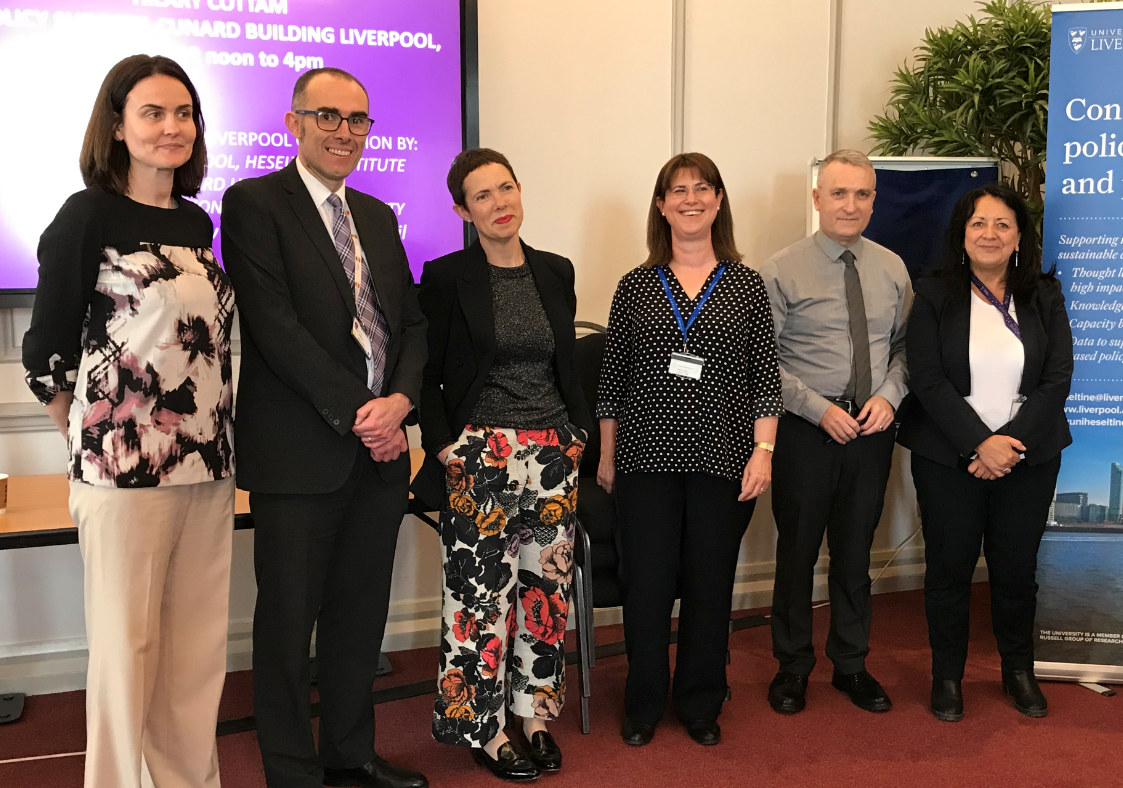 The University's Heseltine Institute for Public Policy, Practice and Place, along with local partners, brought internationally acclaimed social entrepreneur and designer Hilary Cottam to Liverpool to help inform city-region policy.
Hilary Cottam, the author of Radical Help: How We Can Remake the Relationships Between Us and Revolutionise the Welfare State, spent the afternoon meeting with representatives from Onward Homes and Liverpool City Region Combined Authority (LCRCA) as part of a closed policy surgery ahead of a public appearance in Waterstones that evening.
Director of the Heseltine Institute, Professor Mark Boyle said: "It was an excellent example of how University expertise can work with key city stakeholders to improve the city region.
"Onward Homes and LCRCA talked through some really innovative and fascinating work they are doing on neighbourhood regeneration, tackling long term unemployment and public health, so current topics.
"Hilary's argument is that there needs to be a radical shift in the way services are provided, away from trying to fix a problem towards listening profoundly to communities, understanding the importance of relationships and building capabilities."
"There are communities across the country dealing with some with deep-seated challenges, and the only way to get enduring change is to meet people where they are at and to work collaboratively with people to figure ways forward together".
"Persisting with old solutions will simply not work"
The meeting took place in the city's iconic Cunard Building. It was followed by a Q&A session at Liverpool One Waterstones, with Professor Boyle chairing, giving Dr Cottam the chance to hear from, and engage with, the Liverpool public directly.
Hilary Cottam said: "We can see the seeds and practice of change are alive in different parts of the system.
"We can also see that leaders are searching for ways of moving to a new way of working that genuinely starts with Liverpool and its citizens.
"The challenge now is to connect these early shoots – that way we can grow new, radical practice across Liverpool."
Chief Executive at Onward Homes, Bronwen Rapley said: "As a major investor in Liverpool, Onward was delighted to support an event looking at how the exciting ideas Hilary puts forward in Radical Help could make a positive difference to so many citizens in Liverpool, including our tenants."
The Heseltine Institute will bring the group together again in a month, to assess progress and analyse where further needs can be met.
Professor Boyle added: "That's one of the roles the Heseltine Institute can play in this city-region, to bring in expertise, global thought leaders and to further conversation in the city – we know service providers  are doing some great work already but what we can offer is a system and a framework, a language and vocabulary to help guide this work.
"It's about enabling and creating spaces for dialogue where we can fortify what city leaders and communities are edging towards and give them the confidence that they are heading the right way and further disruptive change in the system is necessary – it makes a difference."