Onward hosts MP and councillors in Hattersley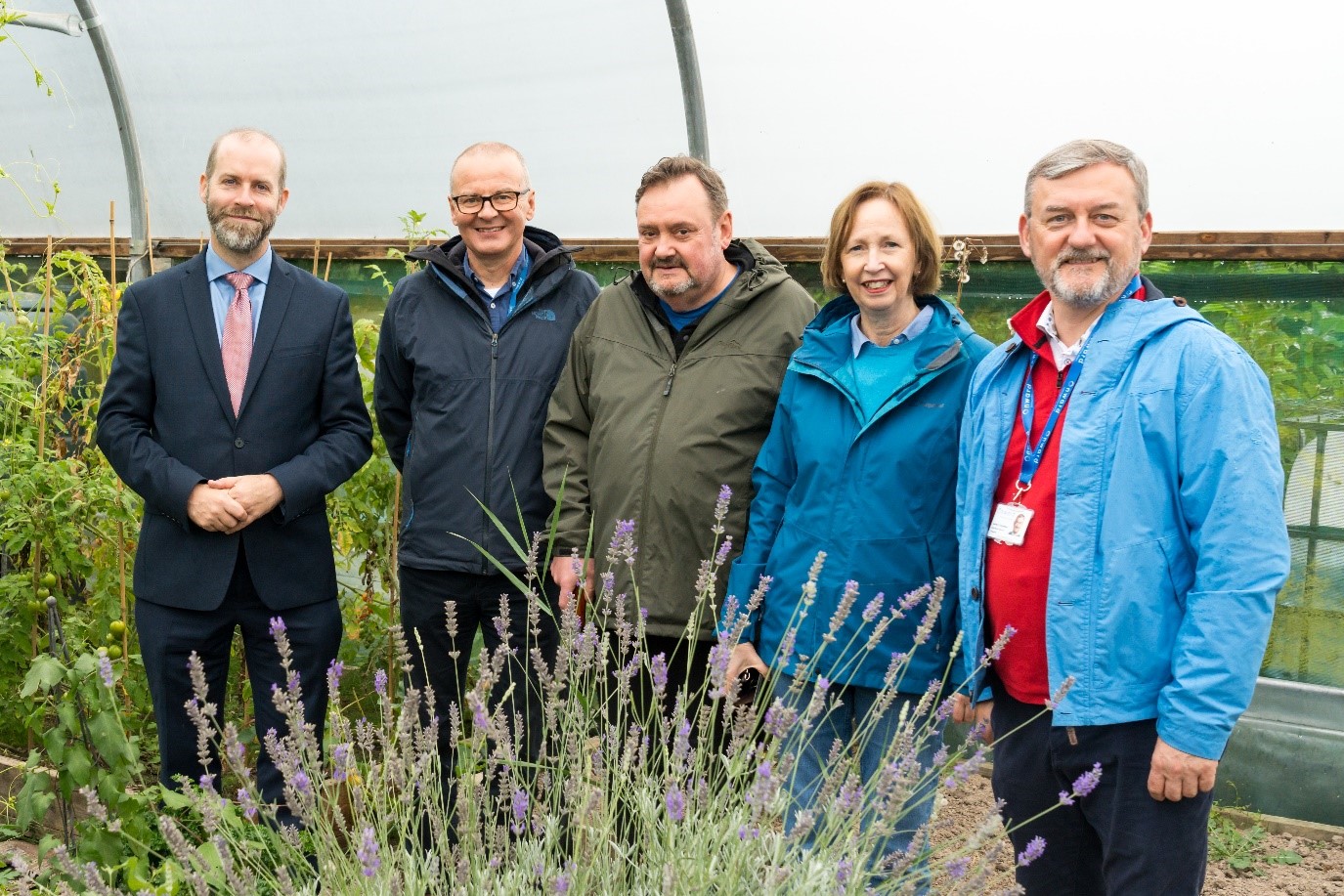 Local MP Jonathan Reynolds, along with Councillors Jacqueline North and Gary Ferguson, recently joined Onward Homes for a tour of Hattersley to view latest developments in the area.
Onward, which manages around 1,800 homes in Tameside, welcomed the MP and local councillors to its Hattersley & Mottram neighbourhood, to tell them more about new developments and community projects that are taking place.
The first stop was a visit to the Community Garden, which was set up in 2018 in a partnership between Onward and residents and is now managed by the community. The Garden was designed to create a relaxing space that promotes wellbeing and supports a range of community activities, such as home school sessions for the local community and corporate volunteer days which are very popular.
The visit also included a tour of Onward's Hattersley Central site, which will provide 161 new affordable homes across three sites, helping local people to put down roots in the area. The tour also included a visit to a new state of the art extra care scheme, which will cater for over-55s with diverse needs. Funding for Hattersley Central is being delivered through Onward's Strategic Partnership with Homes England.
Jonathan Reynolds, MP for Stalybridge and Hyde, said:
 "I am grateful to Onward Homes for inviting me to join them on a tour of Hattersley to see the latest developments and community projects.
As always, it was a pleasure to visit the Community Garden which is going from strength to strength, and it was nice to note the Jubilee tree I planted is doing well.
"It was 20 years ago that I first saw ideas for potential redevelopment of the site now known as Hattersley Central discussed. This is the old district centre, including the community centre where I used to do my Longdendale councillor surgeries, and I am pleased the area is being developed to include new affordable homes and a Housing with Care scheme.
There is a lot of very good things happening in Hattersley at the moment and it is great to see these improvements and investments taking shape."
Sandy Livingstone, Executive Director of Property at Onward, said:
"Over the past decade, we have been working with our partners in Tameside Council and Homes England on behalf of our community in Hattersley. We have invested in our homes and worked with our partners to build new ones that allowed existing and new residents to put down roots. Our work continues, and I am really pleased to say that our major developments of 200 new affordable homes are now nearing completion and we look forward to helping more local people find a place to call home.
"We have a wider role in our community. We're proud to support various projects that are making a  difference, such as the Community Garden. Managed directly by local people, this is now a purpose-built space for residents to grow food, cook and support each other. We really appreciate Jonathan, Jacqueline and Gary taking the time to join us on the visit."