Greater Manchester & Cheshire
Onward completes 27 affordable homes in Bury with Manchester housebuilder Watson Homes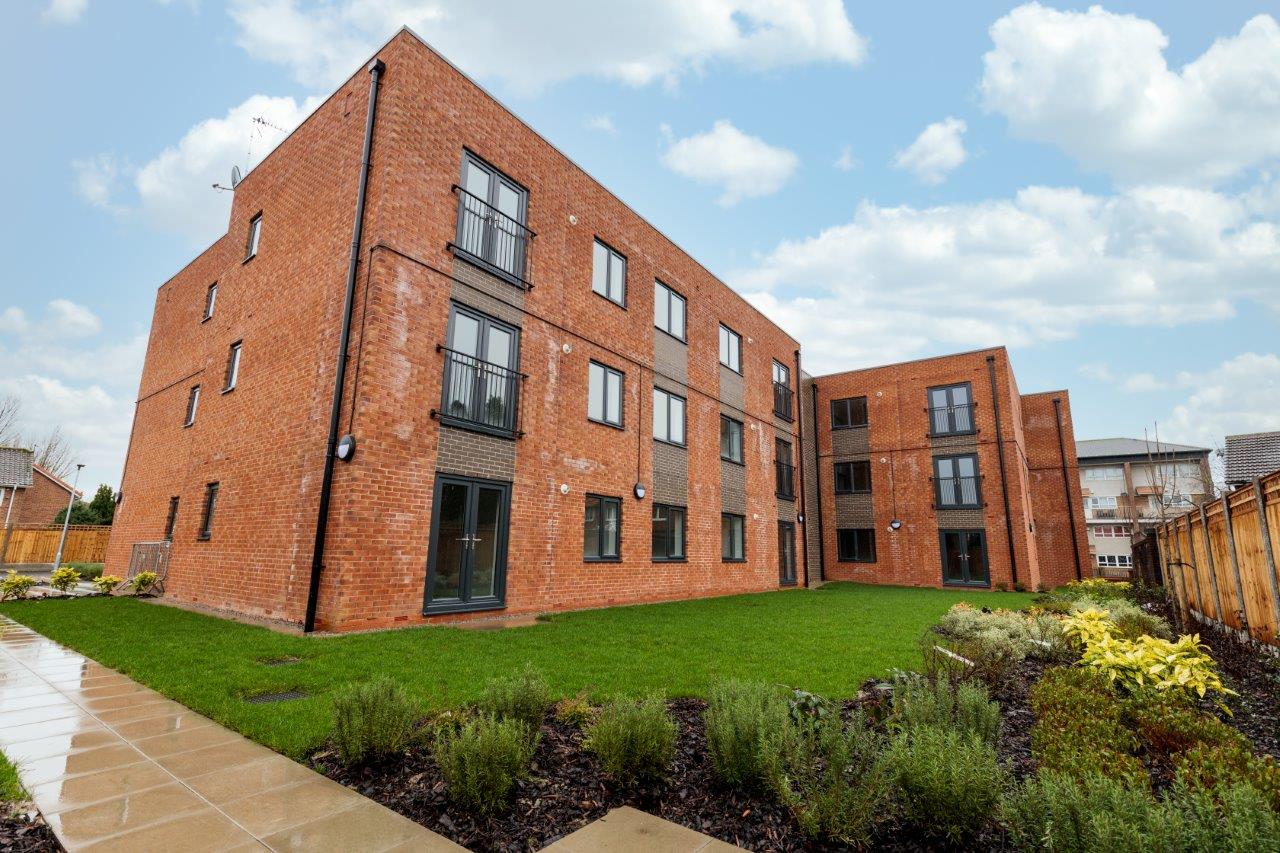 Onward Homes has delivered 27 new, affordable homes in Whitefield, Bury, through its partnership with local SME housebuilder Watson Homes. The development has completed on schedule, having received planning consent in July 2020.
Formerly the site of the Lord Clive public house, Mersey Drive will offer now offer modern apartments with rents capped for local people at an affordable rate. Residents of the 21 one-bedroom apartments and six two-bedroom apartments will have access to 30 dedicated parking spaces at the front of the building, and landscaped communal gardens to the rear.
Designed by Stockport-based TADW Architects, the building has been designed to complement its surrounding area, with each apartment also benefitting from Juliet balconies.
The new homes at Mersey Drive have been designed to reduce ongoing energy costs for residents, with high levels of insulation throughout and Mechanical Ventilation with Heat Recovery (MVHR) systems installed – redistributing and filtering warm air throughout homes.
Mersey Drive is also one of Onward's first new developments without a connection to the local gas grid, with electric panel heaters installed in homes and low energy lighting throughout.
Funding for the scheme was delivered through Homes England, as part of Onward's 2016-20221 housebuilding programme. Last year, Onward entered a Strategic Partnership with Homes England, to enable the construction of 5,000 new homes by 2030 – with 3,208 being delivered directly through the Partnership.
As one of the largest registered providers of social housing in the North West, Onward owns and manages more than 35,000 properties across the region, with 10,338 of those in Greater Manchester alone.
Stephen Heverin, Director of Growth & Regeneration at Onward, said:
"It's great to see these latest new homes completed on schedule; offering much-needed, high-quality and affordable housing for local people in Bury.
"It's been a pleasure working with Watson Homes again on Mersey Drive and we have really benefitted from their experience and local expertise. We are looking forward to delivering two further developments together this year, improving the quality and range of local housing."
Watson Homes is a Salford-based housebuilder, with a strong track record of working with housing associations to deliver high quality, affordable homes across the North West.
Mike Watson, Director at Watson Homes, said:
"We worked closely with Onward to develop these plans and are really pleased with the finished homes. We are confident that Mersey Drive will become a recognised and valued part of the local community for years to come."