Oldham mum battles back to land dream job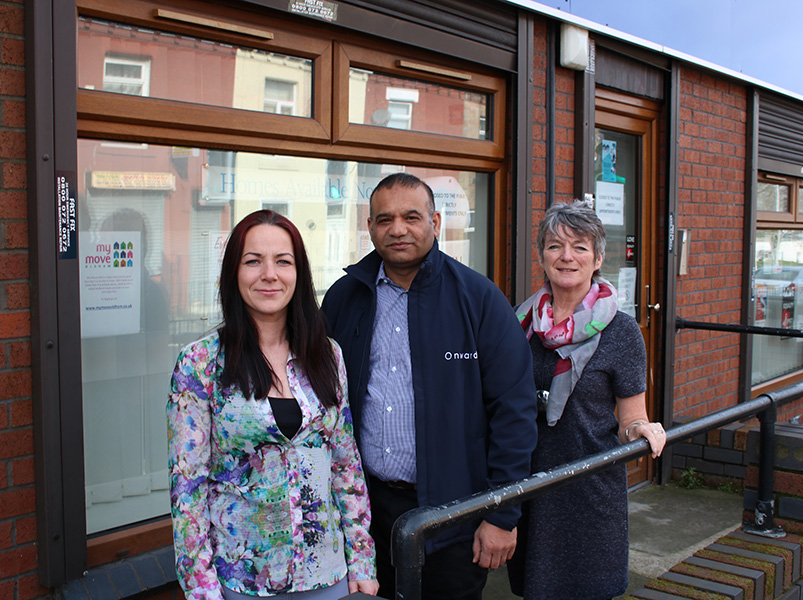 An inspirational mum from Avenues and Hollins is enjoying a new lease of life, thanks to help from Onward Homes.
Mother-of-one Victoria Jackson, aged 34 from Hollinwood, had battled with severe anxiety and depression for years, leaving her house-bound. With the support of her landlord Onward Homes and Upturn, Victoria signed up to a series of online courses to help boost her confidence, and has since found permanent employment.
Victoria first heard about Onward's Works4me offer after receiving a text message inviting tenants to access skills-based courses.
Though she felt she might struggle with classroom learning, she submitted her application for a book-keeping course and was accepted on to the course a few weeks later. She went on to complete the 12 week course ahead of schedule, receiving a level 1 accreditation.
Victoria said: 'I was at the lowest point in my illness. There was only one way out and that was up. I was determined and focused. I really needed and wanted it.'
Victoria's new found confidence enabled her to seek the help she needed for her condition. She enrolled onto Onward's 'works4me' offer which had a free 12-week employment taster for tenants.
It was here that Victoria was introduced to Upturn employment and skills coach Janet who provided her with one-to-one support to help secure a voluntary placement with Positive Steps, an Oldham based charity that aims to support young people, adults and families reach their full potential.
Victoria said: 'I was really pleased when I got the placement. I started filing and photocopying then moved on to taking calls.  It was everything I imagined. They were developing me, and I was developing with them. I enjoyed it.'
When an opportunity came up for a permanent role, Victoria didn't hesitate with her application. She succeeded at the interview and is now working part-time as an administrative officer at the Oldham branch.
'I was so pleased when I heard I'd got the job, it was a little bit of light. I never thought I would be able to lead a normal life. If I can do it, anyone out there can.'
Janet Whitehead, Employment and Skills Coach for Upturn, said: 'I'm really proud of Victoria. I knew she was more than capable, she's a bright girl. It was about building confidence and finding the right surroundings to provide support. I'm really pleased for her.'
Shoab Akhtar, Social Investment Specialist for Onward, said: I would like to encourage Onward Homes residents to take Victoria's lead and contact us if they need any help/support to access training or gain employment. We've had a number of success stories from Hollinwood similar to Victoria's and it's great to see so many tenants progress on to employment and voluntary work using their newly acquired skills and confidence.'
The Community Fund and a number of local training programmes  are just a number of projects Onward is running as part of a major initiative across the North West called works4me, which aims to support tenants into work, training and volunteering.
To find out more about works4me contact Shoab Akhtar, Social Investment Specialist on 01618757982 or email: shoab.akhtar@onward.co.uk
About Onward
Onward Homes is one of the largest registered providers of social housing in the North West, with 35,000 properties across the region. Onward is committed to the regeneration and sustainability of the North West by building 400 new homes each year and by making a positive difference in the communities it serves.