New road name for Brunswick gets the vote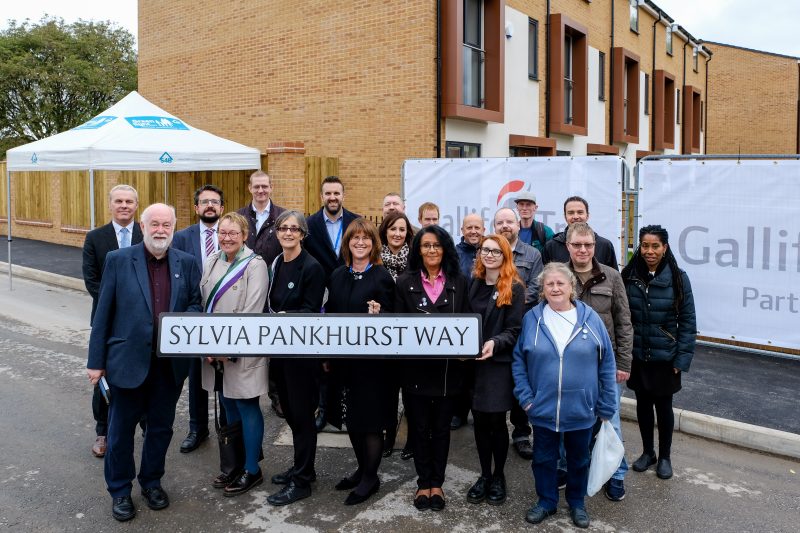 A new road being built in Brunswick is set to be named Sylvia Pankhurst Way – as chosen by S4B residents.
Residents decided on Sylvia Pankhurst Way – named after the Manchester-born women's rights campaigner and artist, daughter of Emmeline Pankhurst and co-founder of the suffragette movement.
The name was chosen as the opening of the road coincides with the centenary of the Representation of the People's Act, which gave women the right to vote for the first time in 1918.
The road is being built as part of Manchester City Council and S4B's 25-year £106m regeneration of the Brunswick area and will form the new boulevard running directly through the neighbourhood and will form the new boulevard running directly through the neighbourhood, just half a mile from the Pankhurst Centre where the suffragette movement began.
A special naming ceremony was held at the road construction site on Wednesday 3 October, attended by guest of honour Sylvia Pankhurst's granddaughter, Helen Pankhurst.
Helen said: "It was an honour to be invited along today and asked to officially name the new road.
"Thank you so much to the people of Brunswick for their choice. It means so much to us all to continue the legacy of what has been fought for and to cement another memory in history for time to come".
Bronwen Rapley, a board member of S4B and chief executive of Onward, said: "It was a privilege to be part of this very special occasion.  The changes at Brunswick are not just about bricks and mortar but about building the community and this is a milestone along the way".
Cllr Suzanne Richard, Manchester City Council's executive member for housing and regeneration, added: "It's a wonderful thing to see the Brunswick project go from strength to strength and it's things like this – as simple as a new road being named – that give us a real feeling of progress. It's also great to see the local community come together to celebrate these milestones.
"It's with great pride as well that the community have chosen to name the new road in honour of Sylvia Pankhurst – a true Mancunian hero – in the hope that she will be remembered by everyone who lives and passes through the neighbourhood."
The event was attended by local residents and representatives from, Manchester City Council including local Councillors and Galliford Try Northwest.
After the event the visitors made their way back to the new S4B housing office to enjoy afternoon tea and had the opportunity to see a short film produced by the Women's Footprints group about the suffragettes, capturing their thoughts about the impact suffragism has today – a very fitting end to the day.