Greater Manchester & Cheshire
New homes underway in Whitefield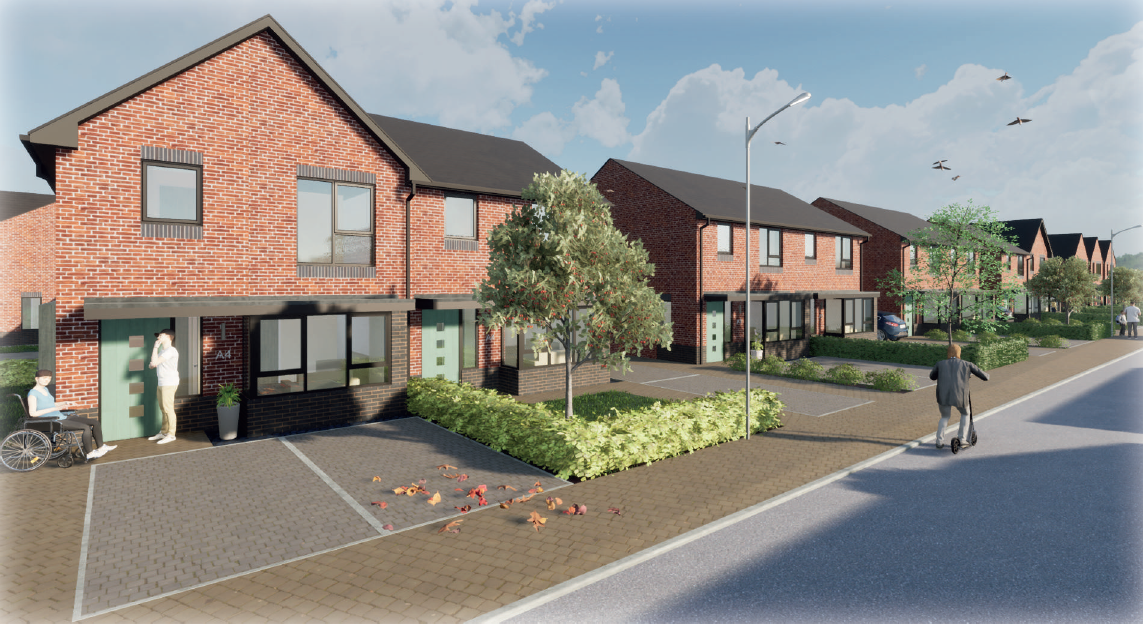 Housing association Onward Homes and construction firm John Southworth will be working in partnership on a new development of 30 affordable homes in Whitefield, Bury. Working closely with Bury Council to address local housing need,16 of the homes will be made available for shared ownership, while 14 will be for affordable rent.
The new homes will be built on the site of the former Wheatfield Day Centre on Victoria Avenue in Whitefield, Bury, which has sat derelict for several years. Having secured planning permission from Bury Council earlier this year, initial work on site has been completed by John Southworth, enabling construction to begin in June.
Construction is expected to take 18 months to complete, with a show home for shared ownership properties launching in Summer 2024.
Onward received brownfield funding from Greater Manchester Combined Authority (GMCA) to help progress the development, which will predominantly be funded through Onward's Strategic Partnership with Homes England. Onward plans to build 5,000 new homes by 2030, with 3,208 being delivered directly through the Partnership.
As a leading developer of affordable homes across the North West, Onward Homes already manages around 800 homes in Bury and more than 11,000 across Greater Manchester. Onward's latest affordable development in Whitefield – Mersey Drive – was fully occupied within just two weeks, reflecting high demand for affordable housing in the local area.
Councillor Clare Cummins, Cabinet member for housing services at Bury Council, said:
"Like many other areas, Whitefield has seen an accumulation of house price inflation over recent years, which has had a detrimental impact on working families and those with affordable housing needs.
We need to focus our collective resources on achieving sustainable solutions that ensure the delivery of sufficient high-quality affordable housing to best meet the current and future needs of our communities.
Releasing council assets and brownfield sites such as Wheatfields for affordable housing development gives the council an opportunity to meet its housing targets and increase the supply of affordable housing across the borough.
The new shared ownership homes will help low to medium income families gain access to home ownership. The remaining 14 homes will be made available for affordable rent through Bury Council, which will help reduce pressures on the council's housing waiting list."
Sandy Livingstone, Executive Director of Property at Onward, said:
"Our latest Whitefield development will really improve the quality and choice of affordable housing for people in this part of Bury. After lying empty for so long, we're pleased to be bringing this derelict site back into use and help local people put down roots.
"We are committed to providing hundreds of new homes next year across the North West and are delighted to have found another north west contractor to help us achieve these goals. John Southworth have an excellent track record and we look forward to working with them."
The development will feature a mix of affordable homes, ranging from two-bedroom walk-up flats and two-bedroom bungalows to three-bedroom family homes. Onward worked closely with Bury Council to ensure that the mix of new homes will respond to local housing need.
Steven Brown, Managing Director at John Southworth, said:
"As a family run company committed to delivering best value, we are excited to be working with Onward to deliver these fantastic new homes and building a strong relationship to help Onward achieve their development aspirations".