Lord Mayor visits Mid-Autumn Festival in Brunswick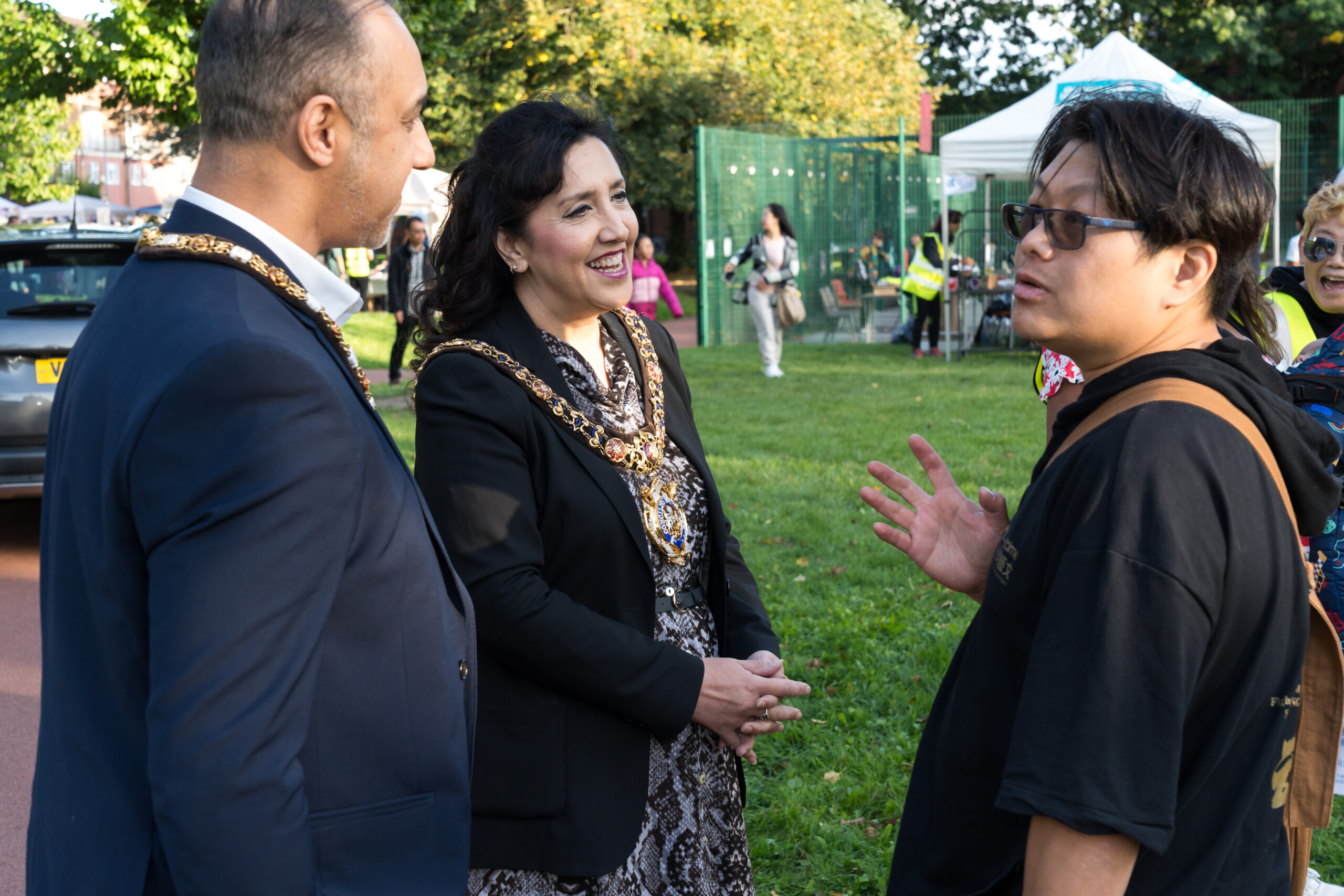 Hundreds flocked to Gartside Gardens Park to join in the celebrations for Brunswick's Mid-Autumn festival and night fair.
Supported by S4B, the consortium set up to produce the 25-year £106m regeneration and community development project in Brunswick, the Lightime CIC team successfully delivered another magnificent event for the whole community and visitors to enjoy. The Mid-Autumn festival, also known as the Moon Festival, is celebrated in Chinese culture. Lanterns are traditionally made as part of the event and symbolise lighting the path to prosperity and good fortune.
Members of the Brunswick community attended craft classes prior to the event to make their own lanterns which were displayed around Gartside Gardens Park and as night fell, the lanterns were lit to be seen in all their glory. Visitors even carried their own bright and unique creations to add to the wonderful spectacle.
Activities on the night included cultural and artistic performances, unique delicacies, games, wish card writing, tattoo stickers all topped off with a lucky draw and dazzling firework display. There was also a selection of stalls with budding traders selling their wares and handmade crafts and stalls selling authentic treats.
Manchester's Lord Mayor, Councillor Yasmine Dar, also attended and said: "It was a real privilege to have been invited to this very special event. Such a wonderful way to bring people together while celebrating an age-old tradition. We take great pride in supporting this event recognising the rich cultural and artistic significance it brings from East Asia to our community."
Creative Director of Lightime CIC and organiser of the festival, Dymo Leung, said: "The Manchester Mid-Autumn Festival Gala and Culture & Art Night Fair represents an occasion where the rich tapestry of East Asian traditions intertwines with the heart of the Manchester community, fostering a harmonious gathering of residents from diverse backgrounds to partake in this exceptional celebration.
"The choice of Gartside Gardens as the venue for this Mid-Autumn event is exquisitely appropriate, as 'G' in Gartside signifies Great, followed by Art and Side. The suspension of Mid-Autumn lanterns within the splendid confines of the 'Great Art Side garden' imbues the setting with a refined taste and artistic ambiance.
"It is our aspiration to perpetuate this annual tradition, further establishing it as an enduring hallmark for the Brunswick community".
Neighbourhood & Customer Service Manager for S4B, Ross Hemmings added: "S4B is delighted to support the creative work of Dymo and Lightime CIC to bring together this celebration event.  It has brought Gartside Gardens alive with light and activities, and S4B is very pleased to be able to work in partnership on this project. The activities engage the whole community and maximises the use of Gartside Gardens after the regeneration investment, which added new play equipment, lighting, multi-use sports pitches and trees to the park.
"The event and activities have brought out the creativity in everyone. It's fun, brings everyone together and most of all makes people smile".
Lightime CIC delivered this event through partnership working with S4B and Brunswick Tenants and Residents Association (BTARA) which was sponsored by Manchester City Council (MCC) and North West Regional Strategic Migration Partnership (RSMP).
View images from the event here Mid-Autumn Festival and Night Fair 2023 – Gallery 
There are more great events planned for Brunswick, starting with a Halloween extravaganza and a Christmas light display. Follow @S4Bmanchester and @Lightimehkersfamily on Facebook for further updates, or visit the S4B website.