Hyndburn housing leads see Clayton Triangle taking shape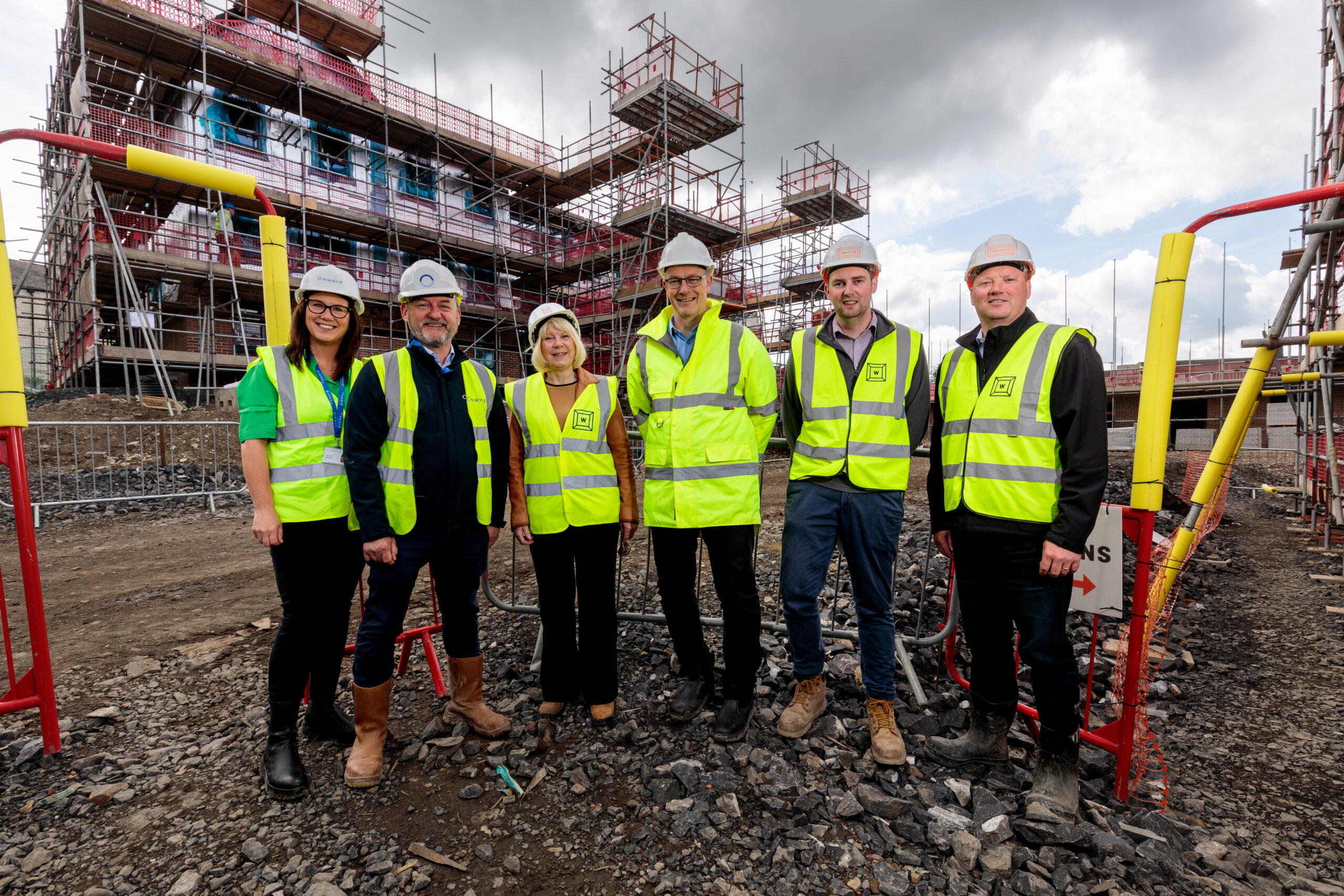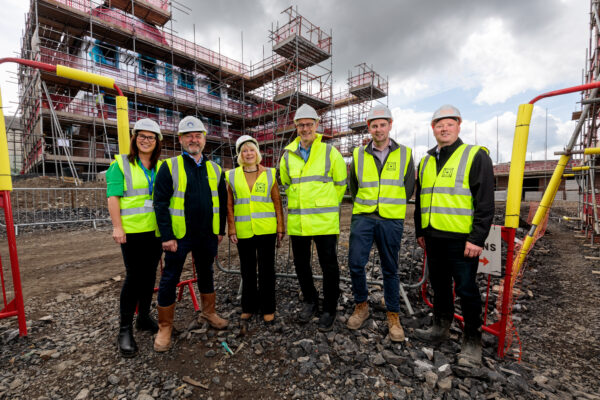 The first new homes at one of Hyndburn's largest residential developments are taking shape, as the borough Council's housing leads observed on a recent site visit.
Lockside Walk, a 127-home development on the derelict Clayton Triangle site in Clayton-le-moors, is being built by Greater Manchester contractor Watson Homes on behalf of Onward Homes.
This week, Hyndburn Council's Portfolio holder for Housing and Regeneration Cllr Kath Pratt was joined by Head of Housing and Regeneration Mark Hoyle to tour the construction site with both developers. Since starting on site in Winter 2022, Watson has completed several structures on site and more than half of the new development's internal roads.
Through the use of modern construction methods, including sustainable timber-frame systems, Watson and Onward are on schedule to deliver the first phase of new homes by the end of this year, with the entire development expected to complete in Spring 2025.
Clayton Triangle is a six-acre brownfield site on the Leeds-Liverpool canal in Clayton-le-moors, which received planning consent in August 2022. To meet local needs, Onward tailored its proposals to offer a range of affordable housing options, including shared ownership and affordable rent, with 32 apartments designed for over-55s looking to downsize.
All homes at Lockside Walk will benefit from off-road parking and landscaped front and private rear gardens. Designed by North West-based TADW Architects, the buildings have been designed to complement the surrounding area and will be finished to a high specification.
Funding for Clayton Triangle is being delivered through Onward's Strategic Partnership with Homes England, which will enable the social landlord to build 5,000 new homes by 2030.
Onward owns and manages 3,359 homes in Hyndburn and employs hundreds of people from its three local bases. Last year, the housing association invested more than £1.5m into its homes across Hyndburn and plans to invest a further £25.4 million over the next decade.
Cllr Kath Pratt, Portfolio holder for Housing and Regeneration at Hyndburn Borough Council, said:
"It has been wonderful to take a tour of the site and see the progression happening first-hand. I am delighted that the partnership with Watson and Onward have brought this development forward, after over 20 years of ongoing work at the Council. The location is very attractive, situated alongside the canal and I know these new energy-efficient affordable homes are very much needed.
"The new homes will be available to rent or buy and this development meets Hyndburn's aims of maximising brownfield land for supply of quality, affordable homes. Lockside walk ticks all these boxes and I look forward to sharing more updates in the future with our residents, as this exciting project nears completion. Thank you to all partners involved in moving this development forward."
Sandy Livingstone, executive director of property at Onward, said:
"As an anchor institution in the area, we are committed to working with local partners to improve the quality of affordable housing across Hyndburn.
As well as building new and modern homes like those at Lockside Walk, we are also investing heavily into our existing homes and will continue to do so in the years ahead, to make them warmer and more efficient to run in the long term.
"We are delighted to be working with our partners at Watson Homes once again, spending our Northern Pound to support regional suppliers and help boost local economies. Over the coming years, we look forward to unlocking new employment and training opportunities for local people, not only through the construction of Lockside Walk, but also by trebling the size of our Altham-based maintenance team, Onward Repairs."
Watson Homes has a track record of delivering affordable homes across the North West and has completed over 1,000 affordable homes, with more than 1,000 currently in its pipeline.
Mike Watson, director at Watson Homes, said:
"We are delighted to be working with Onward Homes to bring 127 much-needed affordable homes to Hyndburn, providing a range of shared ownership, rent to buy and affordable rent properties.
"With the first handovers on this development due before the end of the year we can't wait to see the benefits to the community from this regeneration development."