Merseyside
Housing project underway to transform Toxteth Church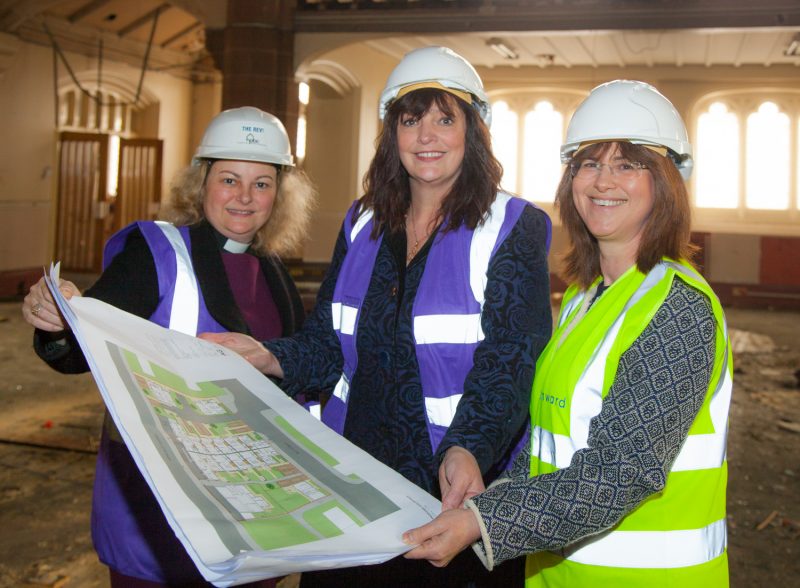 Work has started on a £2.7m housing project to convert the former St Bernard's Catholic church on Kingsley Road in Toxteth, Liverpool, into 16 affordable homes.
Onward is working in partnership with award-winning charity Housing People, Building Communities (HPBC) to create 11 three-storey townhouses within the shell of the church, which dates back to 1901.
On the former parish hall site adjacent to the church, a three-bedroom detached house will be built along with four two-bedroom 'cottage style' apartments, each with its own external front door. All properties are for shared ownership.
While not listed, St Bernard's is one of the few surviving Victorian buildings in the area, and is considered a building of interest, having been designed by Pugin & Pugin (the sons of Augustus Pugin, the architect who designed the interior of the Houses of Parliament).
In order to preserve the integrity of this historic building, Wirral-based architects Ainsley Gommon has kept external alterations to a minimum and incorporated as many original features into the properties as possible. Two of the townhouses will have carved stone fonts in their hallways and many will benefit from the large church windows.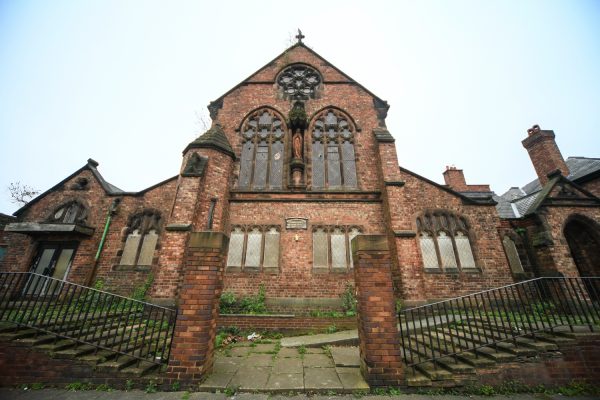 HPBC was gifted the church by the Roman Catholic Archdiocese of Liverpool, with the purpose of turning it into affordable homes. This follows their success at delivering the award-winning Kingsley Road Alt Street housing project on the derelict former church school site adjacent to the church.
Bronwen Rapley, chief executive of Onward, said: "It is wonderful to be working alongside HPBC to save this much-loved building and breathe new life into it. It's a privilege to be able to repurpose this piece of Liverpool's heritage and deliver much needed quality family housing for the area. Onward Homes is committed to providing a range of housing choices for local people in Liverpool and throughout Merseyside, and we would look to replicate this partnership model in the future if the opportunity arose."
HPBC has devised an innovative approach to helping people get on the property ladder. Their 'sweat equity' initiative enables potential homeowners to reduce their deposit by £10,000 by giving 500 hours of work to the development. This could range from manual labour to offering a particular skill or talent.
The HPBC team will work with Onward and its contractor to ensure that home partner sweat equity forms an integral part of the St Bernard's Church conversion.
Rev'd Dr Shannon Ledbetter, founder and chair of HPBC, said: "We've already had a lot of interest in the properties. Through the 'sweat equity' programme people will naturally feel a profound sense of ownership and pride in their neighbourhood, as they will have invested their time as well as money in the development. The success of our previous development means we have a strong, engaged community here already, and this church redevelopment will further build on that. We have a wonderfully diverse group of residents of all ages from families through to older people and it's so rewarding to see the community spirit that has developed over a relatively short amount of time."
To mark the start of building work, Liza Parry and Bronwen Rapley were joined on site by Deputy Mayor Cllr Ann O'Byrne, a long-standing supporter of HPBC, who said: "I'm passionate about delivering more housing for the people of Liverpool and I would very much like to see the charity replicate its unique model in other parts of the city. I'm pleased Onward is working with HPBC to facilitate this."
The development work will take 18 months and is due to be completed late 2019. The contractor is Liverpool-based Hampton Developments NW.