Organisational structure and legal entity
Organisational structure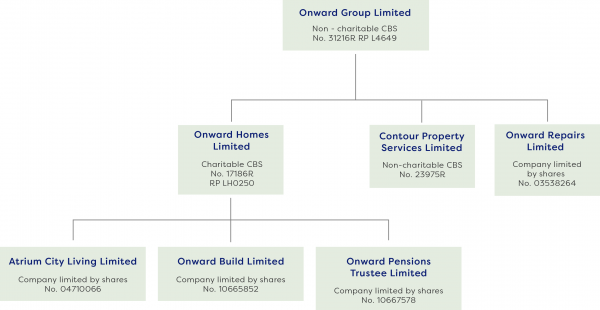 Legal structure and objectives
Onward Group Limited, the Group parent, is a non-charitable Registered Society under the Cooperative and Community Benefit Societies Act 2014. It is registered with the Financial Conduct Authority (31216R) and the Regulator of Social Housing (RSH) as a Registered Provider of social housing (L4649).
Onward Homes owns around 28,000 social and affordable homes, delivering the majority of services to customers.
On 20 March 2019 Onward Group Limited moved its commercial subsidiary Atrium City Living Limited to be a wholly owned subsidiary of Onward Homes Limited. This enabled Atrium City Living to be the investment vehicle in two joint ventures which will deliver new homes: GMJV Fundco LLP which will deliver new homes for sale in Greater Manchester and CRDP Developments LLP which will deliver new homes in Goosnargh,
On 29 March 2019, Onward Build Limited became a subsidiary of Onward Homes Limited. Its purpose is a development company which will be used to provide development services to the Group and support the building of new homes. Onward Build has been selected to deliver the Group's flagship development scheme at Basford East near Crewe which will deliver over 450 new homes for affordable rent, shared ownership and market sale.
The Group's structures and governance continue to evolve in order to achieve the optimal organisation for delivery of the strategic objectives. On 1 April 2021, Contour Homes Limited transferred its engagements into Onward Homes Limited. This completed the consolidation of all of Onward's social landlord activity into one organisation.
Contour Property Services provides services to leaseholders. Hyndburn Homes Repairs (trading as Onward Repairs) provides repairs services in the Lancashire region.