Greater Manchester & Cheshire
Helping Hand Winter Warmer event to help Tameside residents with cost of living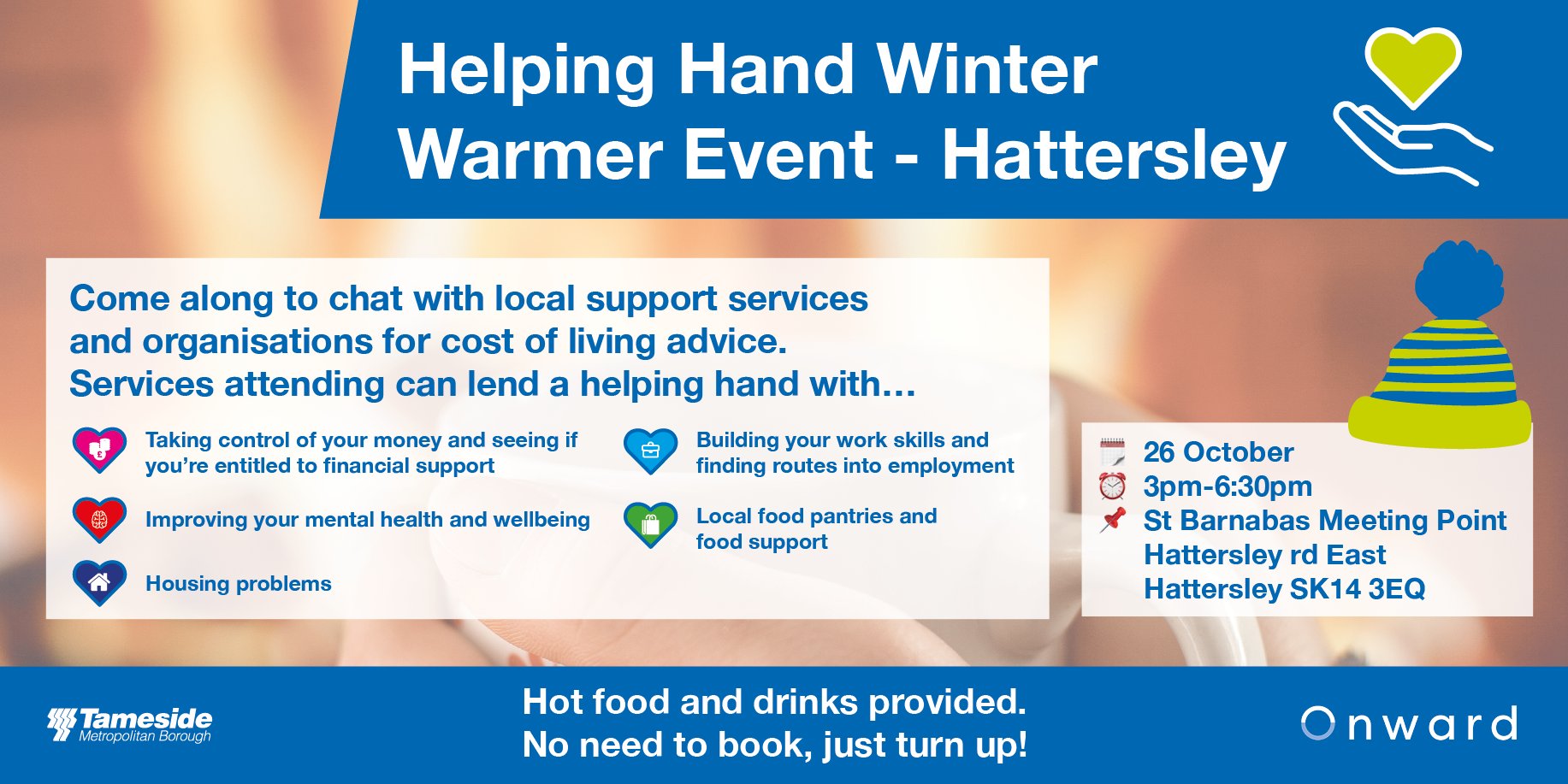 Onward is partnering with Tameside Council to help host the next Cost of Living Support event, Helping Hand's Winter Warmer. It's taking place at Barnabas Meeting Point in Hattersley on Wednesday 26 October, from 3pm to 6:30pm.
Helping Hand's Winter Warmer will link Tameside residents who are struggling with the cost of living to a wealth of support services and organisations, who can help with finances, debt, housing, food, employment and mental health and wellbeing.
Onward's tenancy support team will be on hand to provide details on local work and skills coordination, income management and social investment. The Tameside Community Champions, Hattersley Health Champions, Children's Nutrition Team from Hattersley Clinic will also be in attendance. The Groundwork Energyworks Team will also be in attendance to offer energy support through their Green Doctors. Tameside Council's Welfare Rights, Cash Box Credit Union, People Plus, Mind and the Tameside Libraries' team will be holding information and support stalls.
Onward will also be providing hot food at the event for those attending. We are also accepting donations of good quality winter coats, boots and blankets for adults and children that could be handed out on the night (please contact Samantha Powers by emailing Samantha.Powers@onward.co.uk for more information).
Andrew Brown, Director of Housing & Specialist Living for Onward, said:
As the cost-of-living rises, we expect that some of our customers will need extra support over Winter. We are committed to working with our local partners, such as Tameside Council, to provide our customers with practical support and guidance.

This event will signpost the services available to our residents across Tameside, so if you, or someone you know is struggling, please come along and talk to the team. If you have unexpected bills or expenses, or you need immediate advice or support, we are here to help.
Councillor Jacqueline North, First Deputy (Finance, Resources and Transformation), said:
Following our last two cost of living support events held in Ashton, the Winter Warmer Event brings local support services and organisations to the residents of Hattersley. We know just how important it is to hold these events across the borough, making sure every resident has an equal chance to get support and advice. If you feel like you need extra support and are worrying about making ends meet this winter, please come along to find out what financial support is available." 
Councillor Eleanor Wills, Tameside Council's Executive Member for Health and Wellbeing, added:
Not only is it important to check that you are receiving financial support you are eligible for, it is also important you look after your mental health and wellbeing. We're here to support you with a range of services providing help and advice, some of which will be attending the Winter Warmer.
If your local service or organisation would benefit from holding a stall at this event, contact communications@tameside.gov.uk
To explore local support services, people can visit www.tameside.gov.uk/helpinghand
Cost of living support can also be found from www.helpforhouseholds.campaign.gov.uk
If you would like to support Helping Hand Tameside in your organisation or business by distributing posters, pamphlets or business cards, contact communications@tameside.gov.uk. Accessible formats are also available on request.