Community Tree Planting in Hattersley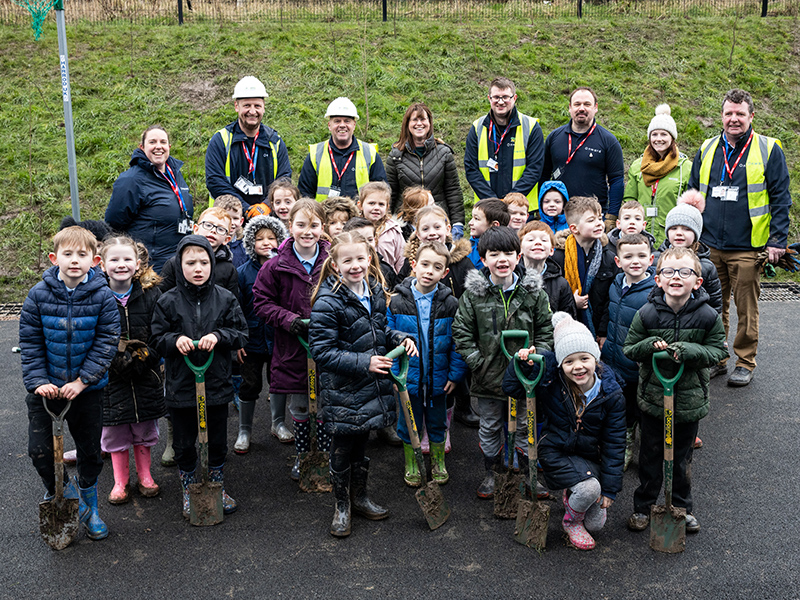 Thousands of new trees have been planted across Tameside and Stockport, thanks to help from Onward.
Onward colleagues recently joined forces with local schools and community groups to plant more than 2000 trees across Hattersley, Mottram, and Hyde.
Nine events are to be held in total, including today's planting session at the Discovery Academy on Porlock Ave in Hyde (14 February) where the Youngsters aged 5 and 6, got to dig-in and plant a selection of fruit, Alder, Birch and Willow trees, donated by contractors Continental Landscapes Ltd, as part of their commitment create social value in the area.
The sessions aimed to teach the children the value of trees whilst promoting carbon offset. Other partners supporting the planting initiative included Arundale Primary School, Kiddi Daycare Nursery, Pinfold Primary Scholl and Hattersley Community Garden who all held events locally. Their efforts will now mean that they have wonderful space to enjoy, and as the trees take root, will create a haven for wildlife.
Ian Hulme, Arboriculture Manager and organizer of the event, said: 'We would like to thank the schools and the efforts and enthusiasm of the children who took part in this fantastic day. The day was hugely successful and we look forward to more events in the near future.
More events are also planned for the Lancashire region, with planting sessions taking place in Accrington, Huncoat, Oswaldtwistle and Great Harwood at the end of February. For more information on environmental events and activities in your area contact communityinvestmentteam@onward.co.uk