Community football programme kicks off their anniversary to a great start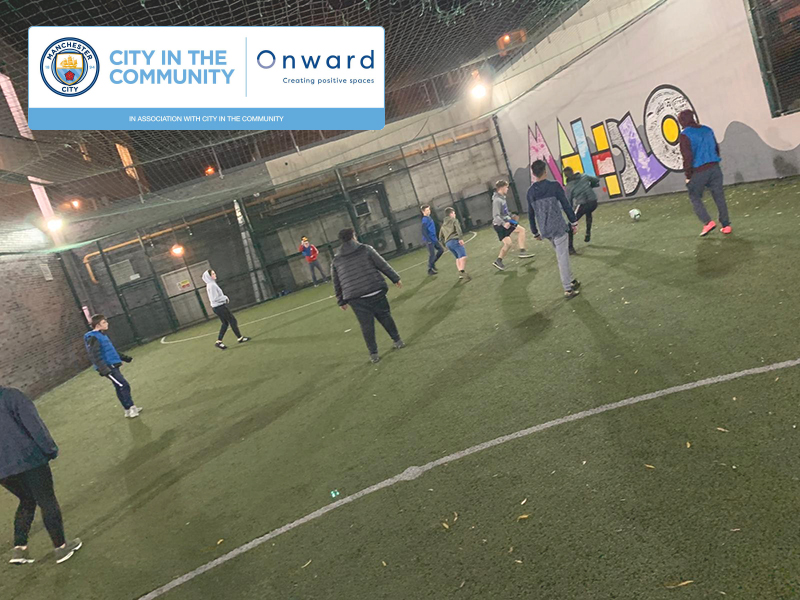 Over 12 months ago, City in the Community (CITC) launched a new location for its City Kicks programme in association with Onward and we were delighted to celebrate this.
We're pleased to announce that we will be funding the community football programme in Oldham for another 12 months.
Kicks is an open access community football programme that targets young people experiencing diverse socio-economic challenges – using the power of football and the value of sports participation to help.
Aiming to inspire young people to make positive choices and gain life skills for the future, the programme is already delivered in various high-need locations across Greater Manchester, including Wythenshawe, Gorton and Moss Side.
Kick football sessions give young people positive opportunities to engage in healthy, worthwhile activity in their local area. The sessions are purposely delivered at certain times to ensure that at peak times of antisocial behaviour, young people have worthwhile and engaging activities to participate with instead.
The Kicks programme has been a great success in Oldham. Over 340 young people have engaged in Kick sessions over the past year at Mahdlo youth zone and CITC staff now accompany Mahdlo staff to carry out outreach work at the start of each session.
One of the young participants said: "Mahdlo has been great since the City staff have come in, they make the session more fun and enjoyable and are always there if you want a chat or to make you laugh and cheer you up."
The sessions take place at the Mahdlo Youth Zone every Wednesday between 6pm and 8pm for boys and girls aged 8-19 years. For more information please contact Martin.Ingham-Griffith@cityfootball.com.