Merseyside
Ballantyne Community Garden project officially opened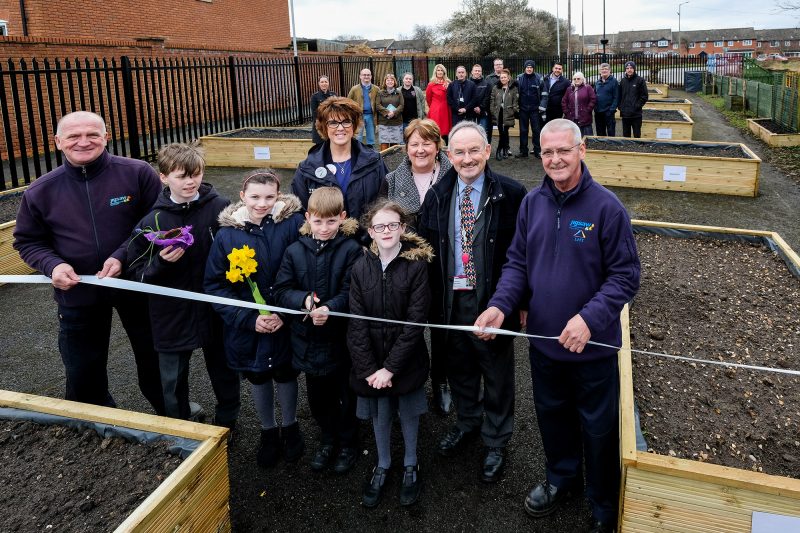 A disused space on a Wirral housing estate that has been transformed into a community garden has officially opened its gates.
The Ballantyne Community Garden project has seen a rundown piece of land converted into a communal garden for residents on the Beechwood & Ballantyne estate in Bidston.
On Wednesday 28 March, residents, local councillors and funders were joined by pupils from Bidston Village School at a special opening ceremony for the garden, which is situated in the grounds of the Ballantyne Community Centre.
The project has been funded by local housing provider Onward alongside Beechwood, Ballantyne & Bidston Big Local, with support from Tesco Bidston Moss Extra.
Onward's environmental services team has cleaned up the area and built 20 wooden planters, filling them with soil and compost ready for residents to start growing fruit, vegetables and plants.
Niall McDonnell, neighbourhood delivery manager at Onward, said: "This has been a fantastic project to work on and it's great to see a previously disused and unloved site brought back to life.
"The community garden will provide local residents of all ages with a space where they can come together, meet new people and grow their own produce. We can't wait to see the results once it's in full bloom."
One resident to take advantage of the new garden is 66-year-old Mike Jones, who said: "I've been retired for a few years now, so when this came up I thought it would be a great way to give me something to do and get me out of the house for a few hours.
"I'm looking forward to growing some runner beans and getting to know the other gardeners to see what they're growing and share a few ideas."
Labour ward councillor Brian Kenny said: "This area has been derelict for a number of years, so it's fantastic to see the transformation that has taken place here.
"It's important for people to take pride in where they live and this project will give the whole area a lift."
Many of the planters have already been snapped up, while three garden beds have been allocated to local schools – St Paul's RC Primary School, Manor Primary School and Bidston Village School – to help pupils learn about growing their own produce.
However, some planters are still available. Local residents interested in reserving a plot can register their details by visiting Onward's office at 24 Beechwood Drive, Beechwood, Wirral, CH43 7ZU.