Lancashire
Accrington arts project builds bridges between the generations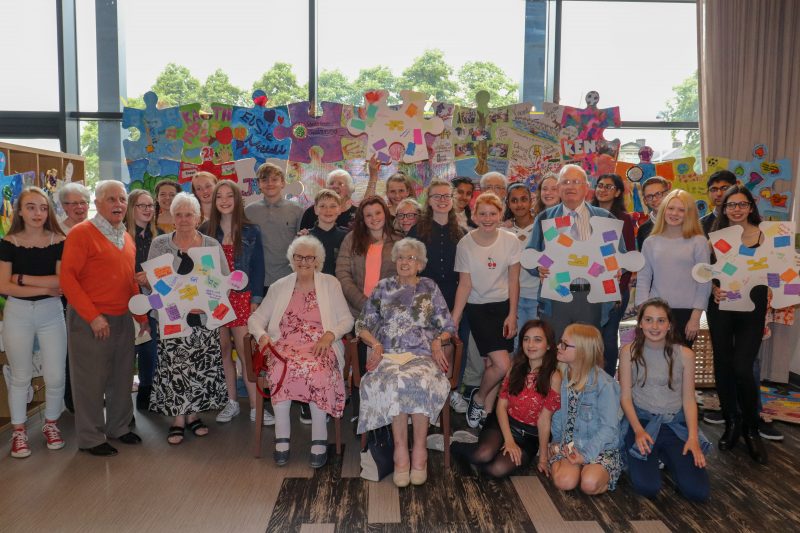 An exhibition was held at Roots restaurant on Monday 18 June which was the culmination of a ten-week project involving students from The Hollins school in Accrington and elderly residents from Onward's Friar Court sheltered scheme in the town.
Ten residents aged 75 to 90 years and 17 local young people (11 girls and five boys) aged 12 – 14 years came together every Wednesday evenings to take part in an art project called the Jigsaw project as part of the school's 'Let's Be Creatively Connected' initiative. The group created 70 jigsaw pieces which captured memories, experiences, thoughts and opinions to be displayed as a huge piece of art.
Waqar Ahmed from The Hollins, who runs the 'Let's Be Creatively Connected' project, said: "This has been an incredibly successful initiative. Although the kids voluntarily gave up three hours of their evening every Wednesday night, we didn't have an issue with attendance. They were all eager to be there and had a good time, which has led to them forming lasting friendships with people from the older generation.
"The group learnt so much from each other. One of the residents fought in the Second World War and another played for Bolton Wanders. They had so many stories to tell. The children have also learnt how to connect face-to-face with people which is particularly important in the age of social media."
Carol Bailey, scheme manager at Friar Court, said: "The residents have really looked forward to the Wednesday evenings.  It's been an opportunity to talk and relive their life experiences and it's given them a new lease of life.
"The children have taken a genuine interest in their lives and the residents were happy to relive their memories and experiences.  It was fantastic to see and it has done everyone the world of good. The group has bonded so well and true friendships have been made which we hope will continue."