Your Community
At the heart of Onward is a commitment to make a positive difference in the communities we serve – 'The Onward Difference'.
This isn't an addition to the other work we do; it is our purpose and the reason we exist. This purpose drives every team within the organisation, but it gives a specific focus to the work of the Social Investment Team. This team, which is firmly rooted in the communities across our neighbourhoods, seeks to find the most impactful ways to deliver support to our customers, in order to fulfil our mission to make a positive difference.
The team seeks to support our customers and communities across the following four themes:
Theme 1: WORK – supporting community-based employment, training, volunteering and enterprise opportunities
Theme 2: FOOD – supporting food resilience in communities during a challenging economic period
Theme 3: GREEN – improving access to and use of greenspace in communities to improve wellbeing
Theme 4: DIGITAL– providing support with digital skills and access
Most of the Team's activity is delivered in conjunction with local communities and a range of external partners across the public, private and third sector.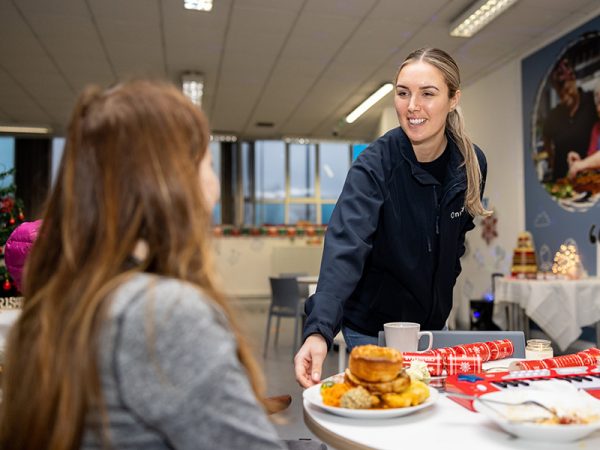 GET SUPPORT FROM OUR FUNDS
The Onward Community Fund – Got a great idea for a community project, but need a little help to get it off the ground? The Onward Community Fund aims to support local groups and projects. Find out more here.
The Onward Employment and Training Fund – Looking to get into work or to progress within your current role? You could be eligible for a grant of up to £500 from the Onward Employment and Training Fund to help support your future prospects. The Onward Employment and Training Fund awards grants to people who live in Onward properties to help them access work, training or educational opportunities that support future employment, self-employment or in-work progression. Find out more here.
Email: socialinvestment@onward.co.uk to find out more. 
OUR SUPPORT SESSIONS
Onward will be working with our partners across the North West to host a series of free events that will bring together a range of local support services.
At these events, residents will be able to speak to advisors on the cost of living, with a wealth of support services and organisations in attendance that can help across a range of areas including finances, debt, housing, food, employment and mental health and wellbeing.
If you or someone you know needs some extra support, please come along and talk to the team. We are here to help.
Greater Manchester
Food Hub at St Chadd's Centre, Hollinwood, OL8 3HH – Every Thursday 11:00 – 13:00
Ways2Wages at St Chadd's Library, Hollinwood, OL8 3HH – Every Thursday 13:00 – 15:00
Family cooking class run by Onward and Open Kitchen at The Naz, Salford, Higher Broughton, M7 1ZQ every Thursday in April from 15:15 – 17:00
Merseyside
Drop-in at the Kirkdale Community Shop at 211 Walton Rd, Liverpool L4 4AJ – Last Tuesday of every month from 12:00 – 14:00
Lancashire 
Details on our future sessions coming soon…